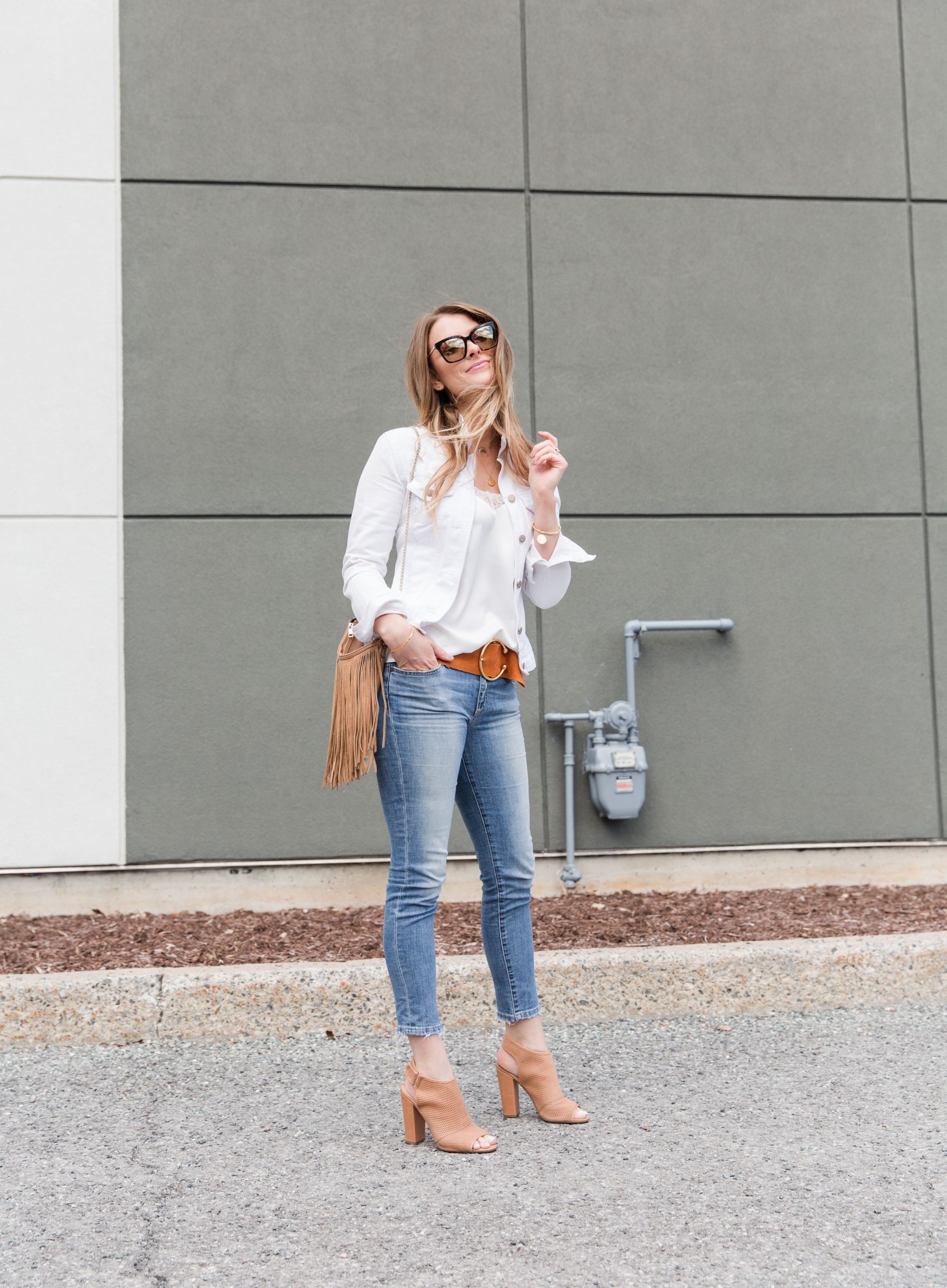 Friday!  Woot woot!  What are your weekend plans?
We are hosting my family for Father's Day brunch this weekend, which should be fun.  Today's look is all about playing up the statement belt trend.  Belts are everywhere and for a while it was a faux pas to match your belt to your shoes–so match, matchy–but now both ways work.  I added in a a third tan piece (the bag) because I like things in threes.
O U T F I T  D E T A I L S  :  WHITE DENIM JACKET (SIMILAR, SIMILAR, SPLURGE)  |  WHITE CAMI  |  JOE'S JEANS (SIMILAR, BUDGET FRIENDLY)  |  BLOCK HEELS (ALSO IN BLACK, SIMILAR)  |  SIUEDE BELT — OLD (SIMILAR)  |  SUNGLASSES  |  HORN NECKLACE  |  PENDANT NECKLACE  |  H&M FRINGE BAG — OLD (SIMILAR)
I love how the white cami under the white denim jacket looks so chic and streamlined.  My first instinct is to pair a different colour underneath, but I forget how great it can look when you do tone on tone when it comes to jackets.  H&M has some aaaaamazing camis right now (just scooped up this one), and they always fall around or under the $30 mark.  If you don't have any in your closet, I would highly suggest a white one, then a black one.  I have multiples that fit differently and drape in different ways that I'm constantly reaching for.  They are definitely a weekly staple and look great under a jacket, on their own or even peaking out from underneath a cozy sweater in the colder months.
I've had these perforated heels for a couple years now and they have definitely gotten me my money's worth.  They are actually still available, and super on sale in select sizes.  If you love the style, I've linked the black ones above, but these ones are also super similar.  They are definitely a dupe to the Vince pair I have and just as comfortable.
Also, I have to take a minute to say thank you SO MUCH for all the super sweet words and vibes about the wedding dress shopping post!  It was so fun putting that together and kind of reliving those days again (well, minus the disappointment at first, haha) and I love that you liked coming along for the journey too!  We just received our invitations in the mail last week and Marco and I finally sat down on Monday night and opened the box to check them out.  They look so good!!  We ordered ours through Minted, but you sort of get to design them yourself.  All that to say, we are really pleased with how they turned out and it's one more thing to check off the wedding to-do list!
Hope you girls have a great day & I'll likely be back this weekend with another post 😉
SHOP THE POST
Photography by Lisa Provençal.