Hello ladies!  Today's post is all about pairing a chic pair of glasses with something a little more undone.  The distressed trend is huge this fall, and I love the juxtaposition it creates when paired with something more "proper" like these matte cat eye frames.
You girls may know that I've been a glasses wearer for over a decade, and several years ago I was an Ambassador for Clearly.  When they reached out to work together again, I jumped at the chance because I love how easy they make shopping for glasses online plus their selection is awesome.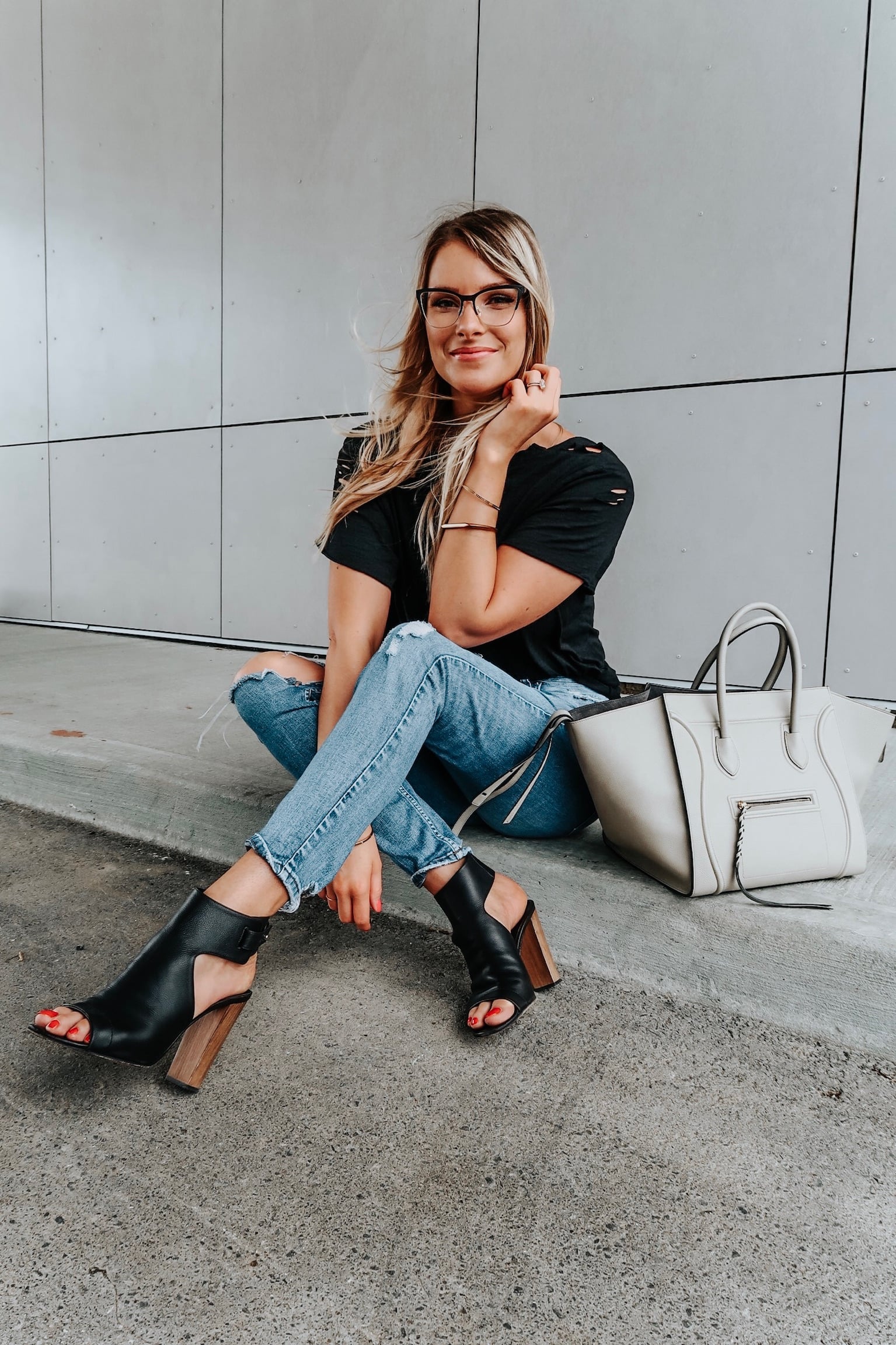 O U T F I T  D E T A I L S  :  GLASSES (LOVE THESE SUNNIES)  |  TOBI TEE (SIMILAR)  |  DISTRESSED DENIM  |  VINCE HEELS (SIMILAR, BUDGET FRIENDLY)  |  BAG
I've been a huge plastic frame kinda girl for many years, I keep a pair by the bed, one in the car and an extra wherever they are put down in the house (usually somewhere near the couch for movie nights).  There are some really cool trends with glasses for this fall and when I saw these matte cat eye frames, they were it.  I love that they look elevated for the office but clearly also pair well with jeans and a tee.
Speaking of wearing glasses for a while, way back, back in the day, I used to work as an Optician-Receptionist at an Optometrist's office.  I'm pretty sure I've never told this story before, but it was just the Doctor and I who worked in the office, so everything she didn't do, I did.  This included checking patients glasses' prescriptions on the lens reader, measuring their PD with the machine, sitting with  frame reps to choose new items for the store, teaching people how to put contacts in, adjusting glasses (nose pads and arms) to fit the patient better, and more!  I worked there for over a year and learned so much about that world, and I always enjoy asking people what their prescription is when they have glasses to get an idea of how they would see without them (weird quirk, I know!).
Shopping for glasses online is much easier than you think too, so long as you have your prescription, you're good to go.  I even measured my own PD with a ruler and a mirror, which will ensure you're eyes are seeing through the correct part of the lens.  As far as fit goes, personally, I have a wide face so I always go with a lens that's at least 53mm knowing it will fit my face best.  If you already have a pair of glasses, on the inside arm you can find the measurements; that first number is the width of the lens, second is the width of the bridge, and third is the arm (another 'perk' of working in an Optometrist's office;) ).
Cleary is also running a bunch of promos right now so if you're in the market, you have a few options: 30% off lenses (use code SIGHT30) or 20% off frames (use code FRAMEUP) or buy one get one free (use code BOGO).
SHOP THE POST
This post is sponsored by Clearly, a site I've loved and used for years. Thank you for supporting the brands that help support this blog.