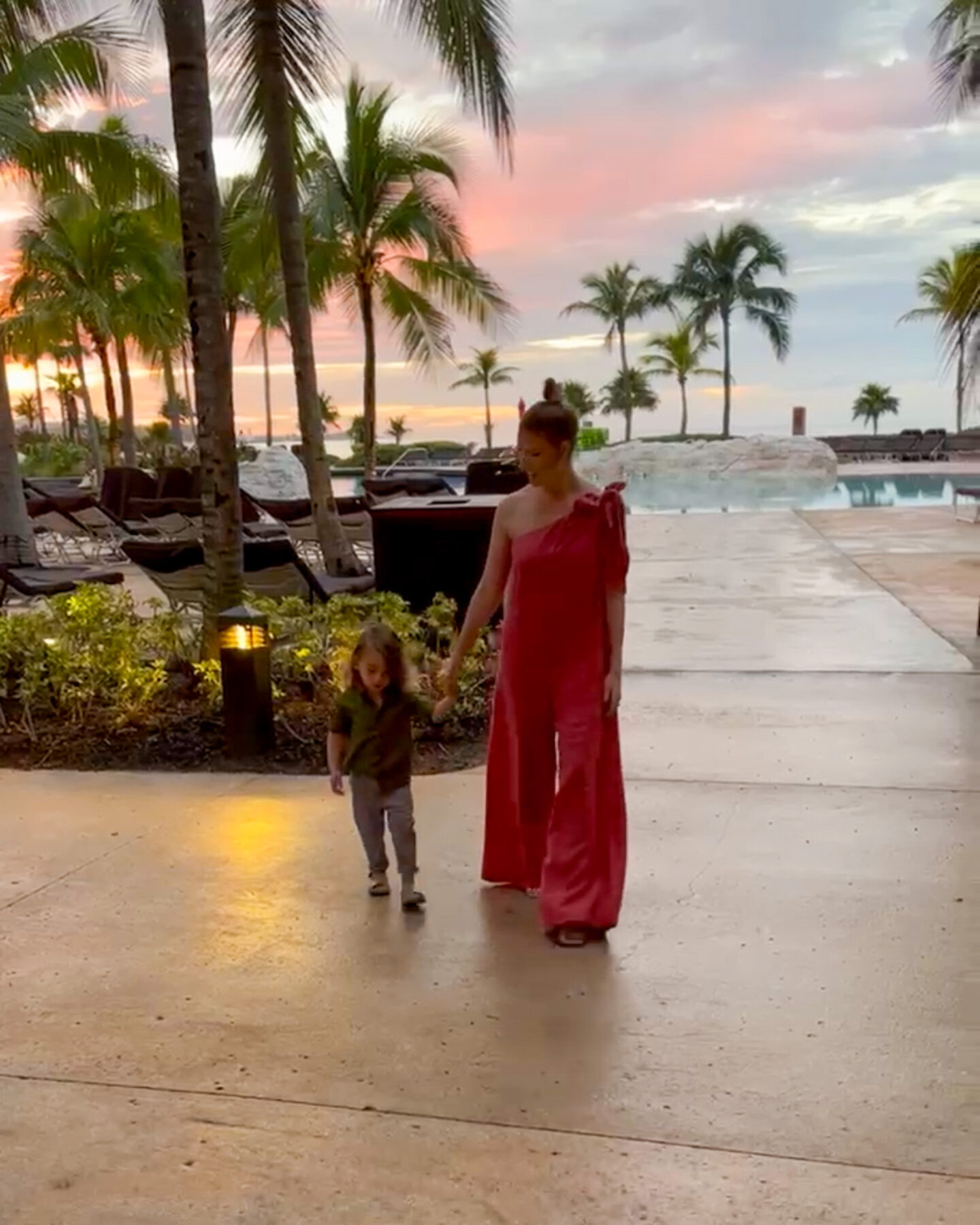 We just returned from our first vacation as a family of four to the Bahamas and I'd love to share some photos, tips & what helped us this time around, travelling with two kids.
Let's jump in…
ASOS JUMPSUIT — SOLD OUT (MATERNITY VERSION, SIMILAR)
This was our second time visiting Atlantis in the Bahamas, the first being our honeymoon four years ago. Needless to say, this was a very different looking trip 😛 but still a great time. I'm going to break this post down into a few parts: the property, things to do, food & transportation.
THE PROPERTY
Atlantis is a huuuuuge property that houses five hotels (The Cove, The Reef, The Royal, The Coral & Harborside Resort), a large water park with kids splash zone, multiple pools, beaches, casino, plenty of restaurants, a small luxury mall, a harbour (stroll along here & scope out the massive luxury yachts!), and more–plus a free shuttle bus that runs every 10 minutes and will take you around from property to property (its walk-able, but also a trek from one to the next).
We stayed at The Reef, which is at one end of the property, and is their 4.5 star hotel. We stayed here for our honeymoon as well, but this time around opted for a suite so we would have a room to close off for when the boys napped/went down for the night. The room was great, had a full kitchen, two full bathrooms, living room with pull out couch, dining room, large bedroom plus a long balcony you could sit out on. I also loved that they give you robes and slippers in your room for two.
ONE PIECE SWIMSUIT — SO FLATTERING FOR POSTPARTUM | DENIM SHORTS (THE OTHER PAIR I BROUGHT)
ZARA BODYSUIT — SOLD OUT (SIMILAR, LOVE THIS) | SIMILAR FLARES
The beaches are beautiful and easily accessible from any hotel you stay at. The waters are bright turquoise and stunning, plus it's pretty calm so you can take kids in (be mindful of the undertow though). There are plenty of lounge chairs at the pools and beaches, plus beach bars where you can grab drinks and BBQ style food. At each beach, you will find towel service included in your stay, just show your room key and get as many towels as you need. Same goes for the waterpark, show your room key to get a bracelet to use the slides; just ensure everyone in your party is present at the towel bar for bracelets.
THINGS TO DO
There is no shortage of things to do on property, their list of actives is extensive and can be found here. That said, we mainly kept to the beaches and pools, plus wandering around. The property is not overly stroller friendly (which we totally didn't realize last time when it was just us two 😛 ), but we did it. I wouldn't shy away from bringing a stroller, TBH, and am thankful we had it as I wouldn't want to carry the baby all over property and our toddler often got tired walking around and needed to sit too. You can find elevators and ramps to get around, it's just not the most accessible property.
The Aquarium located at The Royal is a must see for kids of all ages! It's free if you're staying on property and so fun to walk through. There are tons of different sea creatures to be seen and takes a good 15 minutes to wander through (you can access it from the lobby). We did it everyday and Hendrix (2.5 years old) loved it. There are also plenty of sea animals to see (turtles, saw sharks, stingrays and more) around The Royal property when you're outside.
All the pools are zero entry so there is plenty of shallow areas for littles/toddlers to sit and play. I would recommend bringing anything they enjoy using in water (we brought some medium sized plastic construction trucks for Hendrix, his fave; perfect for beach or pool) as they don't have anything on site. The beaches are also great, shallow and the currents aren't very strong.
We packed Hendrix's swimmer but I loved that the property has multiple stations with kids lifejackets to use for free–so handy. Obviously you'll pack your SPF and sunhats, but a quick note that there aren't a ton of shaded areas if you're arriving to the pool or beach late. There are umbrellas and covers, but there is also a good chance you could be in the sun, so be prepared.
Lastly, the splash pad for the kids is amazing, and if your kids are a little older and good swimmers, the "lazy" river is so fun (it gets pretty rough in some areas, so this is not for little kids by any means). We didn't do the water slides or river this time as the kids are too young, but it's so fun for adults and older kids!
FOOD
CARRIER — $50 OFF WITH THAT LINK
Since Atlantis is not all-inclusive, one of my biggest tips would be to pack a ton of snacks to have on hand in the hotel room for the littles (and yourselves!). Of course they have little shops on property, but everything is luxe and expensive, so having these things on hand will just help get you through those early morning wake-ups, before you get to breakfast and when you're back in the room for naps, etc. Additionally, leaving the property would involve taking a taxi off Paradise Island (there is a bridge toll, both ways) and just not overly feasible with kids.
I like to pack things in ziplock bags such as Cheerios, dried mango, raisins, squeeze pouches, granola bars, home made energy balls, chips, crackers, Goldfish, dates, etc.
Additionally, don't forget to pack medicine for both you and the kids, just in case. Things like Infant or Children's Tylenol, homeopathic cough syrup (love this one), Benadryl, motion sickness meds, cough drops, Advil, vitamin C etc. I also keep a thermometer, bandaids and polysporin in this travel pouch.
There are tons of restaurants to choose from, but breakfast is slim pickings. The two spots we frequented: Poseidon's Table at The Royal (buffet; kids under 4 eat free) & Fish by José Andres at The Cove. There are also a couple Starbucks locations, one inside the Reef, and one at the Harbour Front. For dinner, we enjoyed Frankie Goes Bananas, Nobu & Fish by José Andres–all were really good food but also incredibly expensive.
TRANSPORTATION
OVERSIZED BUTTON DOWN | ROMPER (SIMILAR) | BELT BAG — COLOUR IS 'CARAMEL'
Upon arrival, we got a taxi outside of the airport (very safe and there is an attendant that will point you in the right direction). The taxi's are lined up and the ride is about 30 minutes to the resort, through the downtown core and quite scenic. This cost us $60 USD which included the bridge toll to get onto Paradise Island (where Atlantis is located).
We brought both carseats with us and checked them upon arrival at the airport. We have used and loved this carseat bag (we have two now) and it's held up well on more than 30 flights! It's lightly padded, has backpack straps and fits a bucket carseat + base or a convertible carseat. We always use our UppaBaby stroller bag for the stroller and let me tell you, it's been worth it's weight in gold as it's kept our stroller protected and the warranty is amazing (we are on our third free bag and when our Rumble seat broke during transit while in the bag, they replaced it immediately–their customer service is bomb).
If you are travelling without kids, leaving Paradise Island would be easily done via taxi to do an excursion, dine out, shop or check out the fish fry. That said, with kids and carseats, we opted to stay put for our five day stay; this was also the perfect length of trip for us with kids–enough to see it all and be ready to return home.
That pretty much wraps up this post, I hope you found it helpful if you are travelling to Atlantis in the near future. Please don't hesitate to reach out via DM on Instagram if you have any questions, I'd be more than happy to help! Hope you girls are having a great week xo
SHOP THE POST