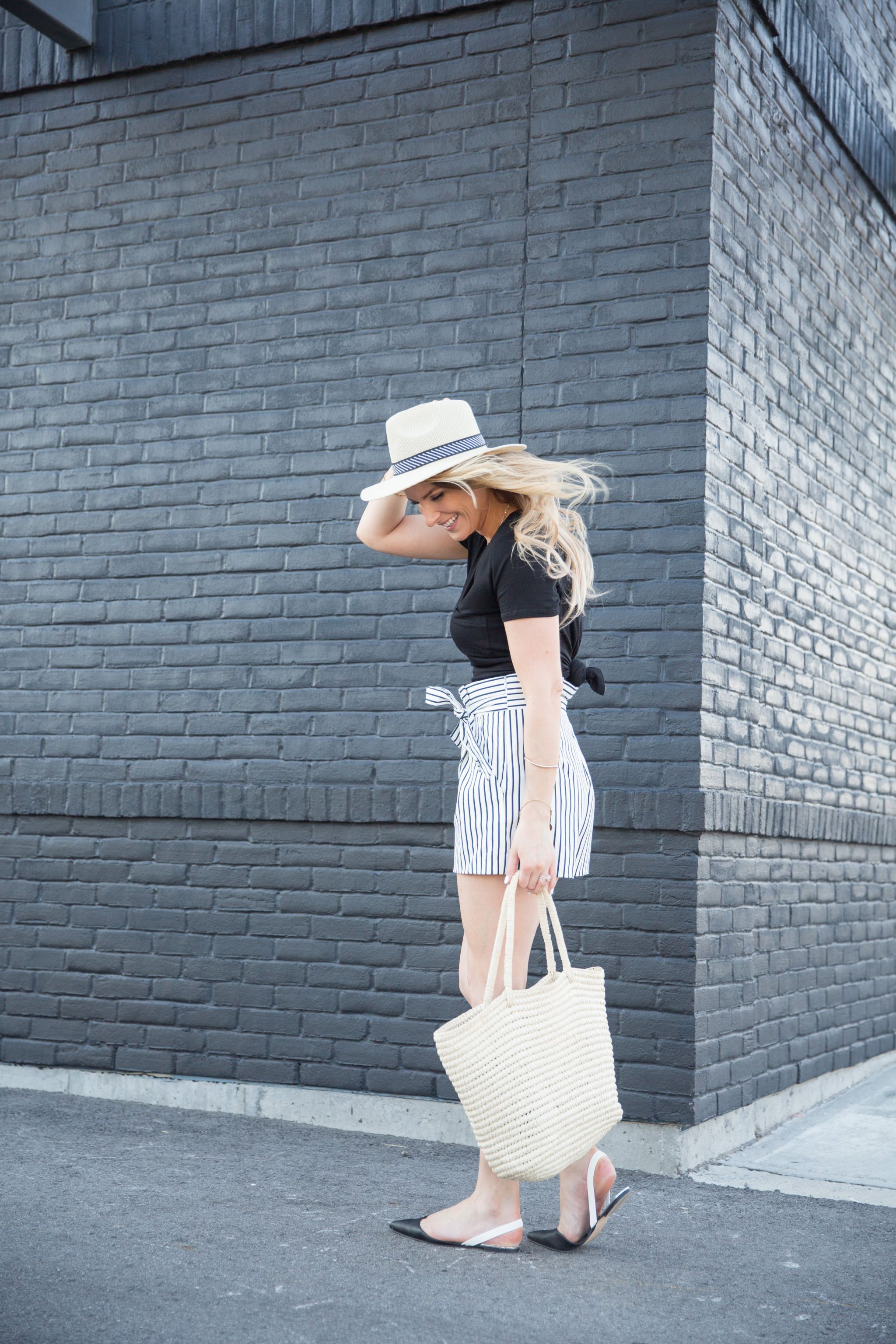 Hi girls–TGIF and happy Friday! Today's look is a really, easy, but pulled together outfit that works great for weekends, brunch or even a casual night out with the girls (just throw on a sweater instead).
I'm loving the paper bag waist trend we are seeing on shorts and pants lately, it is a great look to camouflage a tummy and make your waist appear smaller than it actually is by pairing with a snugger fitting top. The look is definitely high-waisted, so if you're not feeling that trend, skip this look altogether.
Since moving, I'm now commuting, so instead of waiting to make a coffee when I get to work, I ordered this cute travel mug to get my fix on the road. It gives me something to look forward to in the car and makes the drive a little brighter.
The travel mug is a little pricey (for Canadians), but considering cost-per-use, ahem, daily, I'd say I've gotten my money's worth in over a month.
Several of you have asked about this necklace, since I've been wearing it so frequently lately–everyday life, on Instastories, on the blog, etc. To be honest, it's an inexpensive three-strand find from Dynamite that I had put on my Christmas wish list last year and my parents gifted me. I have been wearing it a ton lately because (1) it tends to go with most pieces, (2) I have recently lost my favourite necklace (as seen here & in this post) #actuallysosad, and (3) I haven't unpacked my jewelry still!
That said, I found a few really cute, similar pieces on Etsy (I love supporting hand made and small online business) so I'm linking them below in case you girls are searching:
O U T F I T D E T A I L S : DOLLARAMA HAT (SIMILAR) | T-SHIRT | SHORTS (SIMILAR, NAVY) | ZARA FLATS (ALMOST IDENTICAL, SIMILAR) | DYNAMITE NECKLACE — OLD (SIMILAR) | STRAW BEACH BAG
Little life update, things are not super around these parts; our little cat, Eve, is in the hospital for her kidneys and she's not doing well. I know all the pet owners and animal lovers out there can feel the pain, and I just wanted to be open about my absence on Instastories this week–where I usually share stuff daily. Life, without our little girl wandering around, is pretty sad and we are hoping and sending all the positives vibes out that she will be able to come back from this so we can bring her home.
Didn't want to put a damper on your Friday, and so appreciate the messages you girls have sent me. Sometimes it takes me me time to read and respond, simply because I'm trying to take my mind off things sometimes. Other times, I'm trying to distract myself by sharing positive things happening or something I'm loving, etc.
I went and visited her last night at the hospital and although she was pretty dopey, she seemed happy to see me. I will be going back tonight to see her and hoping to have some more news on Monday. Keep us in your thoughts, if you don't mind, we need all the positive energy we can get!
Have a great weekend xo
SHOP THE POST
Photography by Lisa Provençal.