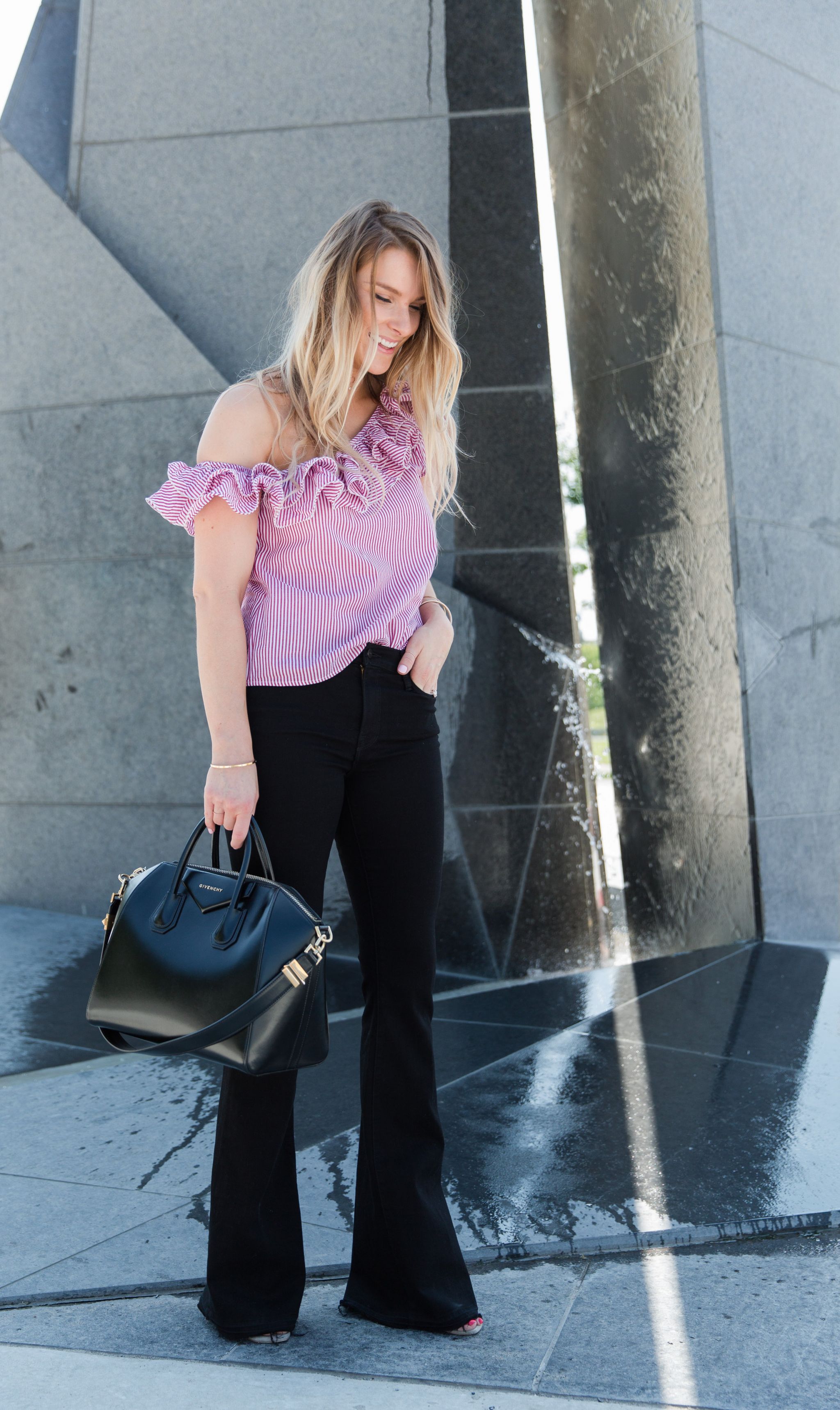 Flares have always been a part of my wardrobe (even if Marco isn't a fan) and I love that we are slowly seeing a resurgence. Fall is the perfect time to dust off an old pair or grab a new pair–mine are new; but I have several folded in my closet that are years old.
The weather this time of year is ideal for flares, and I'm loving the high waisted versions, of course, because they make your legs appear that much longer.
O U T F I T D E T A I L S : ONE SLEEVE RUFFLE TOP — UNDER $20! | FRAME DENIM FLARES (SIMILAR, SIMILAR) | ALDO NECKLACES | BAG (BUDGET FRIENDLY)
My biggest concern when wearing flares is the length, and I actually let down the hem on these ones to get the perfect inseam. Ideally, you want them skimming the floor when you're wearing the shoes you want to pair them with. Personally, I prefer to wear my flared pants with heels, which tends to lean out your legs and give great movement when you walk. Flats work, but I just find they can look too casual, despite being hardly able to see them.
As far as what to pair with your flares, it really depends on the leg–if your pants are snug in the thighs, I find there is a bit more leeway to work with. Snug and loose fitting tops will work, whereas with an overall wide leg pant, it's usually best to stick with a more fitted top.
I'm loving statement tops currently, they make dressing up a basic outfit that much prettier. I paired mine with a couple chokers, but a pair of statement earrings would look really great too since the rest of the outfit is streamlined. I would wear this out with the girls to dinner or would be great as well if you work in a creative office.
SHOP THE POST
Photography by Lisa Provençal.