Happy Halloween! For the first time in many years, I didn't go to a Halloween party but am dressing up today with some colleagues so will share a picture on Instastories later today, if you'd like to see.
So excited to give out candy to the kids tonight. Our pumpkins are carved up & I did little loot bags for the trick-or-treaters. Like I mentioned last week, I haven't carved a pumpkin or given out candy in over five years. This year though, with our new house, I'm excited to see the littles and their costumes. Such a fun evening for them!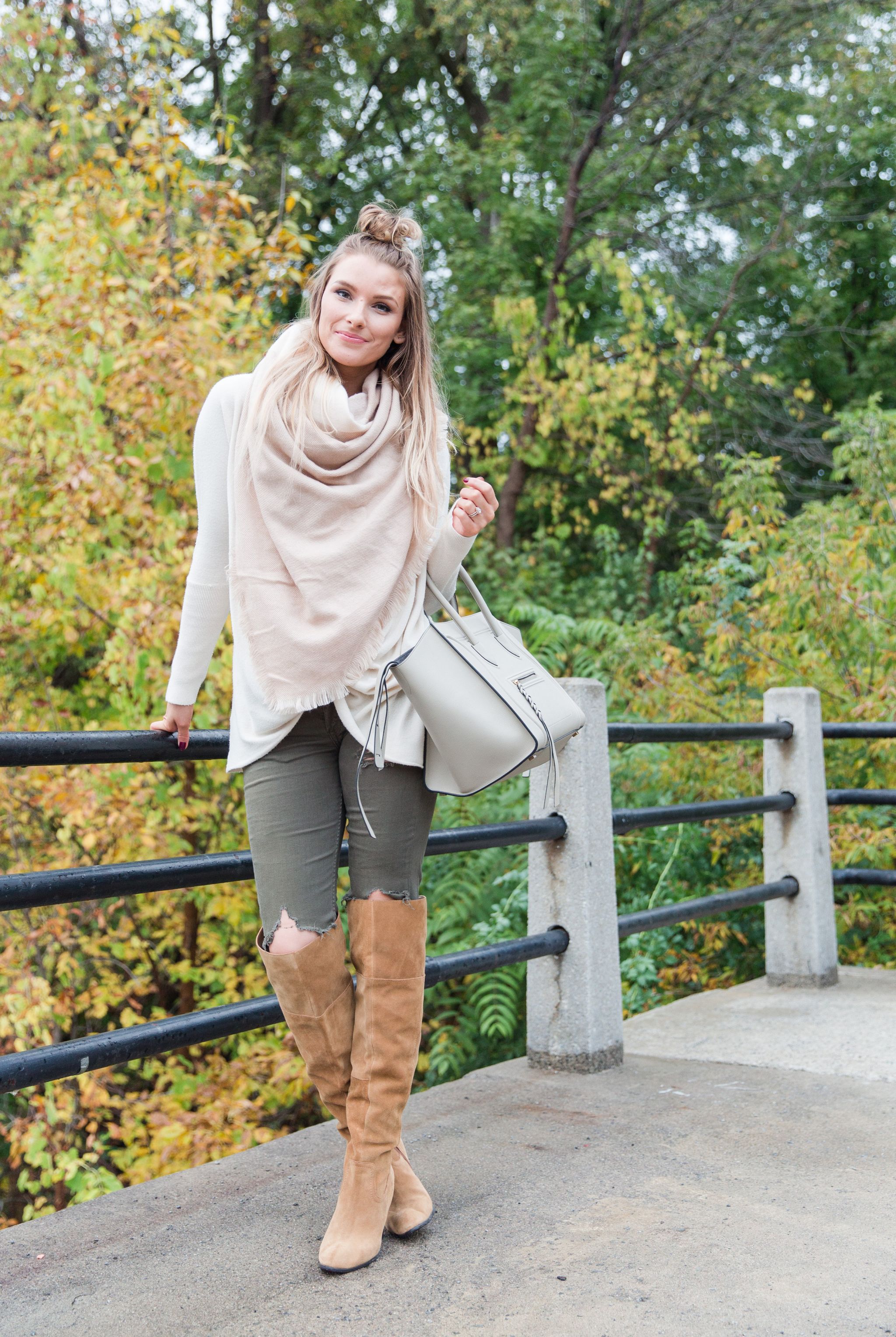 O U T F I T D E T A I L S : OVERSIZED NEUTRAL SCARF | WRAP SWEATER — OLD (SIMILAR) | H&M PANTS — OLD (ALMOST IDENTICAL, MORE SIZES HERE, SIMILAR) | ALDO BOOTS — OLD (SIMILAR) | CELINE BAG (SIMILAR, MORE OPTIONS UNDER $100)
Onto the outfit! I love a good over the knee boot outfit, and this is a really easy look to pull together with essentially coloured denim, any sort of sweater and a massive scarf. I've been taking full advantage of this dry, fall weather to break out all the suede OTK boots in my closet, pairing with everything from denim, dresses and skirts. Also, if you're on the fence about an over the knee pair, I would highly suggest suede or microfibre, as they tend to look a little more luxe than faux leather. If you're debating between a heel or flat, consider what you wear the most, and take it from there. I'm always in heels, and all but one pair of OTK boots I own are heeled, so it seems like a natural choice to go that route. However, if you're more a flats girl, or are looking for a solid weekend staple boot for running errands and being out and about, go with the flat version.
As far as price points go, after not spending a ton-but-enough on a flat pair last year (from this outfit post), I was left disappointed with the quality and look of them. Again, if they were faux suede, they probably would have looked better–but suede and snow don't really mix, so… I wouldn't say you necessarily have to splurge on an OTK boot, but with so much boot visible, it's something to consider. That said, my bestie just picked up these ones for $35 (!!!) and they look amazing and just like my Sam Edelman boots I paid almost $200 for last year! She got a ton of compliments while wearing them the other day and I immediately added them to my cart… then took a step back and went, 'Okay whoa, Amanda, do you really need these?' lol. But seriously, they are so. freakin'. good. #thatpricetho
Okay, that's all for now, I'm rambling, but I hope you all have a safe and happy Halloween, and get to indulge in some treats yourself! See you back here tomorrow for the first holiday outfit post of the season!
Photography by Lisa Provençal.
SHOP THE POST