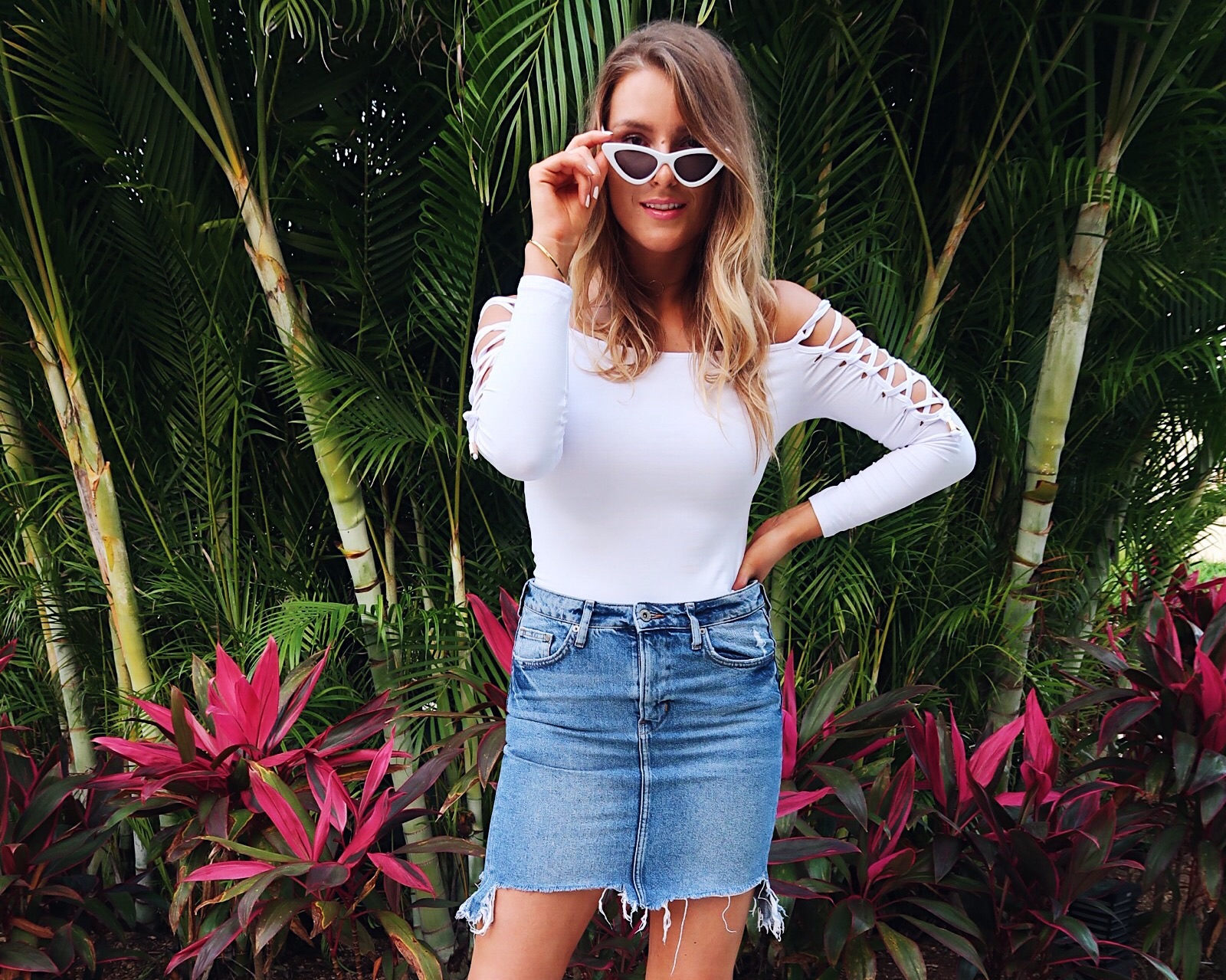 Alright ladies, today's post is all about the hottest sunglasses trend for 2018: they're small, fun-shaped and sometimes a little retro looking.
While I will always love oversized sunnies (hello sun protection), I couldn't help but snag these fun, white cat eyes before we left on vacation.  I love how they pop with a white bikini or top like in today's post.  If you have a regular to smaller face, these will be perfect on you!  I have a wider face, so the oversized angle is really saving me, but Marco was totally making fun of my glasses!
That said, when it comes to trends I just want to try on without investing in, I'll usually purchase an inexpensive dupe.  I found these sunnies here for under $15!  The ones I've linked in the widget are a little pricier, if you did want to invest in better quality.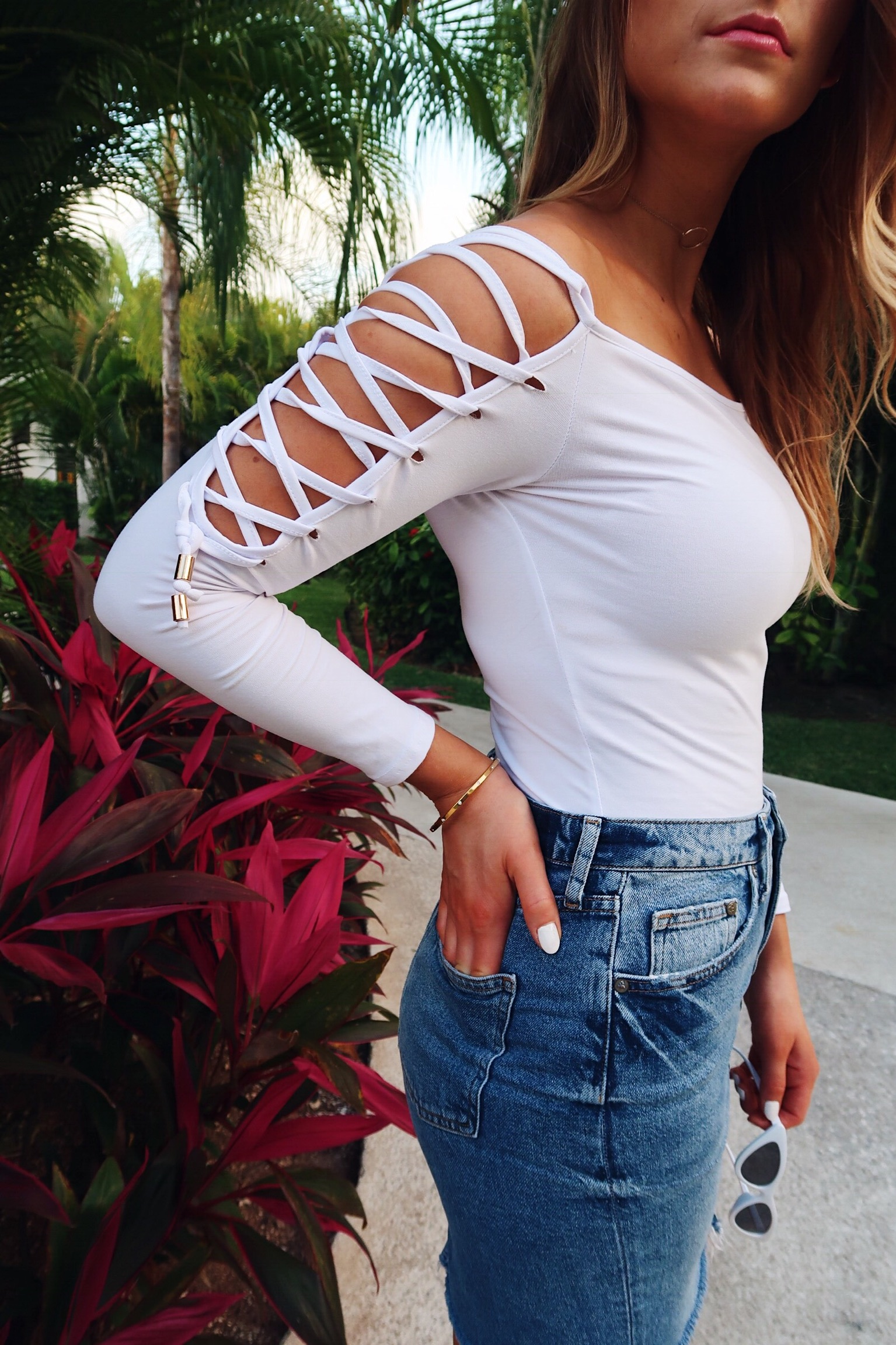 O U T F I T  D E T A I L S  :  TIE SLEEVE BODYSUIT  |  WHITE CAT EYE SUNGLASSES  |  DISTRESSED DENIM SKIRT  |  WRAP UP HEELS
I mentioned last week that I was bringing along a few more form-fitting pieces.  I love oversized looks, but do find they can sometimes swallow the body, leaving you looking shapeless and bigger than you are.  While I'll never give up those styles, and still tend towards them, I have been on the hunt for a few more body conscious items to bring along on our trip + for everyday life.
I purchased this sleeve lace-up bodysuit a few weeks ago and it arrived just in time for our trip.  It definitely runs on the small side and I grabbed it in a large and it just fits.  I totally would snag it in black if they still have my size–it's such a great piece for under $20.  I love this tucked into high-waisted jeans or shorts as well, or even some fancy joggers with a cozy cardigan on top.  Mostly I'm just excited to bring a few more 'date night worthy' tops into my wardrobe, especially with spring on my mind.
We have two more full days left here in Mexico and are soaking up the sun–well, I'm mostly laying in the shade, but, still enjoying those beach views!  Last night we had the most amazing dinner at the Italian restaurant.  We had gotten back to our room around 5pm after spending time at the beach and wandering around the resort next door, and were famished.  We decided to order room service and were eating around 6pm in our sweats.  Of course neither of us were hungry for a 'real dinner' and were just hanging out in our room watching the Olympics and chatting.  Marco convinced me we should get up and go out, it was Valentine's Day after all, so we headed out to dinner around 9pm.  Anyway, it turned out to be one of our best meals of the trip thus far, so I'm so glad we went!  Then it was back to the room, food comas in tow and back into the comfy clothes.
Hope you girls had a great Valentine's Day–whatever you did.  I totally forgot Marco's card back at home but just being in Mexico is a pretty awesome way to 'celebrate'.  I'll be back tomorrow with a fun look using the blush lace-up one-piece swimsuit I shared in my Instastories swimsuit haul!  See you then xo
SHOP THE POST