I posted on Instagram the other day that I am planning on bringing more "real life" winter outfits to the blog, and this is the first one.
I've talked about this before, and have shared similar sentiments with my girlfriend about what we find when we Pinterest search "cute winter outfits"–there are tons of gorgeous girls wearing hats, scarves, fuzzy jackets and high heel pumps.  Or open-toed shoes.  Without a trace of snow in sight.  Don't get me wrong, it looks great, but it's totally unrealistic for us girls who are living in sub-zero temps!
All that to say, I wanted to share some real outfits of what I actually wear when it's freezing outside, because while I love to share indoor-ready outfits (I'm such a fall girl at heart!), sometimes you need some winter inspo for when you won't be removing your outerwear but still want to look stylish.  Right?  Right.  It just makes sense to sometimes want to look pulled together when you have to bear some wicked winter elements.
Enter, the leopard coat!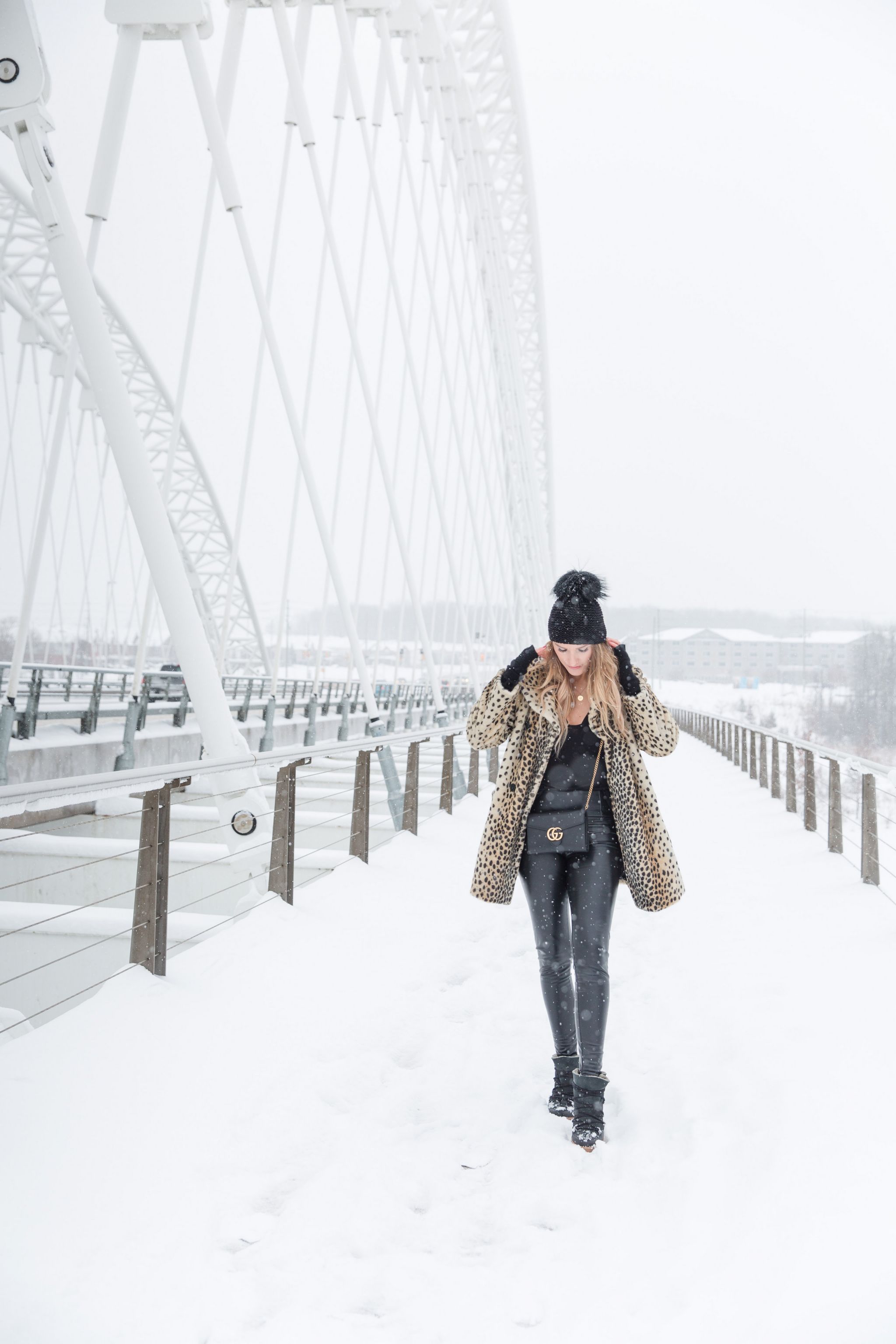 O U T F I T  D E T A I L S  :  F21 LEOPARD COAT — OLD (SIMILAR, SIMILAR)  |  FUR POM BEANIE  |  STRAPPY BRALETTE  |  LUSH T-SHIRT (ALMOST IDENTICAL)  |  HANDMADE FINGERLESS GLOVES (SIMILAR)  |  FAUX LEATHER PANTS  |  BOOTS  |  BAG
Fluffy, furry, tasseled and more, oversized jackets are everywhere this winter which makes them the perfect layering pieces to build the warmth underneath if needed, and still look great.  My faux fur leopard jacket is from many years ago, but there are so many almost identical ones out this year, at all price points, it's a cinch to score one.
I kept things super simple with my fave leather leggings and a t-shirt underneath; throw a cozy cardigan overtop–I'd probably go with black, but any colour would do–if you need an added layer, plus a scarf and you're all set.
This fur pom beanie is my newest obsession–I'm so happy with it!  I was honestly eyeing a winter hat like this for a year, but they are a bit of an investment.  I finally pulled the trigger just after Christmas (you might have seen on Instastories 😉 ) and love it!  There are plenty of dupe versions, but I love that this one is hand-made, the pom is huge and fluffy, and TBH this hat gets compliments everywhere I go.  I wear it almost daily and it works with my parka, wool and fur coats and I even wore it around the house on SuperBowl Sunday.  Again, an investment, but if you're going to wear it multiple times per week and keep it for a couple years (or more), the cost per wear if worth it.
Lastly, if any of you are cringing at me wearing the boots in the snow, I was a little worried myself!  However, I sprayed them twice with a leather/suede waterproof spray and they are doing great.  I think as long as I'm diligent and keep them sprayed every few weeks, we should be good.  They are so warm and I'm loving having toasty feet (feels like I'm slipping into a pair of Uggs!).
Hope you girls are having a great week–halfway to the weekend!
SHOP THE POST
MORE LEOPARD COATS
Photography by Lisa Provençal.