Today's look is all about pulling together black and navy, clean lines & getting dressed for work.
I have always loved flared denim and still have many pairs in my wardrobe.  While they aren't great when it's snowy and wet out, on mild dry days I like to take advantage and break them out.  They extend your leg, lean you out and looked extra pulled together when paired with a sleek coat.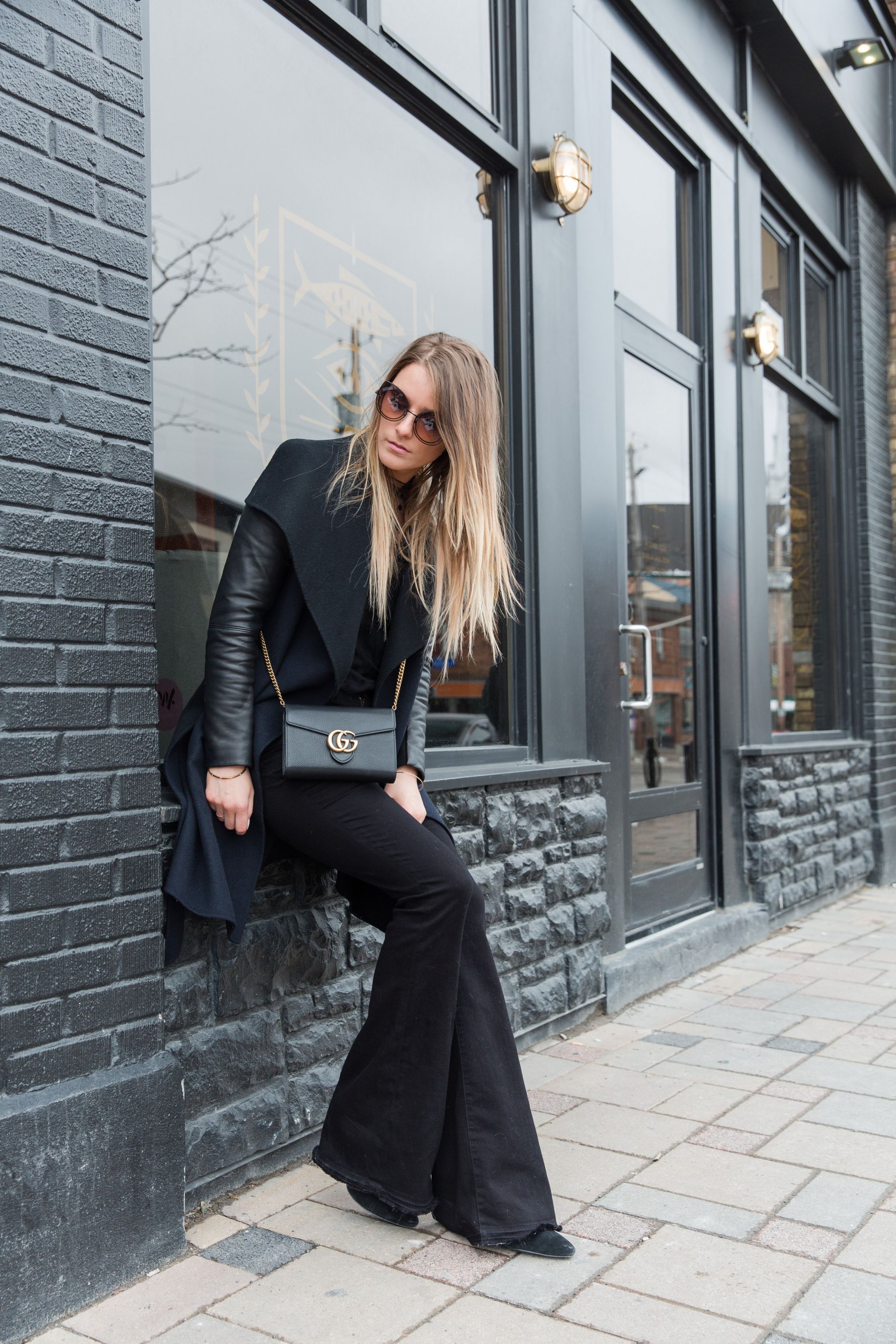 O U T F I T  D E T A I L S  :  MACKAGE COAT (SIMILAR, SIMILAR, BUDGET FRIENDLY)  |  MESH TOP — SIZE UP  |  ZARA CAMI (SIMILAR)  |  SUNGLASSES  |  FLARES — I LET DOWN THE HEM MYSELF  |  KENDALL & KYLIE BOOTS (LOVE THESE)  |  BAG
If you work in a business casual environment, or a creative space, something like this look is a great way to swap out your skinny trousers or skirts.  Something to keep in mind with mesh tops though, is you want to ensure you're fully covered underneath and if you are doing a cami with it, a strapless bra is imperative.  It keeps things professional and streamlined.  Additionally, I can agree that the raw hem can be a little risqué for some offices, but if you think it will work for yours, just make sure you keep the strings trimmed so it looks clean, and an iron will do wonders to flatten out a folding hem.
Whenever I'm working on a blog post in the evening and want to mellow out, I always listen to music while I'm pulling the pictures together.  I used to always share song lists I created when I first started blogging but it's been so long since I've done that.  I'm loving this song for just that & also loving pretty much everything by Manila Grey (also Canadian!), especially this track.
Lastly, I shared on Instastories last night some changes I've made to the blog on the back end.  I've categorized a huge chunk of outfits (still some more work to do) into seasons, so you can now search outfits that way.  If you mouse over the FASHION tab, it will drop down and you will see spring, summer, fall & winter.  Click on your preferred season to see outfits for that time of year.  Alternatively, you can click the outfits tab and see them all per usual.
SHOP THE POST
Photography by Lisa Provençal.