I can hardly believe I'm writing this, but this is my 600th outfit post on the blog!  😮   I started this blog at the beginning of 2010 and so there is definitely a lot of content, but didn't realize I was at 600 (cool!).  For several years I was blogging 5 times a week, and while that's slowed down a little with all the other social channels that have been introduced and I've incorporated, my blog is still my baby.
This is my favourite place to write, share and spend time–other platforms are important, and I know I should spend more time on Instagram, but this is truly where my passion lies: blogging.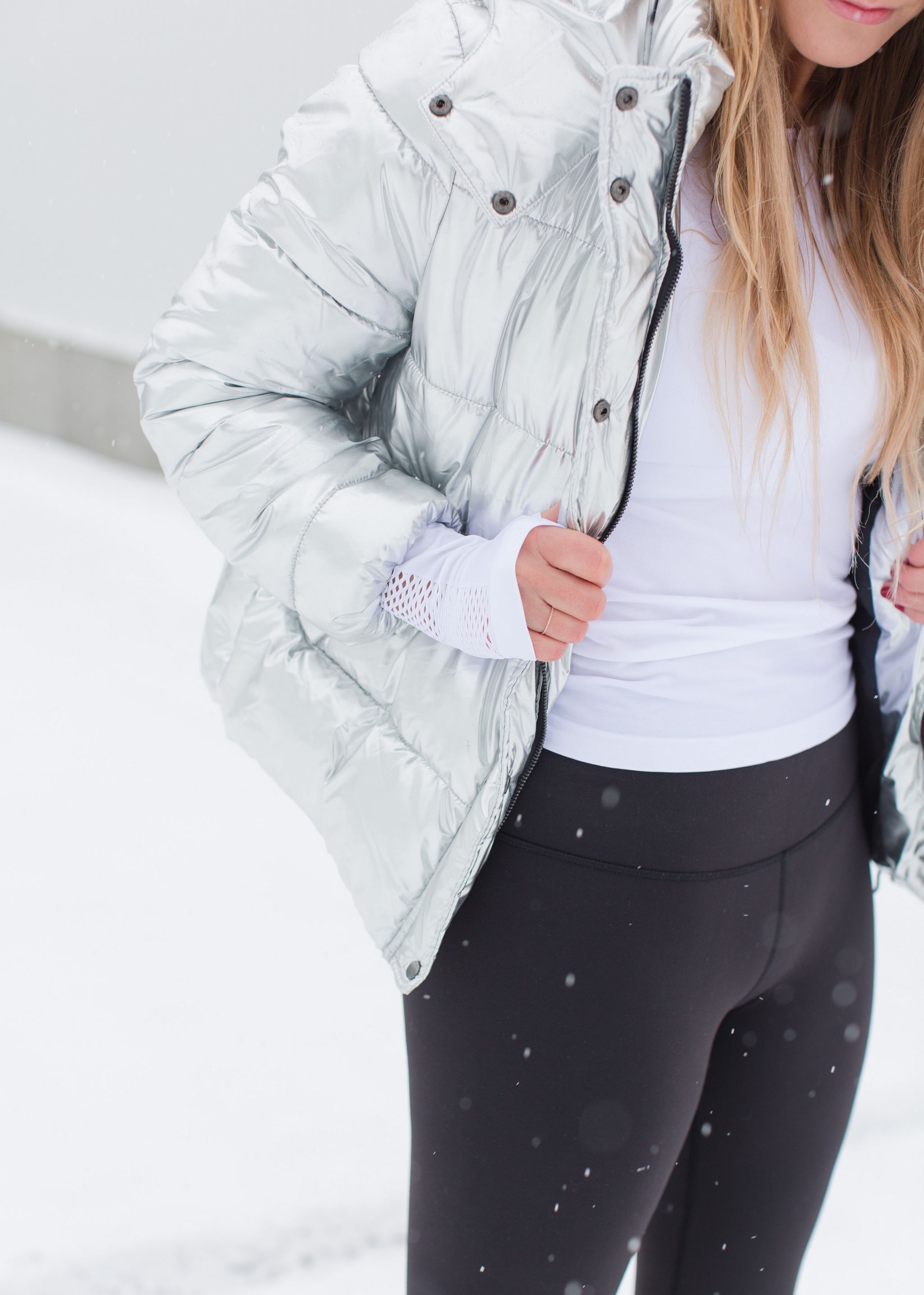 O U T F I T  D E T A I L S  :  SHEIN SILVER PARKA — SOLD OUT (SIMILAR, CUTE WINDBREAKER OPTION)  |  BEANIE  |  LONG SLEEVE LASER CUT TOP  |  LEGGINGS (LOVE THESE)  |  LACE UP SNOW BOOTS (BUDGET FRIENDLY)
So real talk about the gym because we shot these photos a few weeks ago and I've been totally off my game since then!  I've been struggling with getting to the gym lately and not only does that affect me physically, but mentally it's just no bueno.  I find when I'm not regularly going to the gym, I'm less patient, less confident and overall grouchier.  Last night I finally broke the streak, and to be honest, it was kind of a crappy workout.  While I did push myself, I felt weak, was lifting less than I was used to and couldn't stop focusing on areas I want to improve on.
As I was leaving in a crazy snowfall, I looked around at how beautiful it was and thought to myself: why am I so focused on how crappy my workout was, when the reality is I finally got myself to the gym, and should be focusing on that instead?  Why do we always instinctively turn towards the negative when we should be focusing on a (maybe smaller) positive?   So instead of thinking about how bad I was feeling about myself for (1) missing the gym so much lately, and (2) noticing minor negative changes in my body, I tried to shift my thinking to being proud of myself for doing something about it and making a change.  Sometimes it just takes going once/a step in the right direction, to change the path you're on.
Onto the outfit, I'm totally loving this long sleeve workout top & it's a total Lululemon dupe.  I was wearing it the other day and Marco was giving me the side eye a little thinking I had come home with yet another item from Lulu (LOL), but nope, just a $23 bargain!  I would say it runs big, so size down for a snug fit like mine (I went with a small and I teeter between medium to large at F21).  It looks so cute with shorts for spring too.
SHOP THE POST
Photography by Lisa Provençal.