I found my wedding dress!
( This is not it 😛 )
I am so excited to share this news, and what better way to celebrate than by sharing a bunch of dresses that didn't make the cut!?
Today I'm sharing allllll the dresses I tried on while wedding dress shopping.  Obviously my dress is not in this post, but I will say that a few really spoke to me and had me contemplating.  However, once I found "the one", it was so evident nothing else could compare.  I'd love to share a big photo overload + my personal experience while wedding dress shopping, if you'd like to read…
First, I want to preface this by saying I had planned to get Lisa, my Photographer, to come along and capture some fun wedding dress try-on moments.  We had even discussed it, but after this entire process, I kind of feel like it wasn't necessary. I hope you girls don't mind the iPhone pictures and more candid realness.  I wanted to share this experience, and it kind of didn't pan out as expected, so here we are!  So let's jump in.
I went into wedding dress shopping with an idea in mind of what I was looking for.  I had a very strong vision of what I would be wearing for our wedding.
I envisioned lace, long sleeves, and a fitted silhouette.  Something with a boatneck and a deep v in the back, perhaps.  Maybe even a deep v in the front.  
I was still open to all the options though.  Oddly enough, when I tried those styles, they weren't very flattering.  It's crazy how a dress can look so good on some people, and then not suit someone else (me!) whatsoever.  Wedding dresses are so personal, and you truly have to try them all to see what looks (and feels) best.
The first spot that I went to was With Love Bridal.  To be honest, I felt really nervous going in, not exactly sure why, but that quickly dissipated once I started trying on dresses.  My Consultant was really great, she was calm and I never felt rushed or like I had to make a decision.  They had a huge assortment of dresses, and she wanted to know what I was looking for, then pulled those styles, versus having me go through the racks.
Near the end of our appointment, my girl friend and I started pulling a few more dresses on our own to try, and my Consultant made sure I covered all the styles.
I think bridal dress shopping can be totally overwhelming, but also a really exciting experience if things are fitting properly.  I found several dresses I was excited to try were actually too small on me–which was discouraging, despite knowing I was just in the wrong size.  It's hard to get an idea of what something looks like, when it won't zip up.  That said, nothing was truly speaking to me either, so overall, I just hadn't found the one (and I tried on about 25 dresses).
I left feeling disappointed and bummed out, and I don't want to be negative, but the experience I was thinking I would have, turned out not to be that.  I came home and told Marco that I didn't find the dress and he was uplifting by saying I just needed to check out more places, and to not give up.
I think overall, the pressure to find the right dress, can be kind of a lot.  It's a huge decision, it's a ton of money, you want to look and feel good, and there are just so many factors to consider.  So while I didn't find the dress on my first stop, and probably shouldn't have thought I would, it was hard to not put that pressure on myself.
The second place I tried was White Satin Bridal and originally, I was planning to go try on dresses by myself.  My friend had sent me a link to their Instagram one evening, and instead of procrastinating, I immediately went online and booked myself an appointment through their website.
I didn't think much of it, frankly I figured I would try on another 20 – 30 dresses for the sake of trying them on, and then figure out my plan B.  At the last minute, one of my besties said she would love to come with me, and so off we went.
The experience was amazing.
Walking into White Satin felt very different, and a lot more intimate.  I had an evening appointment and my Consultant who was so fantastic.  I told her exactly what I was thinking I wanted, and she let me go through all the racks and pull everything I wanted to try.  We ended up with over 30 dresses in the fitting room, and had the place to ourselves, which made it all the better.  Just seeing the dresses they carried, I could tell I was definitely in a spot that really fit the vision I was going for.
Still, I felt hesitant and kind of like I was wasting my time (and theirs) knowing I wasn't going to find "the one".
Boy, was I wrong.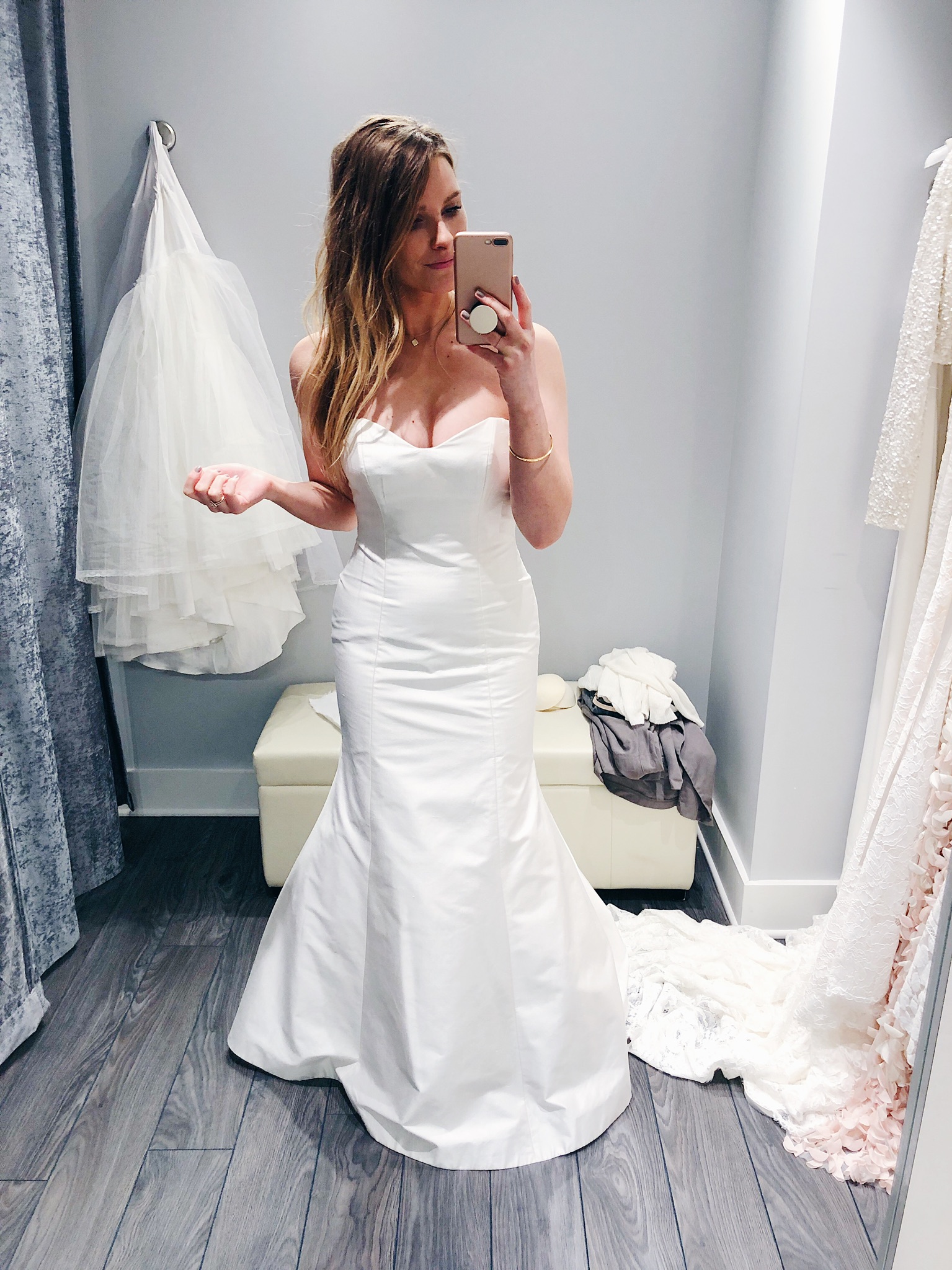 About five dresses in, I tried on the dress that I eventually purchased.  It was completely not was I had in mind.  Not like the silhouette I thought I wanted.  Not like what I had envisioned.  And yes, I loved it.
I stood there, in the mirror, in awe of what I was seeing, but also so confused by the fact that this dress was not supposed to be "the one".  It was so… different.
My Consultant said we would set aside the top three dresses, and we would re-try those three at the end.  I loved that idea.  It took the pressure off, and I could keep trying on more dresses, without having to commit to anything immediately.  It might sound silly to talk commitment, but when a dress speaks to you, it almost feels like you have to stop trying dresses, but for me, and I think a lot of brides, you want to be certain.
And so, we kept trying on dresses, and I kept comparing every. single. one. to that one.  Suddenly, I felt uplifted.  I felt optimistic.  I felt like maybe I would find my dress after all without having to jump through a million hoops.
By the end of the night, I had put aside two dresses, and after trying on 30, the only one I wanted to put back on, was number five.  I put it on,  stared at myself in the mirror, and felt happy and excited.  I also felt kind of shocked, but knew it was "the one".
So that's the story!  We are four and a half months away from the wedding, and I feel accomplished that I can tick off the wedding dress box… plus a couple surprises that go along in that category! 😉  You will see soon!  I will also continue sharing wedding posts & realness about planning as the weeks go by.  Would love to hear of anything you girls want to see more of, if you have anything in mind & hope you enjoyed this post.
See you tomorrow! xo