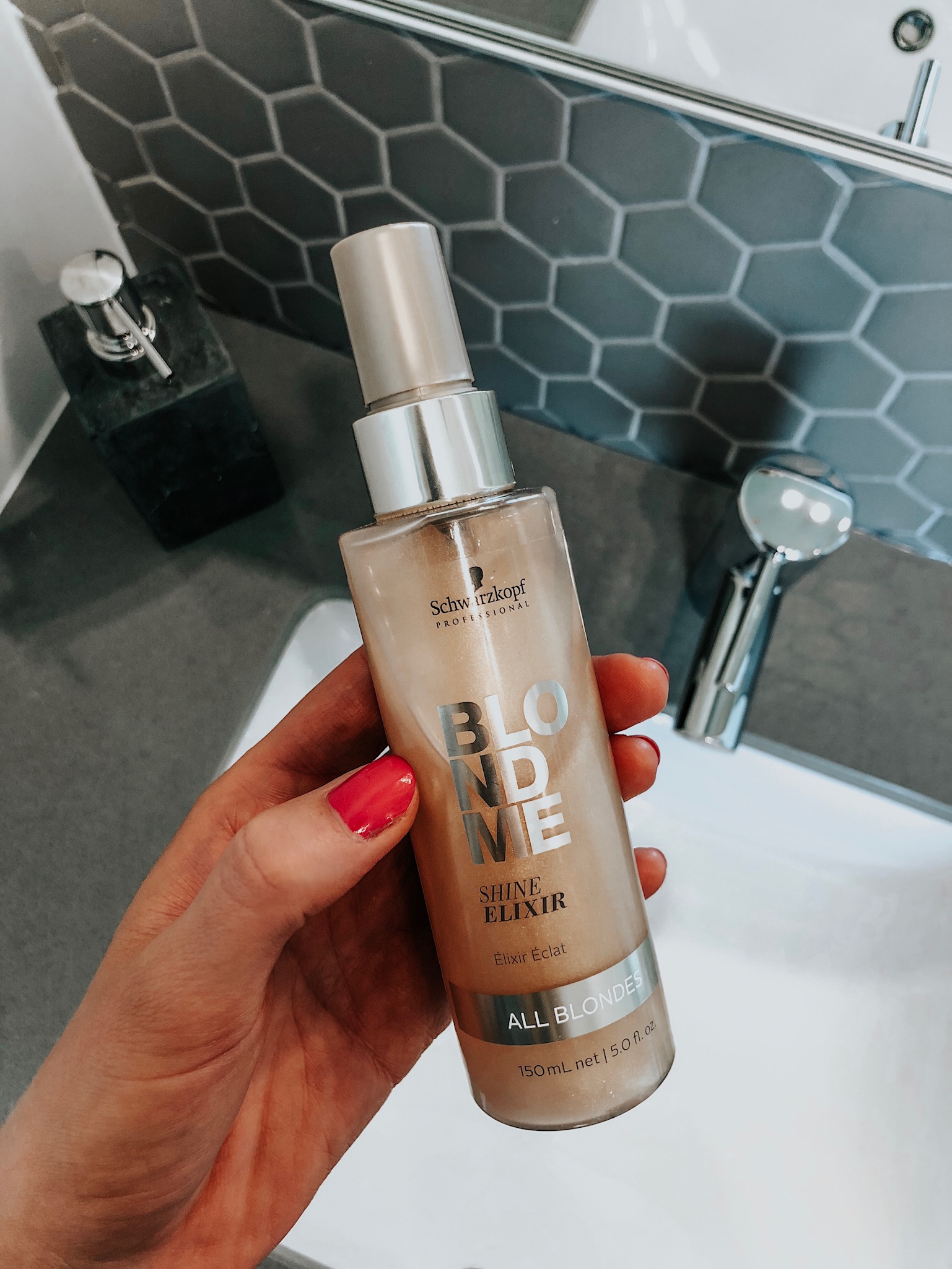 Okay girls, this is a long awaited post that I never felt ready to put together until now after trying lots and lots (and lots) of hair products.
I've rounded up my top six hair products that I use on a daily to weekly basis; the ones I always reach for because I know. they. work.  Let's jump in!
First up is this Schwarzkopf Blonde Elixir, which adds shine and an amazing smell to your hair.  It almost has a grapefruit freshness to it, but not citrusy.
When using, I always apply once my hair is styled.  I put a pump's worth in my palms, rub together and if my hair is straight, smooth through it, focussing on the ends.  If my hair is curled, I scrunch the curls upwards in my palm and at the sides to distribute the product without pulling the curl out.
PHOTO ABOVE:  SCHWARZKOPF BLONDE ELIXIR
Okay, an Olaplex mask is something you should definitely be using if you're a blonde or colour treat your hair.  It prevents and repairs damage, restoring broken bonds in your hair, ensuring the healthiest, strongest and shines hair possible. It is to be used as a hair mask.  You may have heard of your salon doing an Olaplex treatment to your hair, which is a great thing, and this is the take-home version of it to use between treatments.
I certainly don't use mine as much as I should (ack! Guilty!), but ideally you use it once a week.  I probably do it once every two months, and like to sleep in it versus just leaving it on for 10 minutes.  What you do is dampen your hair, then apply the product.  You can wrap your head in a towel–I personally like to use a soft t-shirt–and then sleep on it.  Wash it out the next morning and shampoo as normal.  Your hair definitely feels more full and plump, if that makes sense.  The bottle is under $25 and has lasted me for two years and I still have plenty.  A little goes a long way.
This is, hands down, the best budget friendly dry shampoo I've tried–and I have tried a lot.  Name it, and I've likely tried it.
This has a great formula, not too powdery but also doesn't make your hair greasier than it already is.  It has a mild, slightly more masculine scent, which I really like, but it's not super powerful or overbearing.  Two thumbs way up for this guy!
UNITE 7 SECONDS LEAVE IN CONDITIONER
If I had to pick one item out of this entire post, it might be this guy because it works so well.  I have find hair, but a lot of it and it tangles like crazy every time I shampoo it.  It drives me nuts and I feel like I'm breaking all my hair if I were to just brush it while wet.
This stuff comes in a spray bottle, you spritz it all over your hair, wait seven seconds (seriously), then brush.  Tangles be gone!  You will be amazed at how smoothly your brush glides through your hair, it's like a Christmas miracle.  I'm currently out and waiting for a new bottle and washing my hair has been torture without this stuff afterwards.  Every person I've mentioned this product to, if they know it/use it, they immediately start raving about how good it is.
I've tried many leave in conditions, and although this runs about $30, it's one hundred times worth it.  I've had this bottle for almost two years, so for about $1.50/month, you should definitely invest in it!
This little gem has been so amazing over the past few years to smooth out my ends when they were breaking and just made everything look really cohesive.  It sounds kind of funny to say it like that, but this serum is rich and one pump is enough.
I actually used this on an old pair of blonde hair extensions that were super damaged from all the heat styling I did to them (not to mention they were platinum blonde; the ones I'm wearing in this post).  They were pretty much done but I had the idea to use this serum on them as a last ditch effort and they actually brought them back to life!  I used about 7 pumps on the extensions and just continuously pulled the hair through my hands over and over again, brushing every now again, and then applying more product.  It worked wonders!
When I use this on my own hair, I find it works best on dry hair and sticking to the ends.  I've done two pumps and it's too much, and I've tried it on wet hair and it isn't really effective.  One pump, dry hair, run it through you ends 10 – 20 times and you will see a noticeable difference.
SCHWARZKOPF OSIS+ HAIRSPRAY LEVEL 2
I feel like I've been on the hunt for a good hair spray for years.  I tend to try something new every time and never fully commit to anything or find one that I love.  That changed when I started using this one last winter.
I find this aerosol definitely holds my style in place, but it's still moveable and not crunchy.  I did also try the level 1, and found it just added product to my hair without any real hold.  This one holds and I can use it daily for several days in a row without washing my hair and it doesn't really leave a residue (it kind of just brushes out).  I will definitely repurchase once this bottle is finished.
SHOP THE POST