I've been wearing these distressed denim girlfriend/mom jeans non-stop for almost two months now. I truly thought the trend wasn't for me, until I found these.
Best part?
They are now under $20!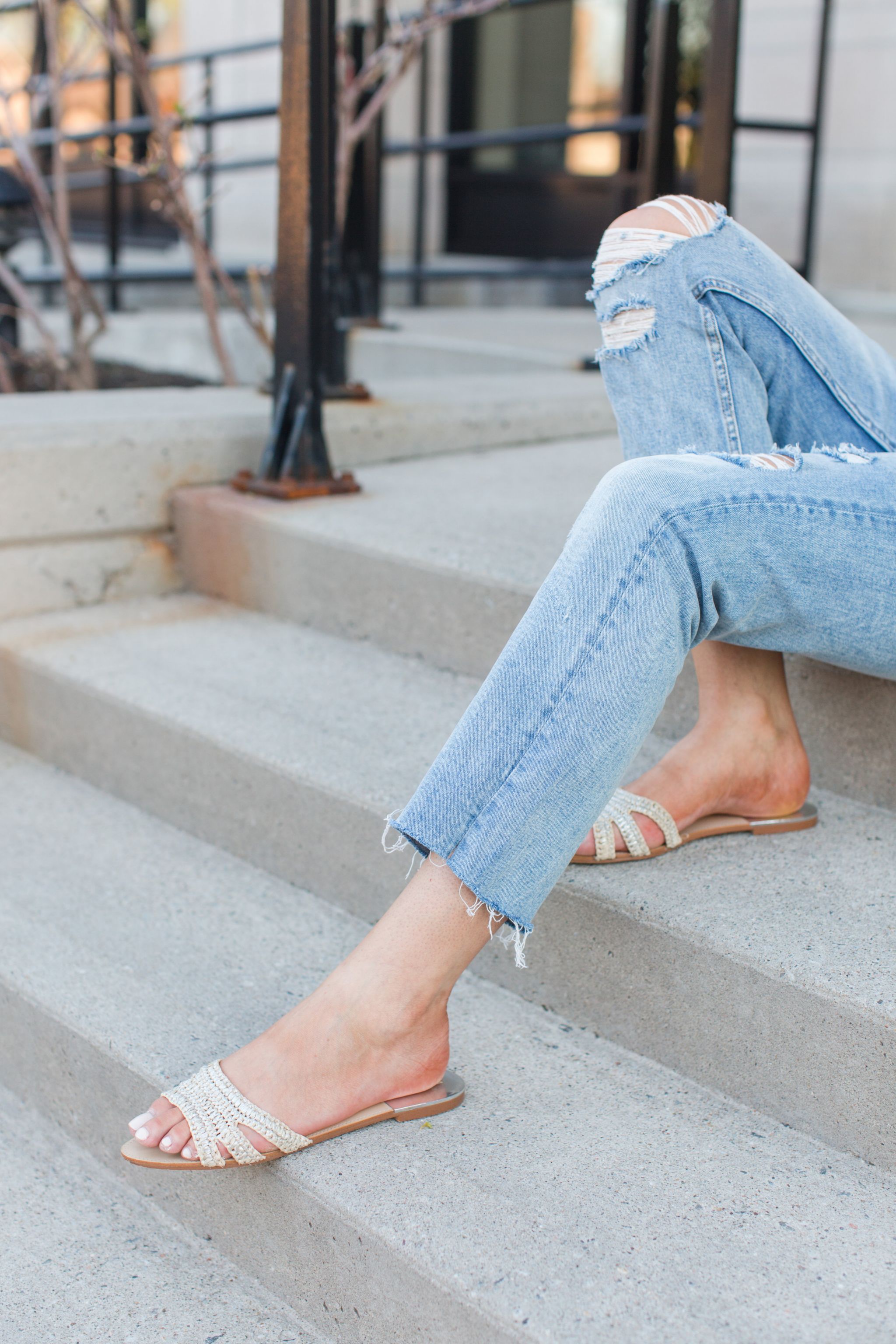 O U T F I T D E T A I L S : SHEIN BODYSUIT (SIMILAR) | DISTRESSED JEANS | ZARA SLIDES (SIMILAR) | BAG (BUDGET FRIENDLY) | HORN NECKLACE | GLASSES
Happy Friday! I'm closing out my holidays and excited to spend the last few days soaking up the sunshine. Yesterday, my best friend and I went to Le Nordik, the largest outdoor spa in North America, and spent the day relaxing in the pools and hot tubs. OMG, it was sensational and truly relaxing. She had gifted me a trip there for my birthday and we finally took advantage. I'll admit, after about four hours, I was getting a teensy bit antsy to check my phone (they ask that you leave those in your locker), but disconnecting for the afternoon was really great. We had some cocktails and just spent hours chatting (or being quiet in the silent areas) and enjoying each other's company. Awesome.
Back to the outfit, these jeans are insanely comfortable and I find myself reaching for them more often than not. I can't believe they have converted me from my skinnies, but they have! I did chop off the bottoms myself as I wanted a raw hem. These are available in several lengths, which is so rare these days, so you can really customize what you want them to look like. And if you're digging the raw hem, just take some scissors to them and throw them in the wash; they will unravel over time. Also, for sizing, I went up a size (I'm wearing a 31) as I wanted them to be a little looser in the waist so I could pair them with snugger fitting tops. I find baggier, girlfriend/mom style jeans look so good with a fitted top, but I also don't want to feel like I'm sucking it in for hours on end 😉
Every time I wear my glasses on Instastories someone always asks about them. To be honest, I bought them about a year ago and truly wasn't sure about the style, but knew I wanted to try a larger frame. I needed another pair that I could keep in the car for driving (especially at night in the dark, definitely when I need them most) but didn't want to spend a ton. These cost me under $25 and have become my favourite pair!
Lastly, fun fact: these photos were shot outside the condo building Marco and I lived in for three years! I couldn't share the outside when we lived there, but I was in the area recently so we snapped these pictures on the front steps. So many fond memories of living there–and we've already been in our house for over a year now! You can see a full condo tour + more here.
Hope you girls have a wonderful weekend! xo
SHOP THE POST
Photography by Lisa Provençal.