Today is a very exciting day, I'm finally sharing the details of my wedding dresses!
When I started the hunt for my dress, I had something very specific in mind (I did a post about that + all the dresses I tried on), and ended up with something completely unexpected but that felt very me.  I was also able to incorporate what I had envisioned into an even better surprise, which was a second dress!
Let's jump into the photos and I'll explain along the way…
CLICK HERE TO READING ABOUT MY WEDDING DRESS SHOPPING EXPERIENCE
THE LONG WEDDING DRESS
My long dress is a silk, cami-style gown by Nicole Miller.  I found it at my second bridal store stop, White Satin Bridal and when I pulled it among 30 other dresses, I was pretty sure it wouldn't be the one.  It wasn't much to look at on the hanger and wasn't really what I was going for, but I figured I'd try it anyhow because the fabric was so stunning.
It ended up being the fourth or fifth dress I tried that evening and I was stopped in my tracks when I put it on.  I was so surprised at how much I loved it yet how simple it was, I actually didn't want to take it off.  My Consultant assured me we would put my top five dresses off to the side and come back to them all, but in the end, only one dress remained.  I slept on it for a few weeks, but couldn't deny it was the one.
One thing I wasn't totally sold on was the lace panel on the train, so I had my seamster remove it.  We also added cups into the bust and added some additional lace to the panel on the back.  The length was a smidge long, but only because I was wearing slightly lower heel (around three inches) for the ceremony.  I knew I would change into my taller heels for the party, so we didn't alter the length.
THE SEQUIN TOPPER
Anyone who knows me, knows I love sequins.  I saw a wedding dress a couple years ago that was all sequins and loved it however, I knew that a full sequin gown wasn't for me for this occasion.  When my girlfriend pulled this Theia long sleeve sequin crop top at the bridal salon for fun, my jaw dropped.  It was the perfect amount of extra, plus I was able to incorporate a sleeve into my wedding dress, which was something I had hoped for.
I tried it on and fell in love, almost more so with it paired with the dress than without!  Plus, I knew I would be able to wear it after the fact for festive occasions with a pencil skirt or over another dress.
Since Marco and I were getting married late in the day, doing our photos beforehand was imperative for the light.  We didn't love the idea of seeing each other beforehand, but had no choice.  I knew Marco secretly felt disappointed knowing he would see me before the ceremony in my long dress, so I loved that I could wear the sequin topper after to surprise him coming down the aisle with a different 'look'.
When we went to do our reception entrance before dinner, I removed the sequin topper as our guests hadn't seen me without it, so it was like a new dress/surprise for them.  It was so great!  Lots of our friends were asking me if it was a new dress or if it was the same one, it was just really fun and a great way to incorporate an outfit change.
THE CROPPED FUR COAT
About a week before the wedding, it started calling for snow.  We were getting married cliff-side and had envisioned this colourful fall wedding.  I also had been worried about the temperature for months, so now that it was going to snow, it kicked us into high gear to find something for the bridesmaids and myself to wear during the outdoor ceremony.
I actually pulled this little white fur coat from my closet—it's something I've had for years and barely worn (this one is similar).  Our on-site coordinator had it in the front row of the seating so when I arrived, the girls and I all took 30 seconds and threw on our fur coats before beginning.  I needed an extra layer that day and am so thankful I had it because even still I was shivering like crazy during the ceremony!  We joked that every photo of me might turn out blurry because I was shaking.  It was cold!
THE LACE PARTY DRESS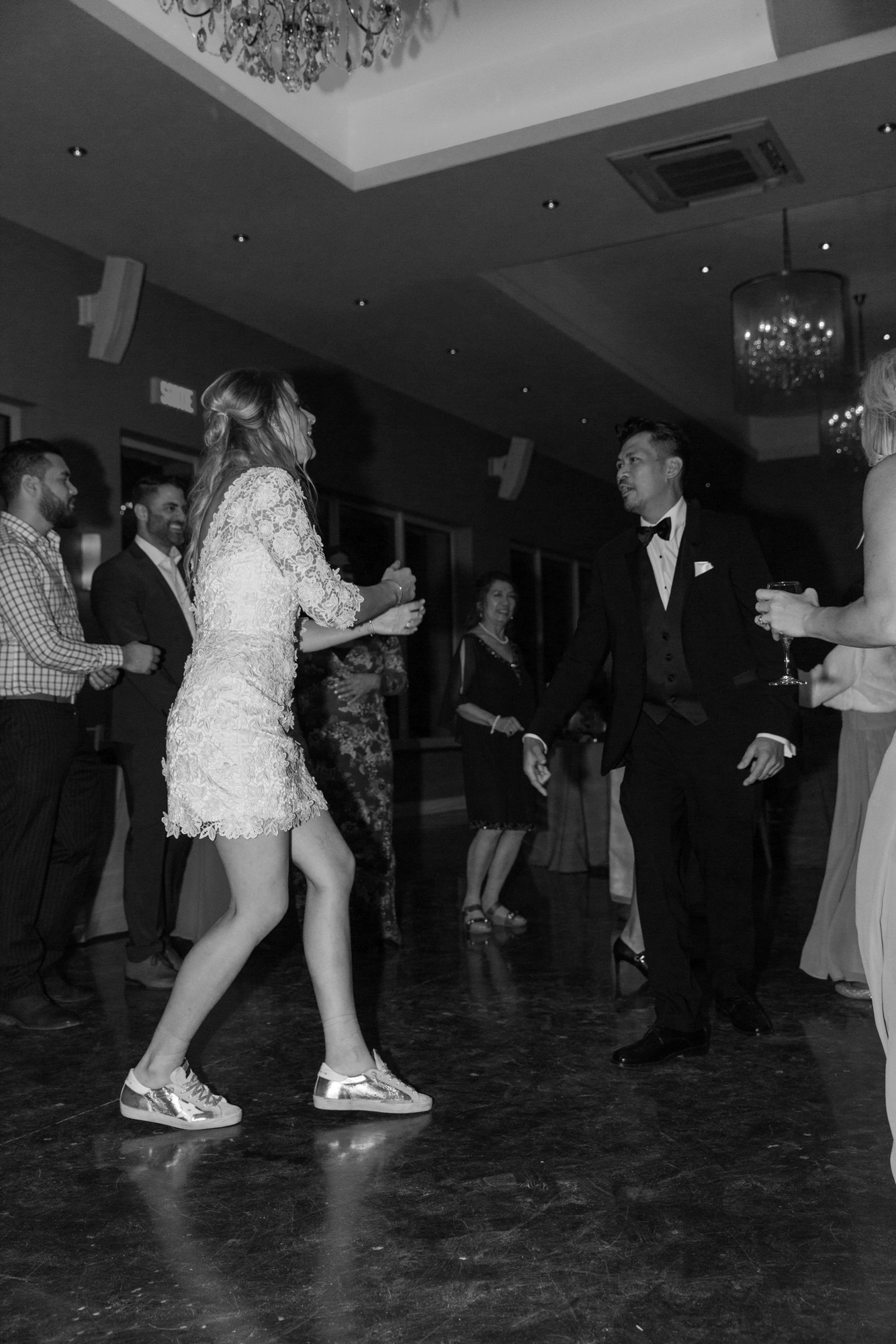 The first photo brings tears to my eyes–it was such a happy moment!  After dinner, we had our MC announce that we would be having a special toast in about 10 minutes and to ensure everyone was back at their seats by then.  Marco and I scooted away to the basement of our venue where I had my party dress waiting.  I changed and we came back and gave a champagne toast.  It was so exciting walking back in with another look–the crowd was so sweet too.
The dress is by Modern Trousseau and is pretty much my go-too silhouette for anytime we have an occasion to dress up–I love a long sleeve with a short hemline.  Furthermore, I got to fulfill my dream of lace and long sleeves for the wedding, but with something that flattered me much better than any similar long dress, that I tried.  This dress was heavy, structured and just felt so great on.  I knew it would be the best dress to dance all night long.
We gave our toast and then it was party time!
A little later I changed into my new sneakers!  Definitely a splurge, but I didn't spend additional money on my ceremony nor reception heels, and knew I would get a ton of use out of these after the fact over a fancy pair of heels–plus, these just felt more me and gave me the ability to dance and be comfortable.
So those are the details and decisions behind the dresses and outfit changes and more!  I will be sharing so much more about the wedding + a full post dedicated to what jewelry I wore as well.  Thank you girls for being on this awesome ride with me and sharing in our joy of such a special day.  Can't wait to show you more as our photos come back!
SHOP THE POST
Photography by Lisa Provençal.