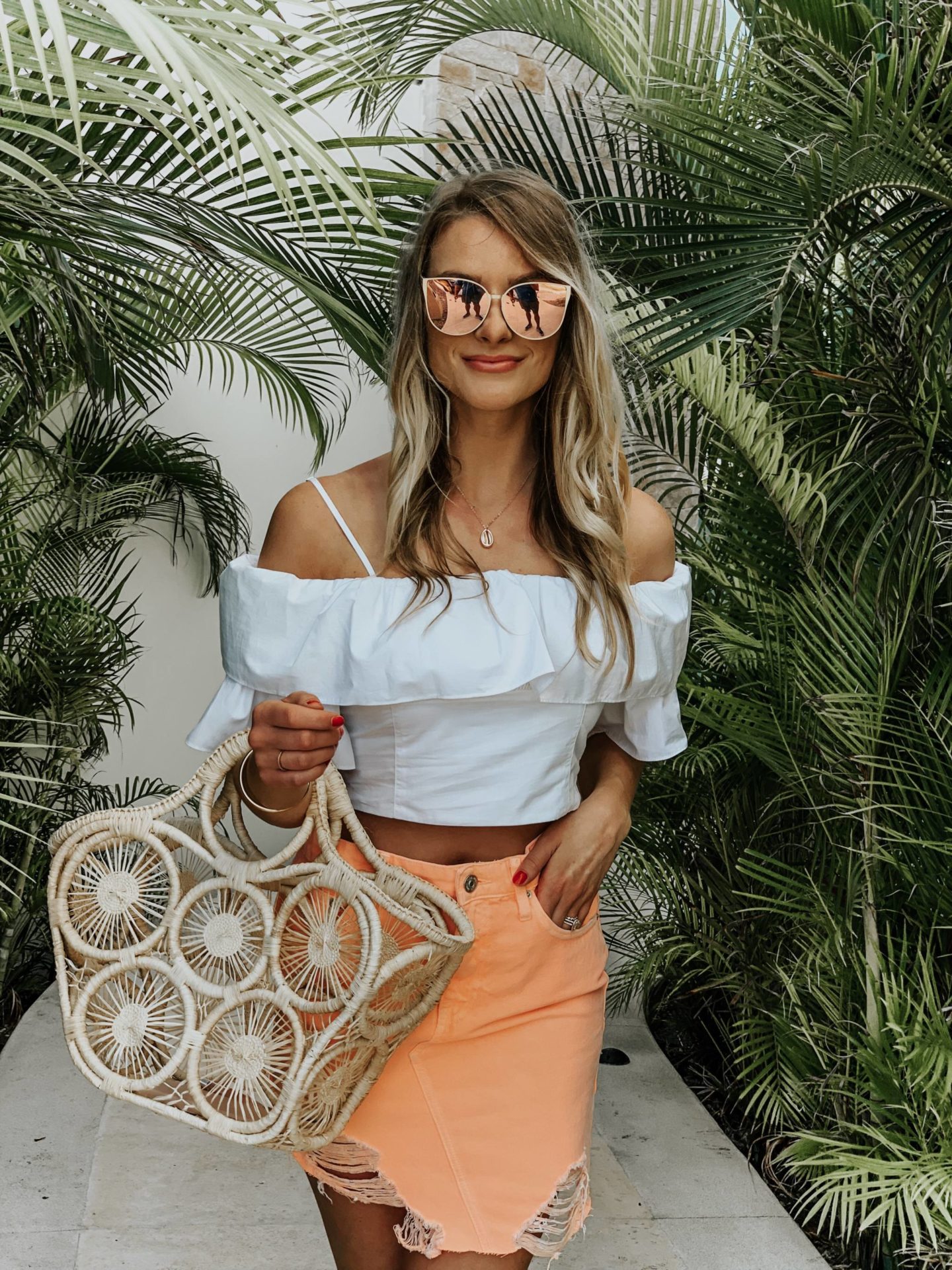 Are you girls into the neon trend? I'm here for it, and love that it's made a resurgence back.
I've had these heels in my closet forever but haven't worn them in a few years, actually. Excited to break them out again on this vacation with my new skirt, which is kind of a muted neon.
ZARA TOP (SIMILAR, SIMILAR) | NECKLACE | SUNGLASSES | ZARA SKIRT (SIMILAR) | CHRISTIAN LOUBOUTIN HEELS — OLD (SIMILAR, SIMILAR, BUDGET FRIENDLY) | BEACH BAG | ANKLET
I wore this outfit out to dinner last night and coincidentally there was a neon party happening at the resort! I've seen a few girls rocking neon during the day at the pool–all colours go: orange, hot pink, yellow and green. If you just want to dip your toe into the trend, a pair of heels or an easy denim skirt is a great way to do it. I'm linking a bunch of options below for both in the widget.
Also, I shared this skirt in my Try-On Tuesday post last week, and noted that it runs a tad big, so I went down to a medium. I find I'm often a large at Zara, and this skirt has a bit of an oversized fit on it (as you can see on the model online). That said, I wanted it to be more of a fitted skirt, so I sized down; all in preference.
I have been using this beach bag all week while in Mexico and love it. I was coveting it since last spring and it finally went on sale before our trip so I pulled the trigger! Thankfully I packed a small fabric bag (that I typically use to hold my electronic accessories) that's been useful to carry my lip balm, gum, room key and such. The other things I'm typically bringing to the pool are a book, sunscreen and my phone.
Hope you girls all have a wonderful Easter weekend, we are enjoying our last couple days soaking up the sun while we can and drinking all the cocktails 😉 Will do a full round up of our trip once we are back.

SHOP THE POST