Hello and good morning! Happy to be back for Try-On Tuesday after last week's hiatus (simply because we were travelling and I had nothing to share).
There are a few items I'm sharing today that you may have seen if you follow on Instagram or Stories, but I wanted to give them a little more love and chat with you about sizing, etc. Anything you did see, came immediately before we left so I didn't have a chance to share last time 🙂
Per usual, I'm linking everything below and also on my my LiketoKnow.it profile. All Try-On Tuesday blog posts can be found here.
Let's jump in!
BLOUSE | HOOP EARRINGS | SIMILAR SHELL NECKLACE | LACE SKIRT | HEELS — ON SALE!
Office wear can sometimes bore me but is also kind of a necessity since I work a 9 to 5. That said, when I saw this skirt I was really drawn to how gorgeous it would be for spring/summer at work and for any upcoming events–baby shower, family dinner, anything that calls for you to be a little bit dressed up. Plus it's super budget friendly!
The skirt is lined with a stretchy fabric and has an elastic waist band plus a back zipper and back slit. I would say it runs big as I sized down to a small (am usually an 8 here). It sits high on the waist so looks great with something tucked in–blouse, cami or even a sweater if it's still cool where you are.
I paired it with a blouse I've had in my closet forever, but is one of those pieces they keep bringing back year after year. This is a perfect office look, but would also work if you had an event or a meeting. I wear these heels at least twice a week at work–they are chic, well made and elevate any outfit. I keep a pair under my desk at work because I wear them so often!
RUFFLED OFF SHOULDER TOP | HOOP EARRINGS | SIMILAR SHELL NECKLACE | LACE SKIRT | WHITE WEDGES
Now this is a look I can get behind! 😛 Definitely not office appropriate, but wanted to share how I would wear this skirt on the weekend or to an event where you don't need to be so covered.
I shared this top last week and wore it while we were in Mexico–I picked it up days before we left and know I'm going to get a ton of wear out of it this summer with high waisted skirts, shorts and denim–love!
I'm wearing a size medium in the top. The large was actually too big, so I think Zara is slightly modifying their sizing to be more true to size, versus running small, which is nice.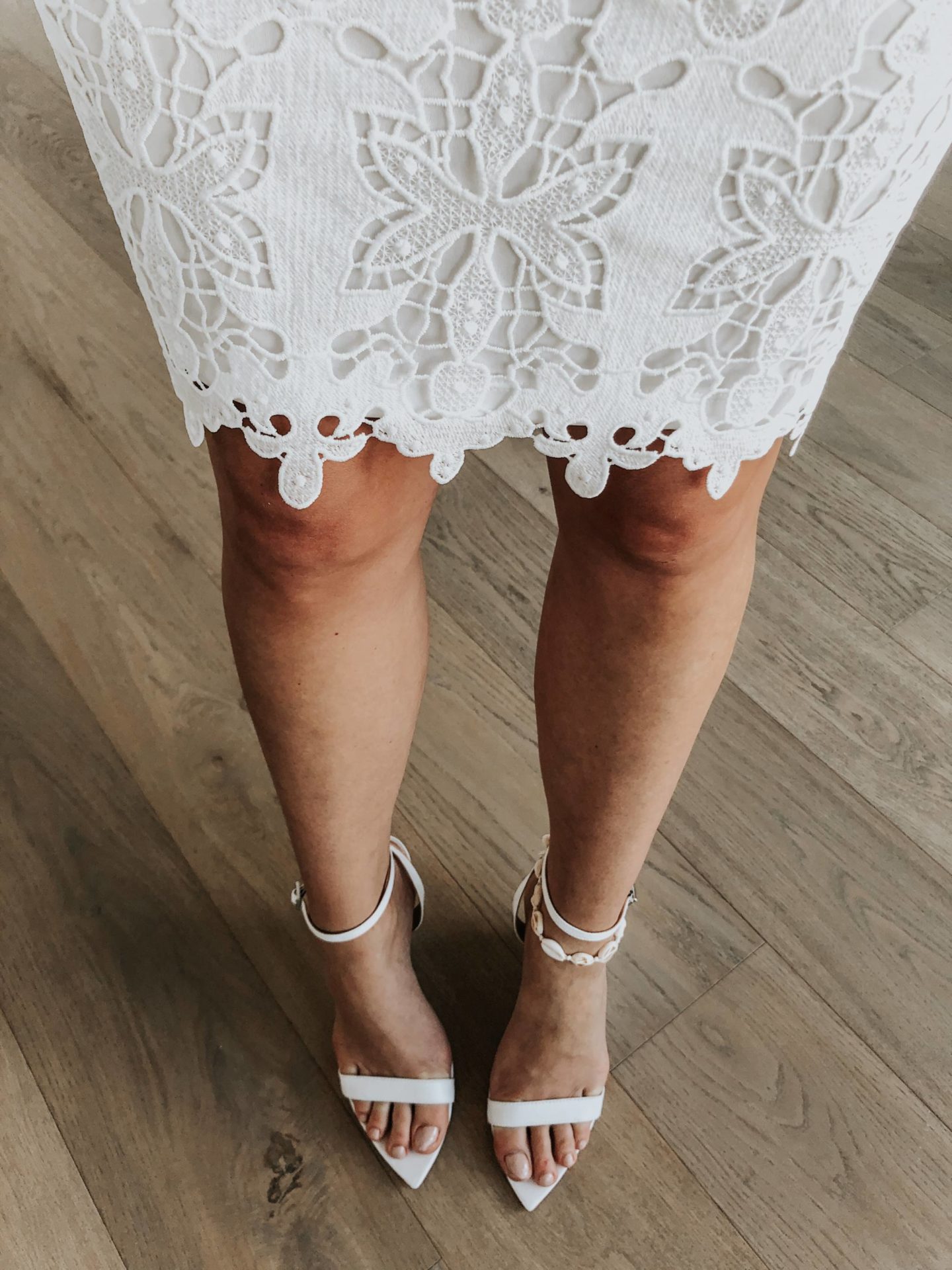 These wedges!
I keep telling Marco these are my shoes of summer 2019–I'm so crazy about them! I plan to wear these with every and anything and sprayed them twice before we went to Cancun to ensure they stayed as clean as possible.
The brand runs a tad small, so I sized up to a size 11 (I'm usually a 10 at Aldo, Steve Madden, Golden Goose, TKEES, Target, etc. but do wear a 41 at Zara) and they're a perfect fit.
White is THE colour for shoes this spring/summer so if you haven't already snagged a pair, the time is now! I wore these multiple times on vacation (full recap to come) and found them really comfortable to climb the four flights of stairs to our room, plus tromp around the resort at night time to dinner and back. I love the pointed toe and higher ankle strap–it's super flattering on the leg.
Again, these do come in four colours, with tan suede being a close runner up for me. The white is definitely the most fashion forward, but tan or black would still be really beautiful and stylish for years to come.
RUFFLED OFF SHOULDER TOP | DENIM | WHITE WEDGES | BEACH BAG (ALSO IN GREY, MORE COLOURS HERE)
So so so excited about this beach bag–that was used heavily (i.e. daily) on our trip to Cancun. I was actually eyeing this around this time last year, but it's a little bit pricier so never pulled the trigger.
I noticed it on sale a few weeks back and it arrived just in time for our holiday! Sadly it sold out, so the only ones I'm currently seeing online are full price. If you love it, it's worth it! Otherwise I'll keep you posted if I ever see it go on sale 🙂
I will say, it travelled really well in my suitcase and served me well for vacation. I stuffed it with various items; shoes in a fabric bag, some undies, another fabric cross body purse and my curling iron. Then I put it back into the plastic bag it came in before laying it in my suitcase.
As far as using it goes, while it looks delicate, it's actually durable. The structure has wire in it so it's easily re-shaped after each day's use and I was able to stuff it with tons of stuff on the day we took a catamaran excursion.
HAT | BIKINI TOP — ALMOST SOLD OUT (SIZE LARGE HERE) | BIKINI BOTTOMS | SIMILAR LEOPARD SCARF — NOW $5! | HOOP EARRINGS | SIMILAR SHELL NECKLACE
Super excited (again, haha) about this hat and this bikini!
I saw my blogger gf wearing this hat on her recent vacation and I fell in love. It arrived right before our trip and I wore it almost everyday.
The brim is super wide and the edge is raw–after a couple wears, it started to fray, which I love and just adds some character to it. I am wearing a size medium–simply measure your head with a measuring tape, the size guide online is perfect and easy to follow (I was exactly the size of a medium hat).
Something to note, this hat comes in two styles: the fedora (mine), and the boater (more of a round top without the two divets at the front). Whichever you like is simply a personal preference, I think. I think the boater style looks really cute worn on the back of your head, whereas the fedora is great both ways. I also noticed this hat was just restocked, but it was sold out forever and I had the hardest time finding the fedora version.
Lastly, the hat re-shapes really easily, there were a couple days mine got wet from being in the pool etc. and the brim started to wave a little, but simply placing it flat on the dresser overnight solved it by the next morning. It also traveled really well in my suitcase, I simply stuffed the hat with swimsuits and laid it flat in my suitcase, then packed clothes around it. I was pleased to see the shape remained when I got home (as you can see in these photos after wearing it for a week 😉 ).
As for the bikini, I found this one in Whistler and had never tried on the brand before and it's safe to say I've found my new favourite swim line. These suits are definitely pricier than what I'm used to, but the quality and fit is unreal good! As soon as I put it on, I was sold. Personally, I've never been one to feel super comfortable in a bathing suit and that has changed with this brand and the style.
I also never buy white swimsuits because I find they are way more flattering on someone who isn't fair like me and yet here we are! If that doesn't speak volumes…
Anyway, even when I took Marco back to the store to show him (after sleeping on it 😉 ), he was like, 'Okay wow, that looks really good' — and he's not a man of many words very often, haha!
The fabric is double lined and the straps are adjustable, the bottoms come just to my belly button but once the suit gets wet, I can pull them a little higher. They are very high cut on the leg (which elongates the leg–it's really flattering TBH, just takes some getting used to) and quite cheeky. I'm wearing a size large in both pieces and cannot recommend enough. Not see through when wet either! If you're going to splurge a little on a suit, make it this brand. So good!
HAT | NAVY BIKINI TOP (ALSO IN BLACK & NUDE) | NAVY BIKINI BOTTOMS (ALSO IN BLACK) | BLACK BEACH BAG | SIMILAR SCARF/SARONG — UNDER $10! (LOVE THIS ONE) | HOOP EARRINGS | SIMILAR SHELL NECKLACE
And lastly, one more suit by the same brand as above! You guys!! I saw this and fell in love. First of all, dark colours (especially navy) work so well with my fair skin, and I loved the white one I got so much, I snagged this as well. I wore this on the day we did our catamaran excursion and it worked well as a crop top with a high waist denim skirt when we set out to the explore the island we stopped at.
This one is a ribbed fabric, which I wasn't too sure about (you know my feelings on ribbing) but it's actually super flattering and doesn't widen/stretch out in an unflattering way when worn. I am obsessed with the top especially–the v has wire in it so it stays really taut when wearing and offers a little support. Again, both pieces are lined and feel so good on the body. There are no cups or underwire in either of the swimsuit tops, but I still felt supported. The bottoms are the same cut as above and again high cut on the leg and cheeky. I will definitely be saving up to buy more of these suits, so good!
Lastly, the round black beach bag was something I picked up just days before our trip and love it. You can see a better look at it here. It's super unique and the fringe is so pretty. There is a small, attached, zipper pouch inside which is great to throw your lip balm, gum, and little items etc. into to prevent it from falling through the holes. This bag also travelled well, I simply laid it flat, without anything in it, inside my check luggage and it was fine upon arrival both times.
Hope you girls enjoyed this & you can see everything in motion on IG Stories today, where I'm also sharing additional sizing and styling details for the pieces.
SHOP THE POST