Today's post is all about what to bring with you on a catamaran excursion. We did a full day catamaran and island tour while in Cancun last week, and it was awesome. We've done a ton of excursions over the years, and like anything, the more you do something, the better you get at prepping for it.
Typically when we travel down south, we will take one of the days to go off the resort and do some sort of activity. Marco is usually the driving force behind these plans as he loves to break up the week. Personally, I tend to get motion and sea-sick so I'm always wary, but I have also found something that helps me immensely in those cases, and wanted to share, on top of how to prepare.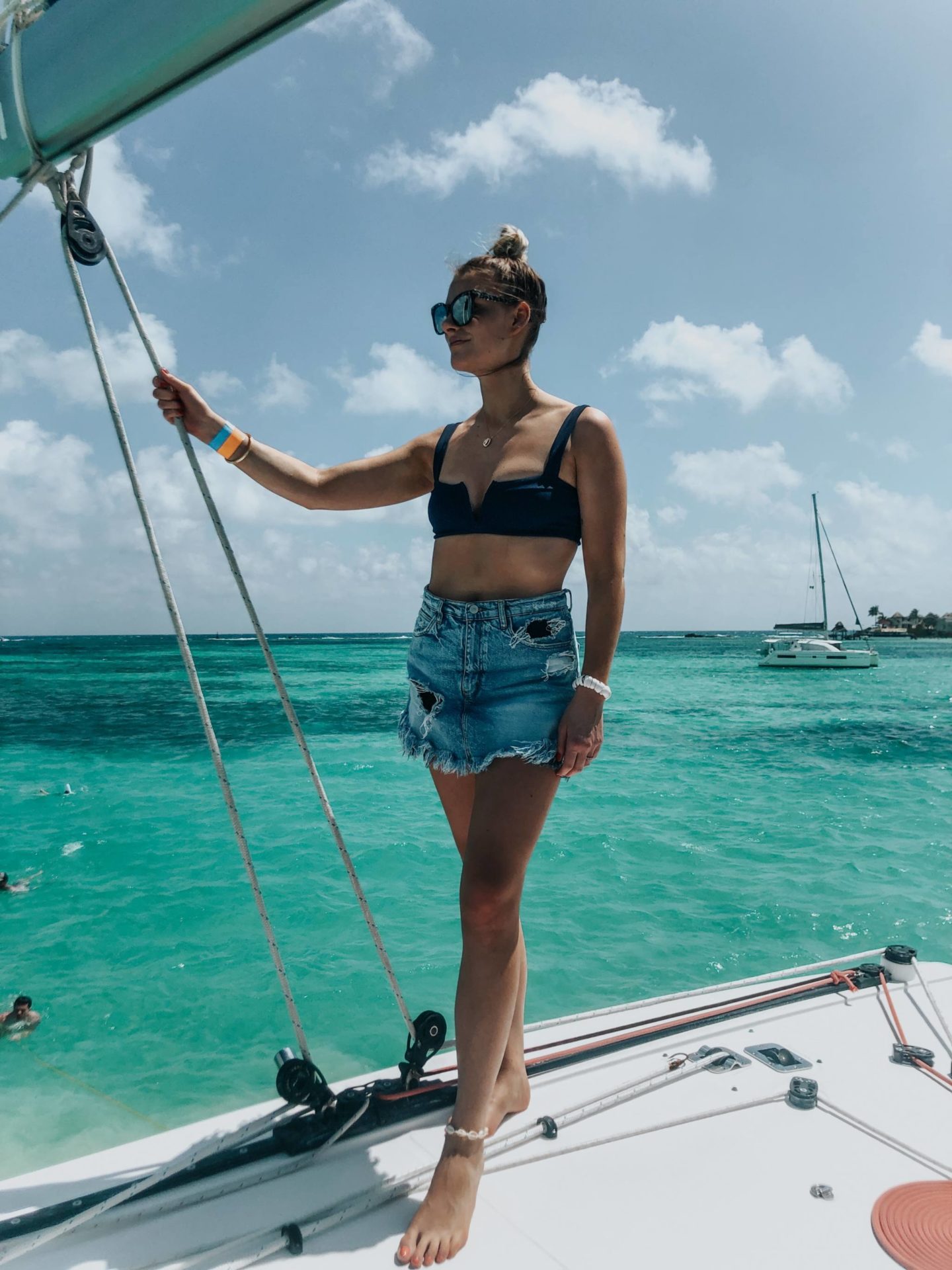 BIKINI TOP | BIKINI BOTTOMS | SUNGLASSES | ZARA SKORT — OLD (SIMILAR, SIMILAR IN WHITE) | ANKLET | BEACH BAG — BELOW
After this picture was taken, we jumped in the ocean!
So fun and the water was so teal, it was unreal gorgeous. That said, the water was also super choppy so the snorkelling that was planned didn't happen. They actually threw a rope with life ring out (attached to the boat) for us to hold onto (life jackets are always an option too). I'm a relatively good swimmer, but let me tell you, boy was I glad to have that rope! Haha. The waves were so big it was hard to tread water without getting a mouthful! 😛
Back to the packing aspect of the trip, below you will find the items I think are imperative for any type of excursion (not just a catamaran):
SWIMSUIT | Wear your swimsuit and layer it under a cover-up or some shorts and a tee. There may not be a place to change, and then you're immediately ready to go.
SPF | Always bring sunscreen on any excursion you do, apply it in advance so you're not scrambling to get some on while already baking in the sun. I typically bring a lotion and an aerosol–especially great for the husband that doesn't like to sit still 😉 . I love this sunscreen lotion, it absorbs well, smells great and doesn't contain parabens nor sulphates; also, one bottle has lasted us two trips.
HAT | Protect your face and neck with something that has a good sized brim. I loved this one when we were in St. Lucia; I could wear my hair up and make it super snug so it didn't budge in the wind + it rolls up nicely to fit easily into your bag.
TOWELS | Don't assume your excursion tour will have towels available to you, they most likely won't. Swing by the pool at your resort and grab one per person on your way out.
LARGE BEACH BAG | Something to store all the above things into.
SMALLER, ZIPPER/COSMETIC BAG | This is great to store all the littler things you're bringing in the large bag, without losing them all to the bottom. Think lip balm, gum, medication, hair tie, cards/money, etc. Any smaller bag you may have already will do but these ones are waterproof and would be great for travel in general to hold electronics cords, cosmetics, medication, etc.
SUNGLASSES | Pretty self explanatory but a total day-killer if you don't have them. I brought these ones when we went.
INSURANCE CARD & IDENTIFICATION (NOT YOUR PASSPORT) | This one is really important, should anything happen to you while you're off the resort, it's incredibly important you have this with you. Do not bring your passport though, that should stay locked in your safe at all times.
ANTI-NAUSEA/ELECTROLYTE TABLETS | This one is so crucial for me. A couple years back, when we were in Cancun, we went on a super fun excursion with friends. The only problem? I got so sea sick! Thankfully, when we arrived to the island we were visiting for lunch, friends of ours had these electrolyte tablets that dissolve in water. I took one and within 20 minutes was almost brand new! We ordered a bunch after that and always bring them on vacation with us (my fave flavour is the lime). This time, I popped one into my water bottle while in the van, en route to our catamaran pick up, and it was smooth sailing the entire day! Pepto and Advil are also good things to bring on vacation in general, as well.
WATERPROOF CELL PHONE HOLDER | I bought two of these waterproof cell phone cases last summer and they have come in so useful on multiple trips. You can still use your phone through the case and can either use the strap around your neck or attach it to your bag or the boat. It's a $5 'investment' you'll be glad you made 😉
CASH | While you've likely paid for your excursion up front, there are still things you'll want cash for (souvenirs, a snack, water, etc.), and tips are never included in your excursion fee either. Sidenote: bring enough to tip your driver to your excursion and the tour staff on your excursion.
BOTTLE OF WATER | Excursions often include unlimited alcohol, which is great, but it can also take a minute (depending on how many people are on the tour or where the first stop is) to get water. Bring your own bottle of water (from the resort is fine) just in case. This will also prove helpful if you need to take any meds.
LONG SLEEVE TOP | This one isn't mandatory, but in my experience, the boat ride back can be a lot cooler than the morning ride, especially depending on the time of year. I've always been thankful to have some long sleeves too after being in the sun all day. This one would be really cute over a swimsuit.
That's it, you're ready to go!
If you're curious about the Cancun excursion we did, it was the Albatros catamaran tour (our boat was called, 'The Big Chill) and they were amazing! The boat was pretty packed, but we still had great 'seats' and the entire day was so much fun. Highly recommend!
SEE ALL-INCLUSIVE TRAVEL POSTS HERE
Happy excursioning!
SHOP THE POST