We are back from one of the best trips we've taken, and I have to say, I was so bummed coming home! I'm usually pretty ready to come home from a vacation, but this time I felt super sad to be leaving a city I felt I connected with- so hard –in just a matter of days–Vancouver.
The said, I have a lot to share about what we did, where we stayed, ate and more, and a ton of pictures if you'd like to see…
We started our trip in Vancouver, where Marco and I flew in separately (he was away for work) and met at the airport. We rented a car and made our way to the Mountains.
Whistler is about an hour and a half drive from downtown Vancouver and the highway 99/sea to skyway is just unreal. So picturesque. We went to Whistler two years ago, and the drive was just as impressive this time. The mountains, the valleys, the ocean, everything! It's so stunning, and the photos don't do the mountains any justice–it truly is something you have to see in person to get the full experience.
SIMILAR HAT | ZARA JACKET — OLD (SIMILAR) | DYNAMITE CARDIGAN — OLD (SIMILAR) | LEGGINGS — MY ABSOLUTE FAVE FOR AROUND THE HOUSE & TRAVEL | BAG (BUDGET FRIENDLY)
We got into Whistler in the late afternoon and checked into the Sundial hotel, which is right in the heart of the village, at the bottom of the Whistler gondola. The location truly cannot be beat, and the hotel is small-ish and has that Canadiana feel to it–fire burning in the lobby, apple cider for sipping with a large branch chandelier hanging from the ceiling by the front desk.
After freshening up, we put our name on the list at Sushi Village for dinner, then set out to explore the village a little. We dropped off my snowboard to have it waxed and wandered around, popping into a few stores. Then it was dinner time and boy did we feast!
Possibly the best sushi we've ever had!
Two years ago, when we were in Whistler with our friends, we went to Sushi Village on our first night, but I was sick as a dog (the worst cold/sinus/congested). I tried to rally but felt so awful–I could barely taste anything either, it was such a bummer after having heard rave reviews. This time, I fully enjoyed the experience and we had an amazing meal.
The next morning, we were up bright and early to hit the slopes. We grabbed our passes and went up to the Gondola to the top of Whistler. The views are insane, even if you're not skiing, it's worth a trip up just for the photos (people do that all the time) because it just takes your breath away!
We skiied for a bit then stopped into the chalet to grab a coffee and snack, then skiied a bit more and grabbed lunch.
We took the 'peak-2-peak gondola' which is a massive tram on a cable that fits about 20 people and goes from Whistler mountain to Blackcomb mountain, and back. It takes about 10 minutes. At one point it is over 1400 feet in the air (it was kind of freaky TBH lol! I had to talk myself down a couple times in my head)–it's incredible. Once there, you can ski more, take pictures, grab a bite to eat, etc.
That night we had dinner at another favourite spot, the Mexican Corner. The margaritas and tacos are unreal, and the location was inside the hotel we were staying at so it was really convenient to go through the back entrance and avoid having to get dressed up in jackets, etc.
CASHMERE SWEATER (SIMILAR) | NECKLACE | BLACK SKINNIES | GOLDEN GOOSE SNEAKERS (SIMILAR, BUDGET FRIENDLY | — NOW ON SALE UNDER $40!) | BAG (BUDGET FRIENDLY)
The next day was a chill day–we wandered around the village, shopped, sat on patio and just enjoyed the amazing weather (about 14C).
The last trip was 'unseasonably cold', so it was a totally different experience this time, and I'm so thankful for that! We truly enjoyed the weather outside versus running in and out of stores and restaurants as fast as we could 😉
We even spent half the day at the Scandinavian spa, which is outside, and that was a cool experience since the weather was on our side (we even sun bathed for a bit on adirondack chairs!).
SIMILAR BEANIE | ZARA JACKET — OLD (SIMILAR) | LONG SLEEVE TOP | NECKLACE | SUNGLASSES | GOLDEN GOOSE SNEAKERS (SIMILAR, BUDGET FRIENDLY — NOW ON SALE UNDER $40!) | BAG (BUDGET FRIENDLY)
Our final day in Whistler was spent just hanging out, before hitting the road back to Vancouver to spend our last two days.
We checked into the Hyatt, downtown Vancouver, and the location was amazing. Just steps from the harbour front and the mall, and so many cool shops and restaurants within walking distance too.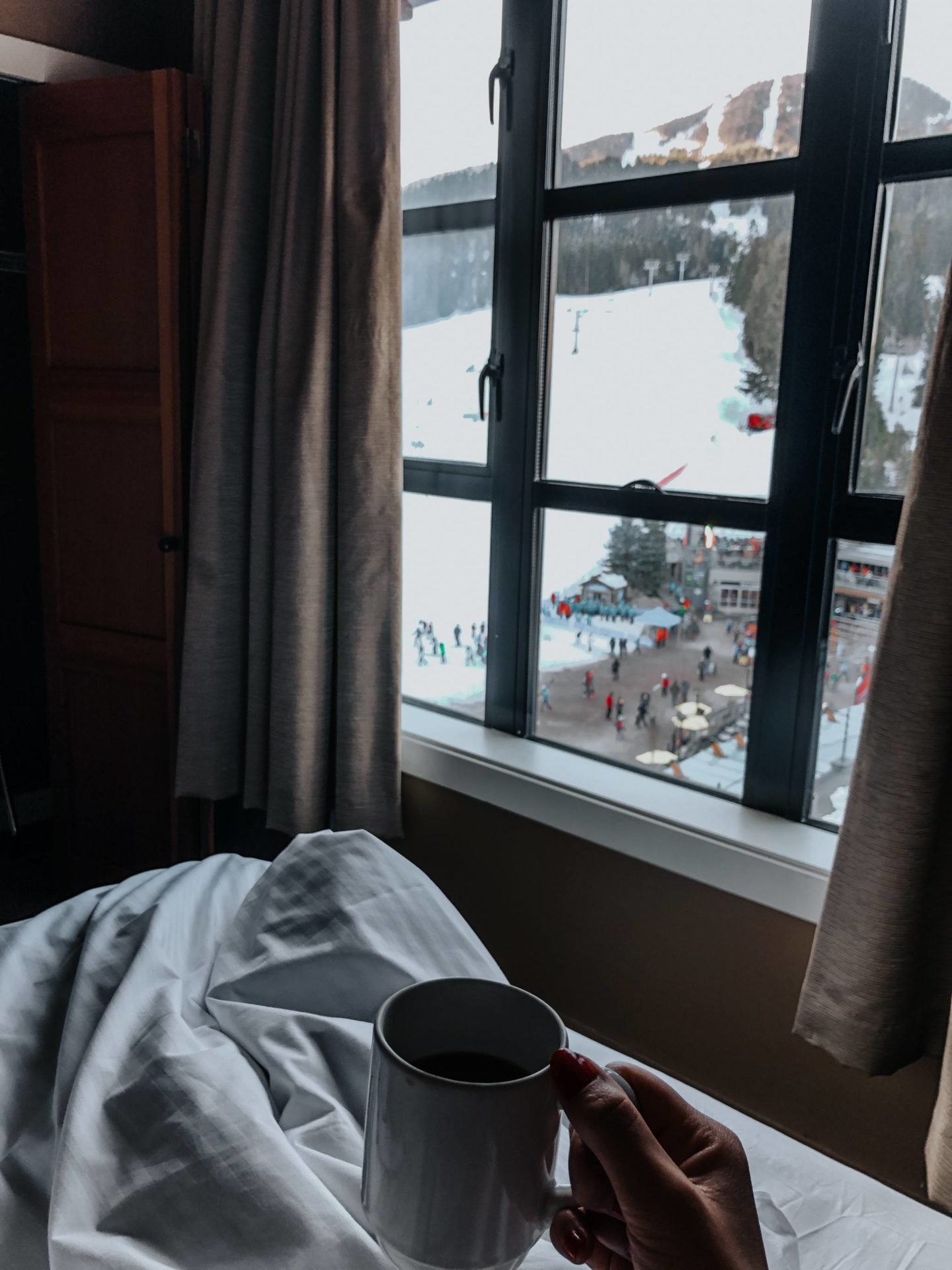 LONG SLEEVE TOP | SUNGLASSES | NECKLACE | BLACK SKINNIES | SUITCASE | BAG (BUDGET FRIENDLY)
Once we arrived in Vancity and checked into our hotel, we headed straight for lunch at Jinya–the ramen was unreal good and the restaurant is really chic.
I spent the afternoon poking around the mall in Vancouver, the Pacific Centre–Marco had some work to do, so I had some free time to wander.
I ended up finding some heels (below) and we headed out for Japanese BBQ that night at a place Marco had been before and it was so good! I've mentioned it before, but we don't have any good Japanese or Korean BBQ spots in Ottawa, so we always try to hit one up when we are travelling.
SWEATER | NECKLACE | JEANS | HEELS | BAG (BUDGET FRIENDLY)
The next morning, while Marco had some work to do, I decide to venture out and explore downtown Vancouver a little. I honestly almost stayed in bed–I really had no where to go, didn't know where to go, but in the end was so glad I just got ready and went to explore!
First top: McDonalds for a large coffee, which was beside our hotel, and then I was off to wander.
ZARA JACKET — OLD (SIMILAR) | LEGGINGS — MY ABSOLUTE FAVE FOR AROUND THE HOUSE & TRAVEL | H&M GREY SWEATER (SIMILAR) |SUNGLASSES | NECKLACE | LULULEMON LEGGINGS | GOLDEN GOOSE SNEAKERS (SIMILAR, BUDGET FRIENDLY — NOW ON SALE UNDER $40!) | BAG (BUDGET FRIENDLY)
I ended up coming across an amazing health food spot called, BodyEnergyClub. There were tons of people inside waiting on smoothies and acai bowls, plus it was a store front for health products with massage therapy in the back.
If you know me, you know I love me an acai bowl, but again something that is few and far between to find in our city. I went in and grabbed a couple bowls to bring back for Marco and I.
I got back to the hotel and Marco was done working so we packed up, as our flight was that evening, and headed out for one last chance at some amazing, west coast sushi!
ZARA JACKET — OLD (SIMILAR) | LEGGINGS — MY ABSOLUTE FAVE FOR AROUND THE HOUSE & TRAVEL | H&M GREY SWEATER (SIMILAR) |SUNGLASSES | NECKLACE | LULULEMON LEGGINGS | GOLDEN GOOSE SNEAKERS (SIMILAR, BUDGET FRIENDLY — NOW ON SALE UNDER $40!) | BAG (BUDGET FRIENDLY) | LARGE BAG (BUDGET FRIENDLY)
Phew! And done. That was a ton of photos and I was kind of dragging my feet on going through all of them and selecting just these–so thanks for being patient and bearing with me while I took my time getting this post done 🙂
Hope you girls are having a wonderful Sunday! xo
SHOP THE POST