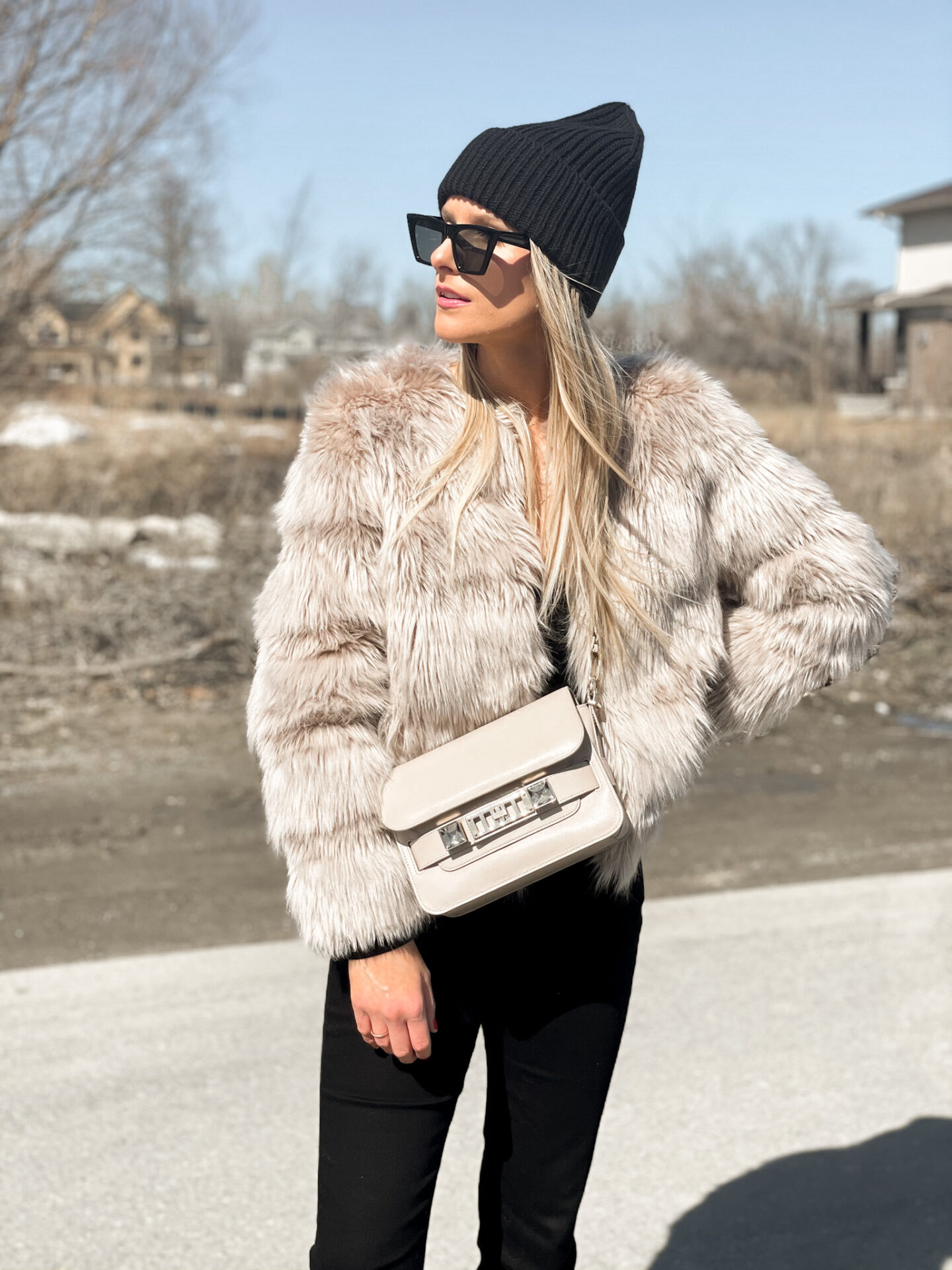 Good morning! Hoping on to share an outfit I wore last week to run a few errands–any opportunity to get dressed, right? 😉
I'm loving all the 90's trends we are seeing lately and paired my platform Docs with my flared jeans for a slightly different take on the other ways I've worn them.
O U T F I T D E T A I L S : LE CHATEAU HAT | H&M FAUX FUR COAT — OLD (SIMILAR, SIMILAR, SIMILAR, SPLURGE) | SHEIN BODYSUIT (SIMILAR) | FRAME FLARED JEANS (ON SALE HERE) | DR. MARTENS BOOTS (WHERE I BOUGHT MINE, MORE SIZES HERE) | PROENZA SHOULER BAG (ALSO LOVE THIS ONE, GREAT COLOUR & BUDGET FRIENDLY) | AMAZON SUNGLASSES — ON SALE WITH COUPON!
We are getting some serious spring-like temperatures over here which feels unseasonably warm (and amazing!), because sometimes we have snow until April. We have been taking full advantage of the nice weather and getting out for walks or quick trips to the store in the morning before Hendrix goes for his nap.
Last week, I ran to Costco and wore this–maybe the fur feels a little extra, but with the boots and tall beanie, I felt it really dressed it down. Plus, I bought this fur jacket when I was pregnant and never really got to wear it last year, so here we are, at that perfect in-between season weather that it works. I love the light coloured fur, it's perfect for this time of year, plus a little more unexpected than your usual black.
Lastly, on the jeans front, I'm totally here for the resurgence of wide leg and flared pants! I kept a bunch in my closet but the style is definitely to have them high-rise. I've been sharing a bunch of videos on TikTok (lifewithaco) lately of how I style them if you need some ideas.
Hope you girls are having a good week! xo
SHOP THE POST