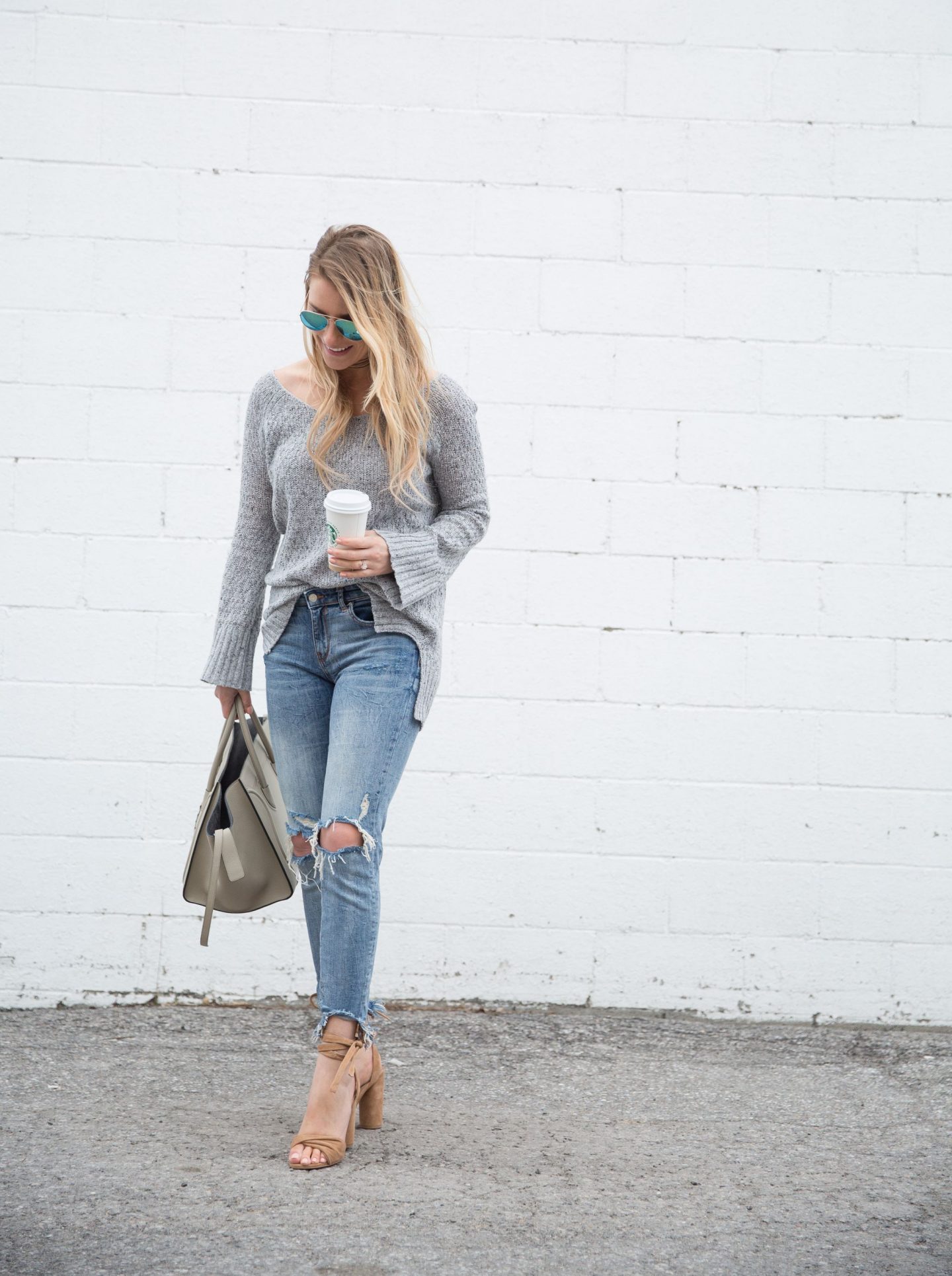 I've finally pulled out these distressed jeans after a long winter of hibernation–when the slow is flying and it's -30C, open knees like this just will not do! Mine are from Zara in the Fall but these ones are almost identical and under $100, so a great find.
While we're on the top of distressed denim, it's definitely become a closet staple and a great go-to for weekends. To dress it up, but keep things really easy, pair with a slouchy sweater and some heels. I like to do a half tuck with the sweater, so it still gives me some shape, but is still comfortable. Lastly, add a choker to pull the look together–they are so on trend right now and you can find them just about anywhere. When they first started appearing about a year ago, I wasn't sure I wanted to jump on board that train (again), but they have become my favourite now! If you're intimidated, don't be, they are super easy to pull off and a nude leather cord like the one I'm wearing (I just wrapped it around multiple times and tied it) is a great way to dip your toes into choker waters.
O U T F I T D E T A I L S : SWEATER — SOLD OUT (SIMILAR) | ZARA DENIM (ALMOST IDENTICAL) | WRAP UP SANDALS (IN BLACK HERE) | SUNGLASSES (UNDER $15!) | CHOKER | CELINE BAG (BUDGET FRIENDLY)
I wasn't kidding when I was saying you'd be seeing a lot of these shoes! They are quite comfortable, depending how snug you wrap them up, and they are super sturdy to walk in. These will definitely be my most worn shoes moving into summer–so versatile and go with everything from denim to skirts, to dresses and even shorts. Plus they are on sale here already!
SHOP THE POST
Photography by Lisa Provençal.