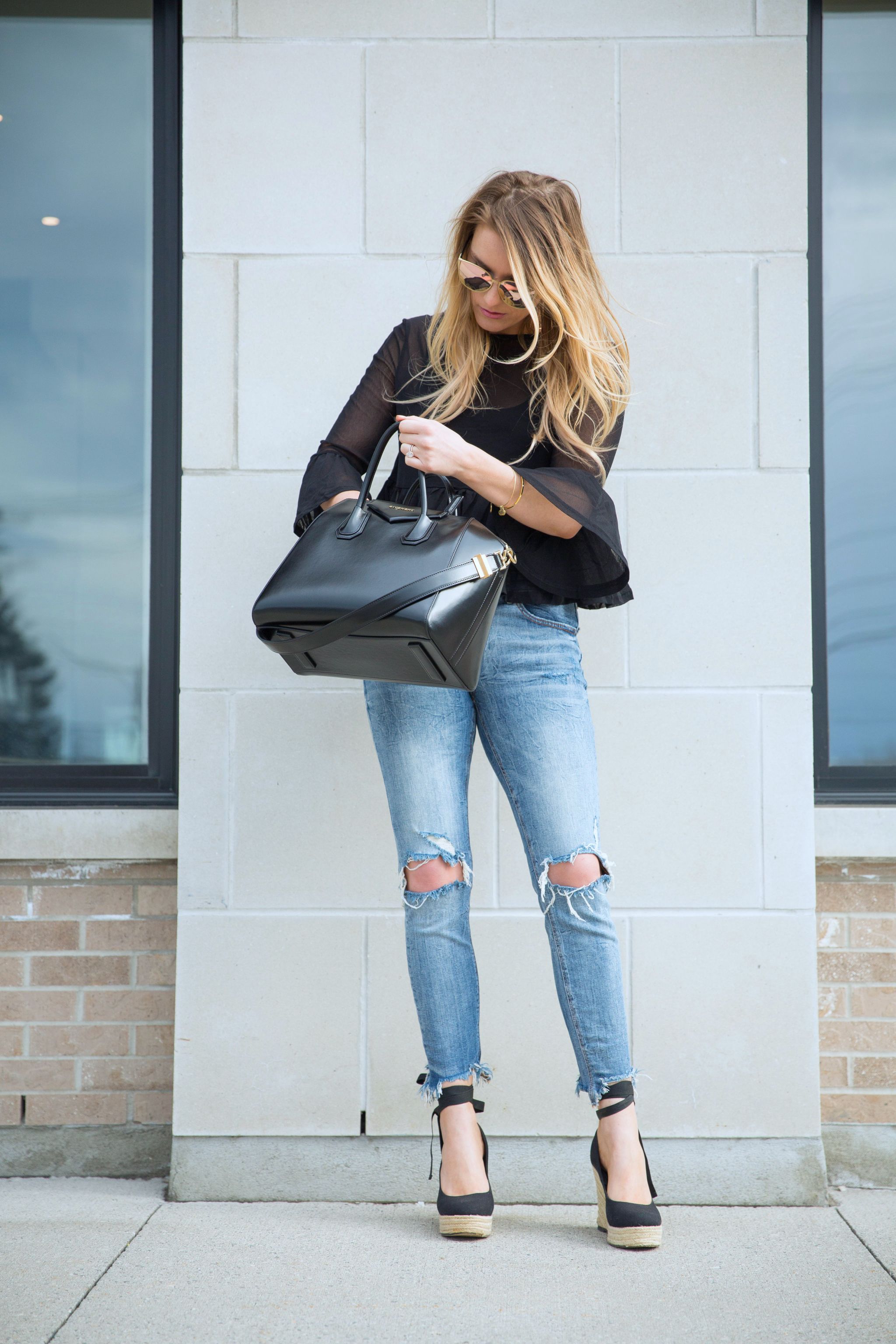 Finallllllly back sharing a new outfit that I love. This mesh peplum top is really cute and versatile–you could layer a tank underneath, like I'm doing, or put a flowy cropped top over and have the ruffle peek out, or even a longline vest. I've dressed it up with black skinnies, a pencil skirt or down with distressed denim for an easy weekend look. This one is perfect for an evening out, or a casual Saturday when you feel like breaking out some summery wedges.
Speaking of the shoes, I know several of you asked on Instagram, and mine are like, seven years old from Aldo–sorry! I'll link some similar options below though. I'm seriously so glad I hung onto these, because I had them in white as well and donated them a while back because I never wore them, but feel like I would now! Gah.
Like I mentioned above, my wedges are over seven years old but there are so many similar styles out there lately, I'm linking my faves below:
O U T F I T D E T A I L S : PEPLUM TOP | ZARA DENIM (SIMILAR) | ALDO WEDGES — OLD (SIMILAR) | BAG | SUNGLASSES
So, a little update, even though I feel like all I've been talking about is the new house, but, moving is seriously kicking my butt. We are getting there, but just adjusting to living out of the city, commuting now, meal planning, cooking, cleaning a bigger space, trying to find all my crap, decorate, have friends over and maintain somewhat of a social life plus working full time of course, is a lot (and also the thing that everyone does, I know). There is a helluva lot of adulating happening and it feels like a balancing act. It also feels a little ridiculous that it feels like a balancing act, but alas, it is. I don't want to be negative, just real–so much of blogging and Instagram and all that jazz is a massive highlight reel, and seriously, I love that but there are regular everyday struggles over here, like anyone.
When we were living in our condo, we ordered out all. the. time. Which l'm finding to be one of the biggest adjustments: cooking every night. When I was single, I used to cook every night for myself, and it was a normal routine I was in. When Marco and I got together, it remained the same, and when we moved in together, I was still cooking fairly often… and then he started working from home, and his hours are different and it became harder and harder to cook later in the evenings because we would be famished so we would order something–easy peasy.
So, since Uber Eats doesn't deliver where we are now, cooking it is. I've been polling my friends and family on what they eat and make for dinner, and I started doing my groceries online as well, so essentially you can pull into the Walmart parking lot, call them and they bring your order out. Best $3 I spend on a weekly basis! No need to waste time in the store, no impulse buys and no questioning whether you're out of something or not, just check the fridge when you're ordering! All that to say, it's starting to get a little easier, and I'm coming up with a bit of a roster of meals that work and are man-friendly. I usually share what I'm cooking on Instastories, if it's on the simpler side. If you have any suggestions though, please leave them down below!
One last thing, Zara is having their huge semi-annual sale and I hit it up earlier this week and found a few new pieces
Hope you girls are having a great day–almost the weekend!
SHOP THE POST
Photography by Lisa Provençal.