Hello hello, how is your week going thus far? I'm so not ready for August to end–did it not just get here?! What is happening?!
I'm not sure about you, but we've had a pretty cool, rainy summer… in fact, it hasn't been much of a summer when you're only a few months away from snow and looking for those high temps! Fingers crossed September brings us warm weather before we fully switch into fall.
Also, to anyone in Houston, I'm thinking about you and sending prayers–I've seen a few online friends and what they're facing and it's so awful. I know there are many places to donate, and if you wanted to help out, you can do so here.
I love love love neutrals and when I found this top in tan, I was a little worried since I'm pretty fair and that usually washes me out–I'm rocking a mean spray tan in these photos. However, I loved it so much and it didn't come in any other colours at the time, so I went for it.
This is totally an outfit I would wear out on a date night with Marco. I love the sexiness of an off-shoulder top, and this one is perfect for hiding one too many cocktails + dessert. Distressed skinny jeans are often my go-to for the weekend, plus if it gets a little cooler in the evening, you're covered. I kept it simple with block heels and a choker to finish the look.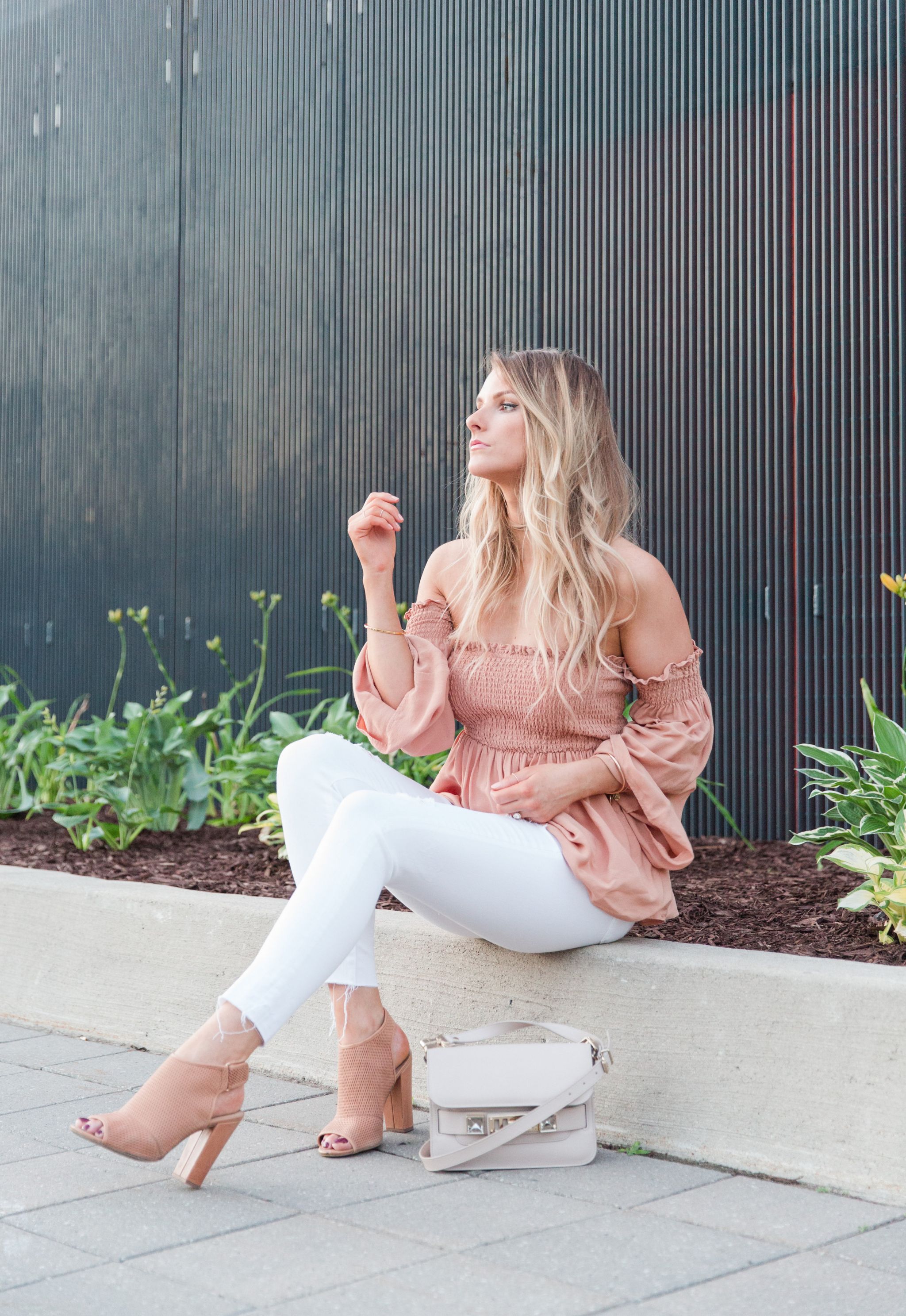 O U T F I T D E T A I L S : OFF SHOULDER TOP | WHITE DISTRESSED SKINNY JEANS | PEEP TOE BOOTIES | BAG (BUDGET FRIENDLY)
This top is another fantastic find from the curvy section of Forever 21. I've talked about this before a couple times on the blog, but in case you missed it, I highly, highly suggest checking out the curvy sections, especially in more 'junior' style stores like Forever 21. Even if you're not used to shopping in that size zone per say, there are often great pieces that will work on a variety of body types and oftentimes there are styles they aren't even carrying in the other section.
I know we can all get really hung up on 'what size we are', but the number on the tag inside a garment does not define you; don't let it. So many stores size their items so weird, it's hard to know what your true size is, but ultimately you should buy what fits well. I loved that this top had longer sleeves and was longer in the body as well, plus the smocking hit below my bust. It fits properly, and that's all I'm concerned about.
One last thing, if the size bothers you still, cut the tag out–who needs a constant reminder of something that bothers you? Not us. And remember, no one can see the size on your tag except you.
SHOP THE POST
Photography by Lisa Provençal.