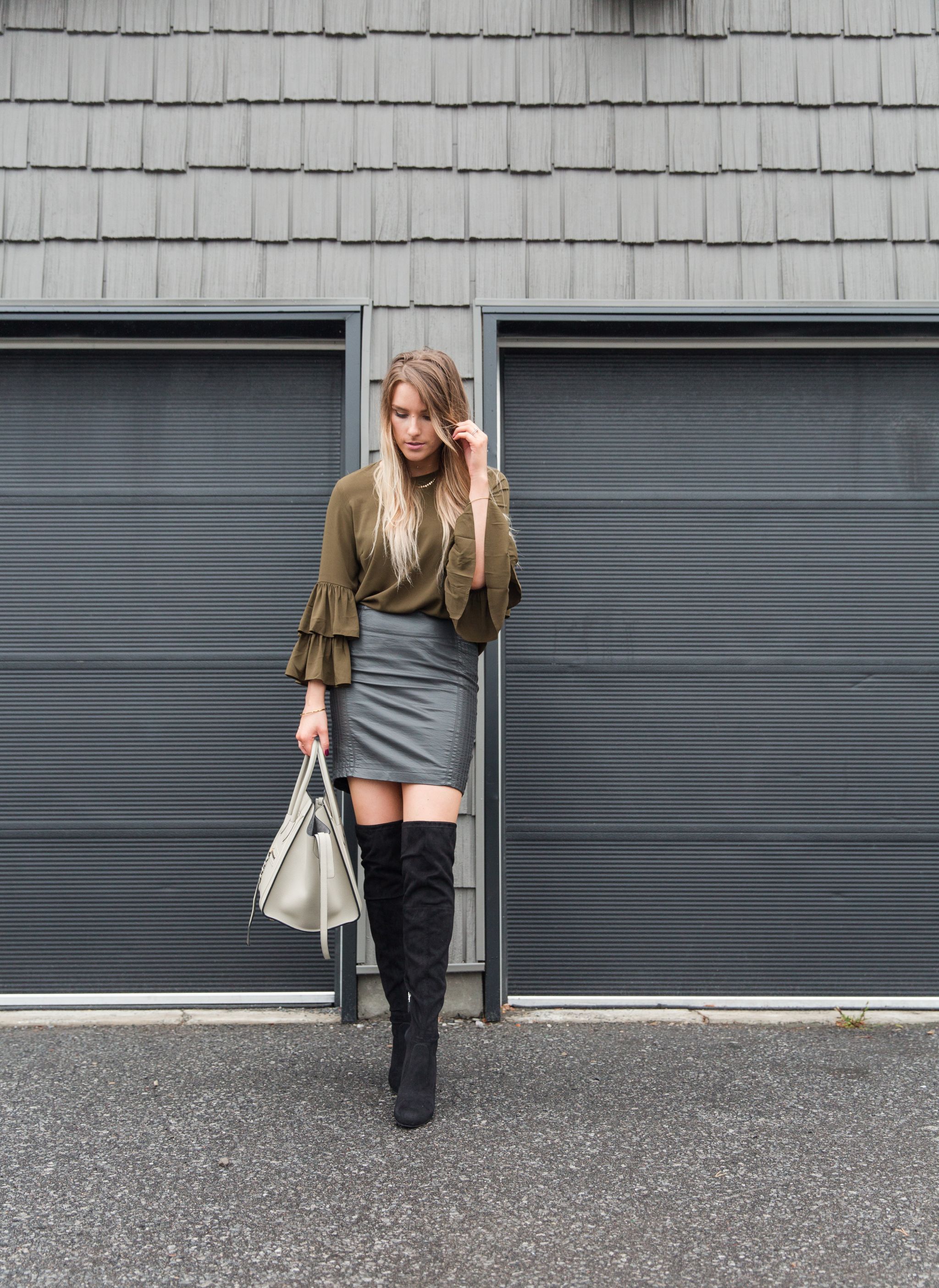 Happy Friday! The weekend is upon us so I'm sharing an outfit that will work if you're looking for something for date night or if you've got a wine show or business casual party to attend.
Bell sleeves have been all over my blog this season and I cannot get enough of this pretty blouse. I've worn it for work, weekend and in between. It pairs well with skirts, dress pants and denim and I am also eyeing it in the snowy white colour for the holidays!
O U T F I T D E T A I L S : BELL SLEEVE BLOUSE (SIMILAR DRESS STYLE) | FAUX LEATHER MINI SKIRT — OLD (SIMILAR, REAL LEATHER SPLURGE) | OVER THE KNEE BOOTS | CELINE BAG (SIMILAR FOR LESS)
I've been getting so much use out of my faux leather mini skirt. It's a dark charcoal grey one that I picked up years ago but I'm loving this one; I'd really like to add a black on to my closet that is on the shorter side like what I'm wearing. This one has definitely gotten me my money's worth over the years with OTK boots, tights and even booties like here when we were in Tampa last week!
Also, disregard my hair in these photos, it started to rain when we shot this look so my bouncy waves quickly turned into a straight, frizz-induced style :/ Not my favourite look, haha. My hair doesn't hold a curl very well, so any moisture immediately takes it away, but I loved this outfit so much I wasn't not going to share it. Plus, I mean, we all have meh hair days #realtalk — my current fourth-day hair is in a bun as I type this! 😉
What are you up to this weekend? I've been working on a big re-branding campaign with two great companies on the side and this weekend we are shooting the photos. Very excited to be working alongside Lisa, my photographer, for this one. Come check in, I'll share the day on Instastories tomorrow! Hope you have a great weekend!
SHOP THE POST
Photography by Lisa Provençal.