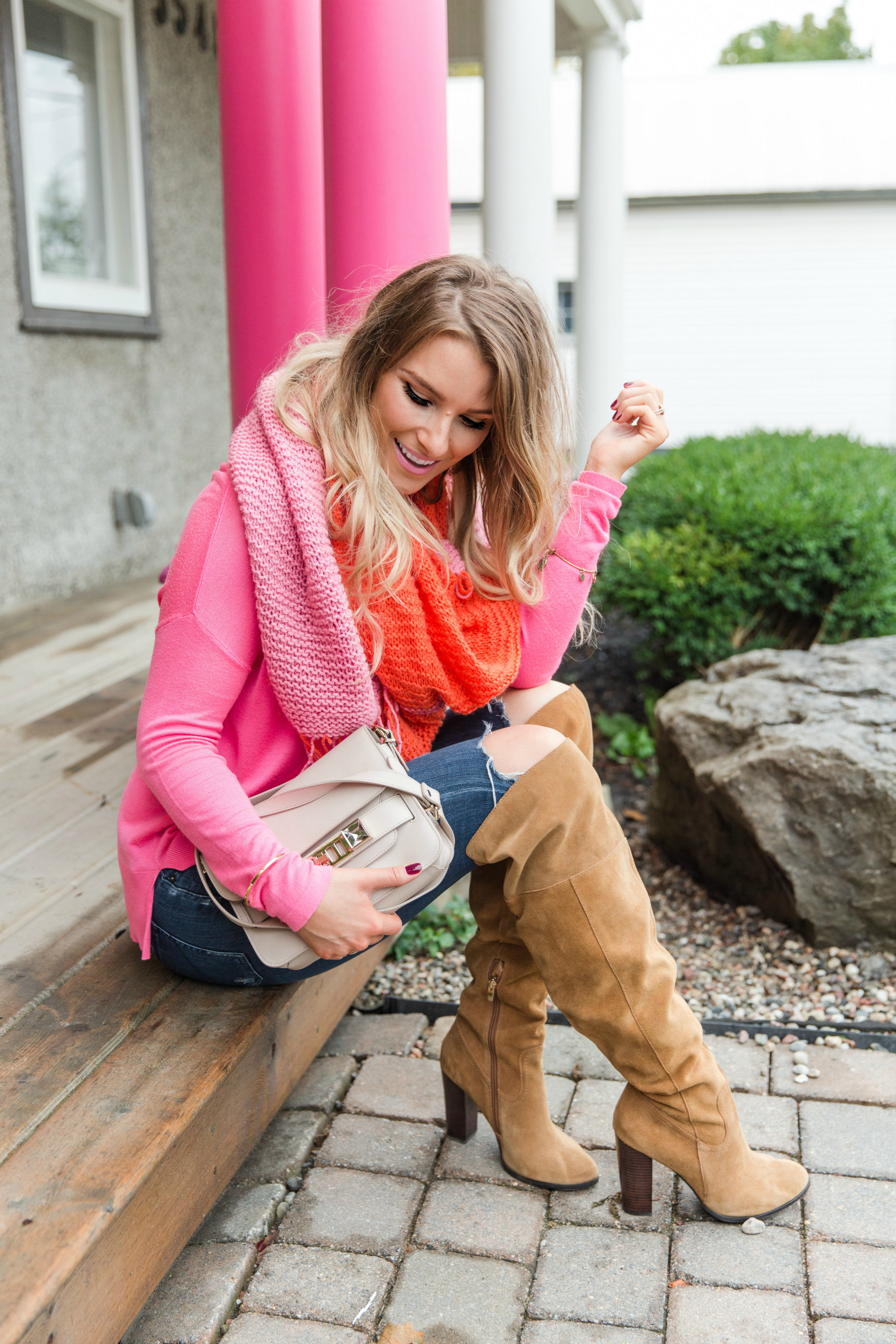 Hey girls!  Goodbye neutrals, hello colour!  Just kidding… sort of.  Not going to lie, adding a pop of colour into my wardrobe every once and a while is something I find myself doing now and again.  Since the cooler weather is here, and everything is muted, a bright pop is sometimes fun to throw in.
I do really like pink, it's definitely a prominent part of my closet, but usually I tend towards more blush tones (like this post & this post) but have had this sweater in my closet for a few years and always feel so feminine when I wear it.  I also find myself adding a little more blush to my face (or a pink lipstick!) when donning pink–something about a rosy flush just amps up the look.
SHOP SIMILAR PINK SWEATERS
O U T F I T  D E T A I L S  :  H&M SWEATER — OLD (SIMILAR, SIMILAR, WANT THIS SO BAD!)  |  HANDMADE KNIT SCARF (ALMOST IDENTICAL, SIMILAR)  |  DISTRESSED DENIM  |  ALDO OTK BOOTS — OLD (UNDER $100, SIMILAR, SIMILAR)  |  BAG (BUDGET FRIENDLY)
I wanted to start incorporating a little more colour and sass into the blog.  Don't get me wrong, I love my neutrals, and I don't think that is ultimately going to ever change fully, but sometimes it's fun to incorporate some colour or get a little more edgy with what I'm wearing.  Sometimes I feel like we are seeing the same thing with all fashion bloggers, over and over again.  I definitely want to share attainable, stylish outfits, but also want to spread my wings a little bit (like this look).  Hope you don't mind?
That said, I'm not changing things like crazy here, but will slowly incorporate some looks that are slightly more fashion forward, if you will.  Also!  If there are any pieces you've seen "out there" and are wanting to try but not sure how to style, send me a DM and I'll try to work it in and feature it here on the blog.
On a life/home front, I spent four hours unpacking boxes and reorganizing the basement the other night + did six loads of laundry yesterday–success!  The (unfinished) basement has been pretty much a disaster since we moved in (omg, six months ago this month!), and we've been just rummaging through boxes to find stuff and running away.  I wanted to get things a little more in order–okay, TBH, I wanted to pull out all the Christmas decor!–so we'd be ready for the holiday season and our winter sports (ie. skiing/snowboarding).  The next month and a half are always so busy, for everyone, and personally I tend to cram my schedule full and then add a couple more things on my plate.  So knowing that a small part of our life/home that wasn't organized, now is, is a great feeling.
Additionally,  I pulled out all the Christmas decor and started to decorate our place–hoorah!  For the last six years, I/we have been living in apartments/condos, which meant every time the holiday season rolled around, I had to be very diligent with what I could purchase, decor-wise.  For one, there wasn't a ton of space to decorate, and two, even less space to store it.  I would typically allow myself two to three small-medium decor pieces (I love trees and reindeer) each year, in the wood or metallic variety.  Fast forward to our new home with more space, my current decor items barely make a dent!  Haha.  Anyway, I did purchase a couple things on the weekend at Home Sense, but really wanted to get a feel for what we have before I buy  much more.  We are also planning on purchasing a new, taller, Christmas tree this year, which is where the majority of the budget is going! 😛 Let me know if you'd like to see some of the decorating I'm doing, however, I do feel it may be a little sparse this year for our first Christmas 😉
Hope you girls have a great day!
SHOP THE POST
Photography by Lisa Provençal.