I'm not sure about you, but we are in full winter mode over here!  We've had a couple snowstorms in the last two weeks and are covered in a blanket of white–just in time for Christmas!
Today's look is keeping with the usual neutral themes over here, but layering up for winter.  Also, breaking out the white denim (yay!)–which looks so crisp in the winter, just make sure you pair with a taller boot so you're not getting the walking splash on the backs of your legs 😉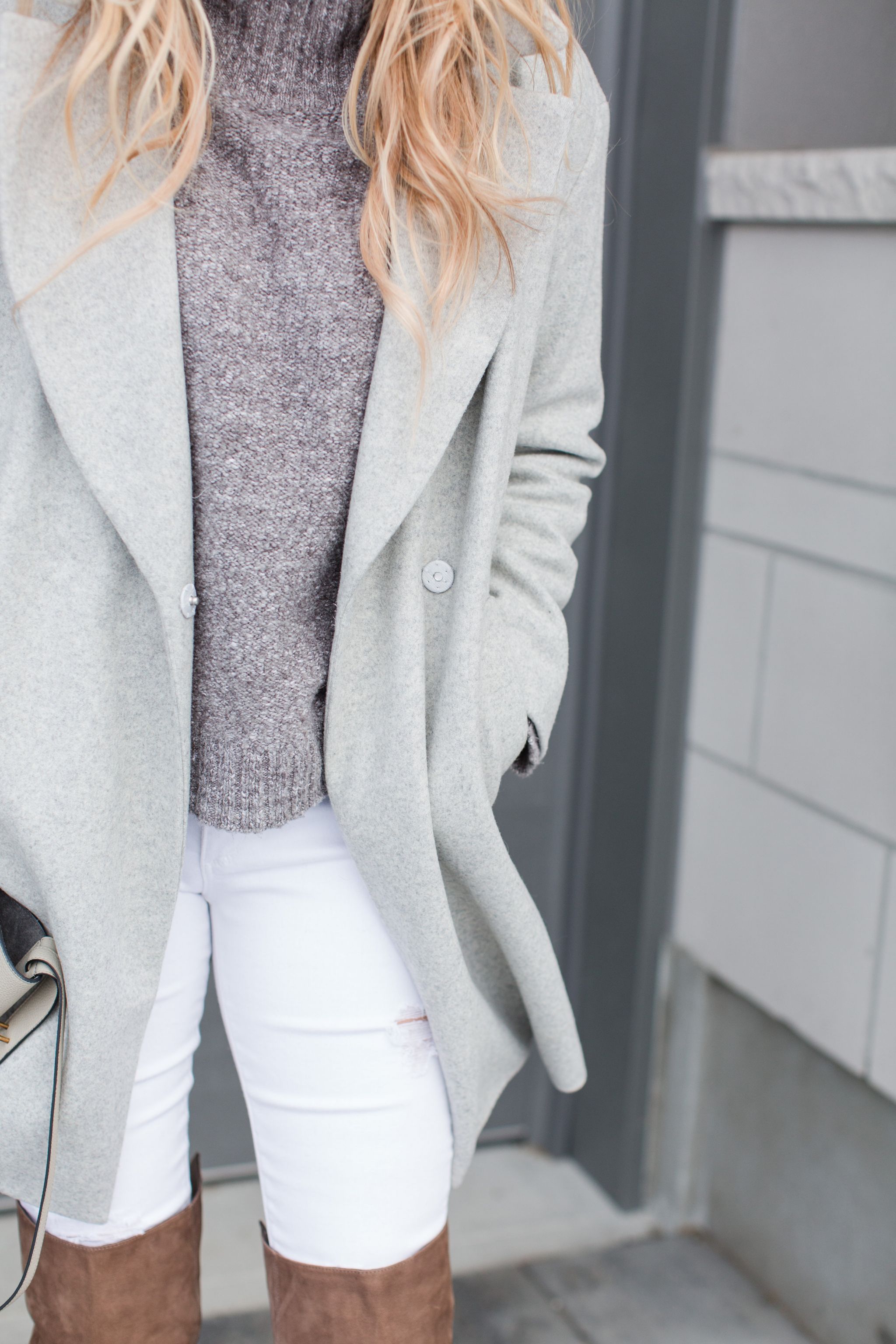 O U T F I T  D E T A I L S  :  GREY WOOL COAT — 50% OFF TODAY!  |  FUNNEL NECK SWEATER  |  WHITE DISTRESSED JEANS  |  OVER THE KNEE BOOTS  |  CELINE BAG (SIMILAR)
This outfit is great for a more mild winter day, but if the temperature drops, don't underestimate the power of layering underneath a boxy sweater.  When we were in Whistler, I paired a long sleeve thermal under the sweater I'm wearing which added a layer of warmth no one even knew was there–the beauty of over sized pieces!
I also love that this wool coat is a little over sized, making it easy to pair a furry vest or even a leather jacket underneath to add interest but also keep you toasty.  Throw on a wooly scarf (love this budget friendly one), and you're ready for the dropping mercury.
How is your Christmas shopping going?  I hadn't done anything since Black Friday (eek!) and then started panicking this past weekend.  I set aside Monday and Tuesday night to get it all done, and can happily say I'm pretty much there!  The mall was a little busy on Monday evening, but nothing too intense aside from lineups for the cash.  I always get so distracted shopping for everyone else–one for you, one for me, tends to be my shopping MO, ha!  However, this time, I went in with a plan, had several ideas and knew where to find them, and can also confirm not one item was purchase for myself 😉  A true success, if I do say so myself.
Hope you girls are having a great week and see you tomorrow for a fun, cozy Christmas post!
SHOP THE POST
Photography by Lisa Provençal.