Alright ladies, today I'm talking a breakfast staple over in these parts (or post-workout drink, afternoon/midnight snack, etc.), this delicious protein shake, which is more smoothie style than your basic shake.
I totally over indulged over the holidays (#treatstreatstreats) and while I didn't set any serious food or fitness resolutions, I wanted to clean up my diet and get back to my regular fairly-clean eating.  That also meant switching up my breakfast because I was getting sick of oatmeal and berries and egg sandwiches on English muffins.  Enter this tasty shake, it's easy, it's fairly clean, it will keep you full till lunch and is full of good stuff.  Let's jump in!
The ingredients are pretty simple, you might already have a few at your place:  ice, rolled oats, a banana, natural peanut butter, unsweetened almond milk & protein powder (I like chocolate, but feel free to choose your fave).
You'll also need a blender of sorts, I love the Magic Bullet (even though it does take a little patience to get all the ice ground up) because you can make & go without pouring into another vessel; perfect for running off to your commute.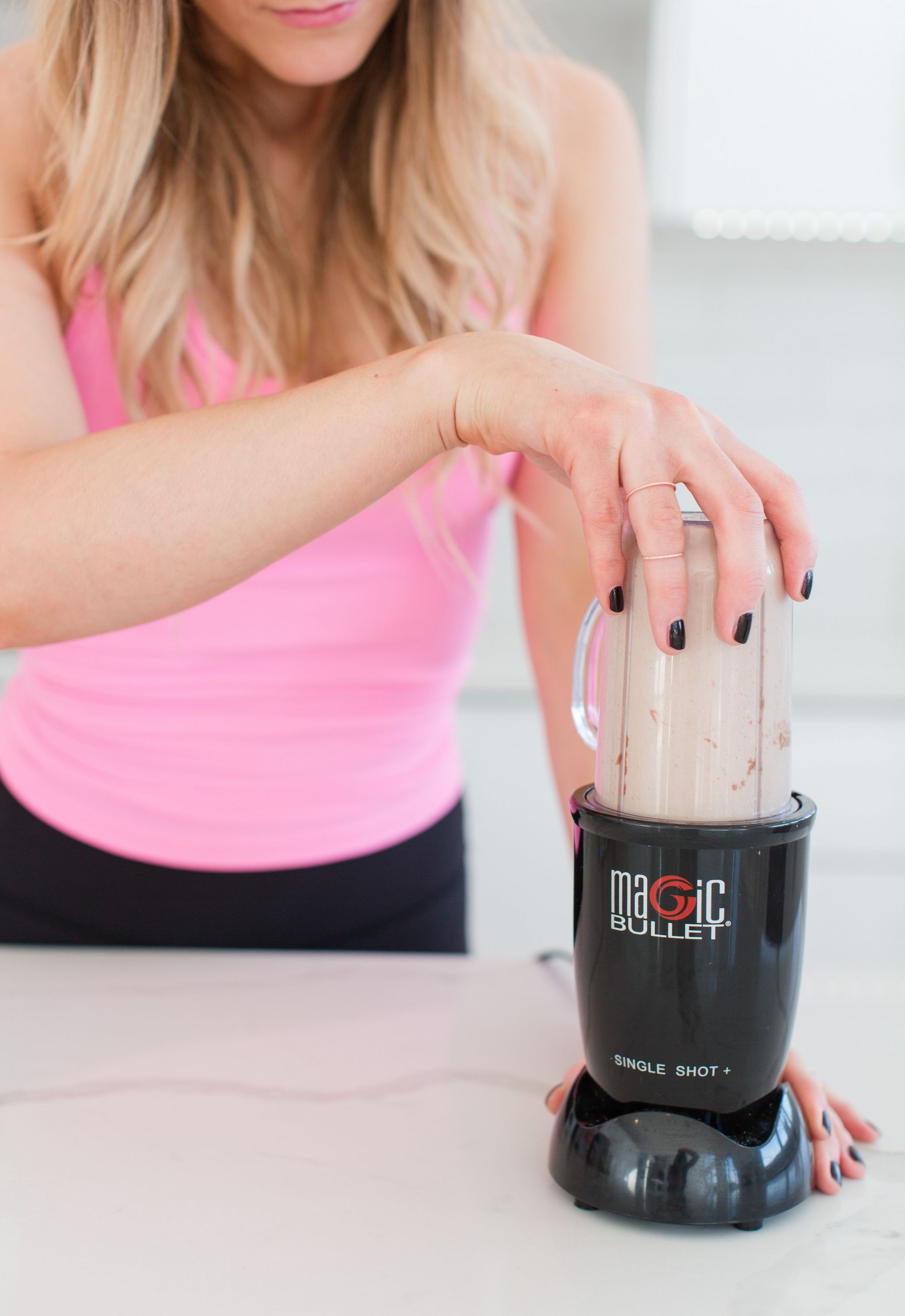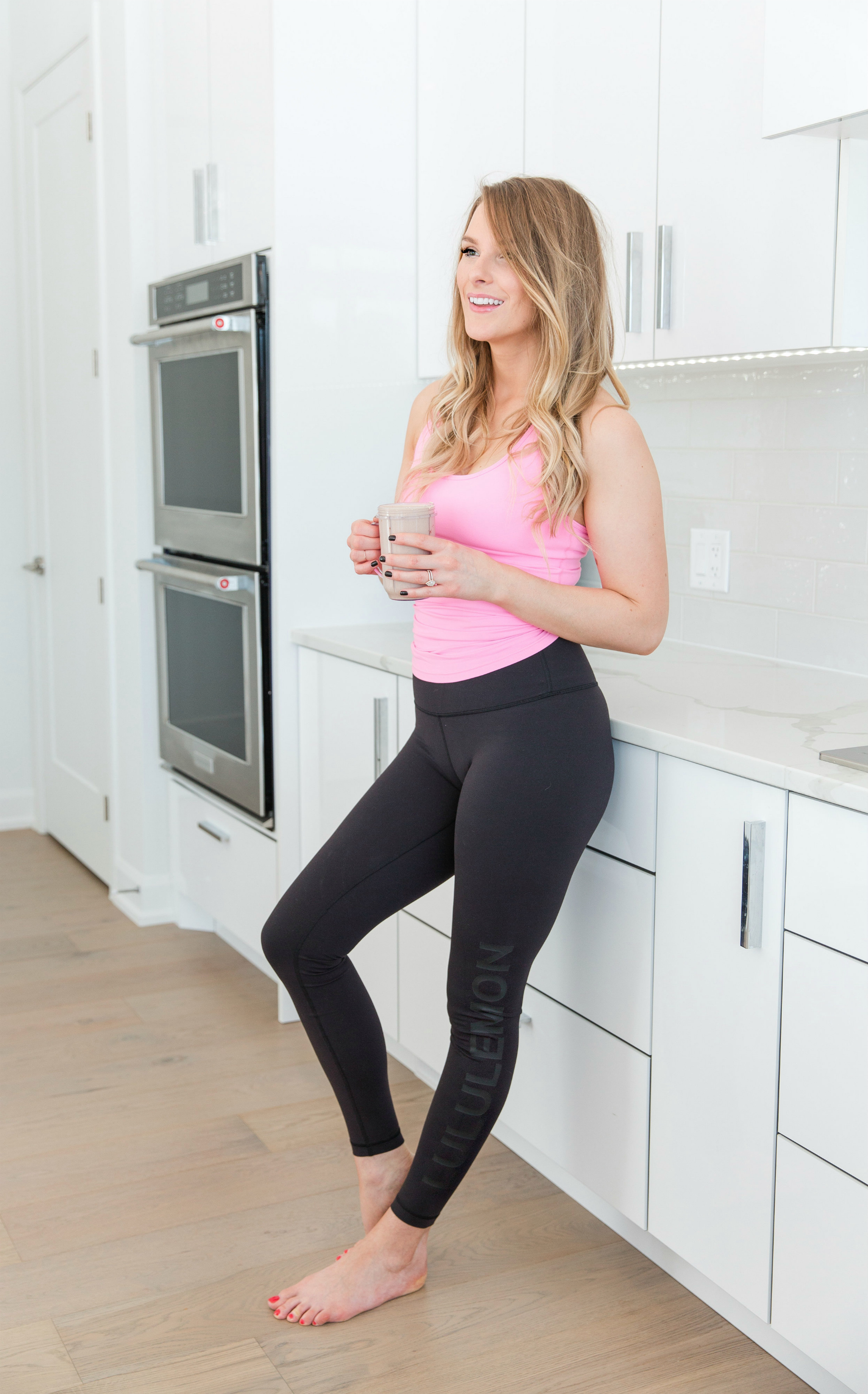 O U T F I T  D E T A I L S  :  RACER BACK TANK — HAVE THIS IN MULTIPLE COLOURS  |  HIGH WAIST LEGGINGS
Now I know this shake isn't rocket science, but after spending far too much money at the shake bar at the gym, being able to make this at home with everything broken down is a great alternative.  Also, when it comes to breakfast, adding the oatmeal into this shake really helps keep me full longer, and if you make this the night before and pop it in the fridge, the oats will expand, making this more of a cold-oats bowl the next morning–so yum!
If you're more of a fruit person than a chocolate person, try some frozen berries and a vanilla protein powder instead.  Get creative and throw in a handful of spinach to add some greens; I promise you won't taste them but will reap the health benefits of those veggie servings.
Also, a little note about proteins:  not all protein powders are created equal.  Some are better for meal replacement & some are better post-workout (like the one in today's post; tastes amazing too, btw).  If you don't want to splurge on both, think of which one will be more useful for you.  Are you looking for a meal replacement protein or are you a regular in the gym?  That will determine which will best fit your lifestyle. This is a great article for a quick overview of what may be best.
I like to make this smoothie for breakfast, when I'm craving something sweet during the evening while watching a show, and as a treat sometimes after a workout.  If you're cutting calories, this might be a little heavy for your regime, and if it's post workout, definitely go the cleaner route with just the protein powder and water.  Also, keep a light hand with the peanut butter, it's high in fat so while it will make your shake taste even better, a tablespoon is the ideal amount to add in.
BREAKFAST PROTEIN SMOOTHIE RECIPE
2/3 Cup ice
1 Cup unsweetened almond milk
1 Banana
1 Tbsp. natural peanut butter
1 Scoop protein powder
1/3 Cup of oats
  Blend & enjoy!
Photography by Lisa Provençal.