Happy New Year!  How was your evening?
We were home for the majority and Marco was working, but were able to run out to our friend's party at the 11th hour just in time to ring in the new year!  We had such a great time, and got to see their new house and are so happy to just be lazing around today with nothing planned.
I've seen a couple other bloggers doing this post, and I thought it was such a fun idea, and through analytics I can see what you guys were truly digging that I wore in 2017 so I thought I'd do a quick round up of the items.  That said, many pieces have sold out, so I didn't include those but wanted to share the top five items.
RAG & BONE DARK DENIM SKINNY JEANS
These jeans were the number one top pick in 2017, and with good reason!  I told you how much I loved these jeans, basically ever time I wore them because they are so. freaking. good.  They were my first designer jean purchase (non-consignment or deeply discounted) a year and a half ago and I've worn them to death–and they still look great.
These jeans have been taken with me on several vacations, worn out to countless dinners and date nights, with friends on weekends and are the perfect casual Friday denim.  They truly have gone the extra mile and they retain their amazing shape and look super flattering.
These jeans propelled Rag & Bone, in my mind, as the top denim brand and are the ones I reach for time and time again when "I have nothing to wear".
SAM EDELMAN FAUX FUR COLLAR ANORAK JACKET
I. love. this. jacket.
I grabbed this one at the Nordstrom Anniversary Sale this past summer and loved it the minute I put it on.   However, when I got it home I started to second guess myself and it sat in my closet for a month.  That said, when the weather cooled off, I started wearing it non-stop and was so glad I purchased it.
I love the fact that it's a longer hemline because so many of my jackets are leather/bomber styles and the fact that this covers more, means more warmth and less worrying about my pants sliding down when I bend over, etc.  Sounds funny, but it's true!  It's nice to have something that is no fuss, you can throw on and go.
The fur is removable, which will be great come spring, making it truly a transitional jacket.  I also love this for travelling as it runs quite roomy so there is space for layering underneath, but it's also lightweight so it never feels bulky.
This jacket has been such a fan fave (me included!) and with good reason: it's well made, it fits great and the price point for a real suede jacket is quite good.
I purchased this jacket a year and a half ago, again at the Nordstrom Anniversary Sale and initially went in for the tan colour, but when I saw the plum, I couldn't decide!  It felt crazy to take both home, but since they were selling like hotcakes (literally, it was like 9:30am when I did a second loop before heading into the fitting room and there were two left on the rack), I figured I'd buy both and then return one.
Yeah… about that.  I kept both!  And they have proven to be great purchases as I wear them constantly.  If you are trying to decide which of the two to buy, I would say go with the neutral–the tan one definitely gets more play, and will be easier to incorporate into your wardrobe.  However, when we went to Tampa in November, I forced myself to bring the plum colour instead which added a great, rich pop to several of my outfits.
I cannot recommend this piece enough, if you're in the market for a Moto jacket.  I honestly want a third one–which just sounds insane, I know–and I would totally snatch up the grey colour if I ever do pull the trigger.
I am not someone who will necessarily spend a ton on sunglasses–while I would like to, there are just too many other things I'd prefer to put the money towards (bags, shoes, denim, coats, etc.).  However, while these aren't a huge price point, I totally surprised myself by having to have these Quay sunglasses when the sales associate brought them to the fitting room to try on.
I have a wider face, so finding sunglasses isn't always the easiest and these oversized frames fit my face so well.  I love that they are mirrored and the grey seems to match with everything in my wardrobe.  Also, the lenses aren't so dark that it makes it hard to see, they shade and brighten which makes these the pair I continue to reach for on a daily basis.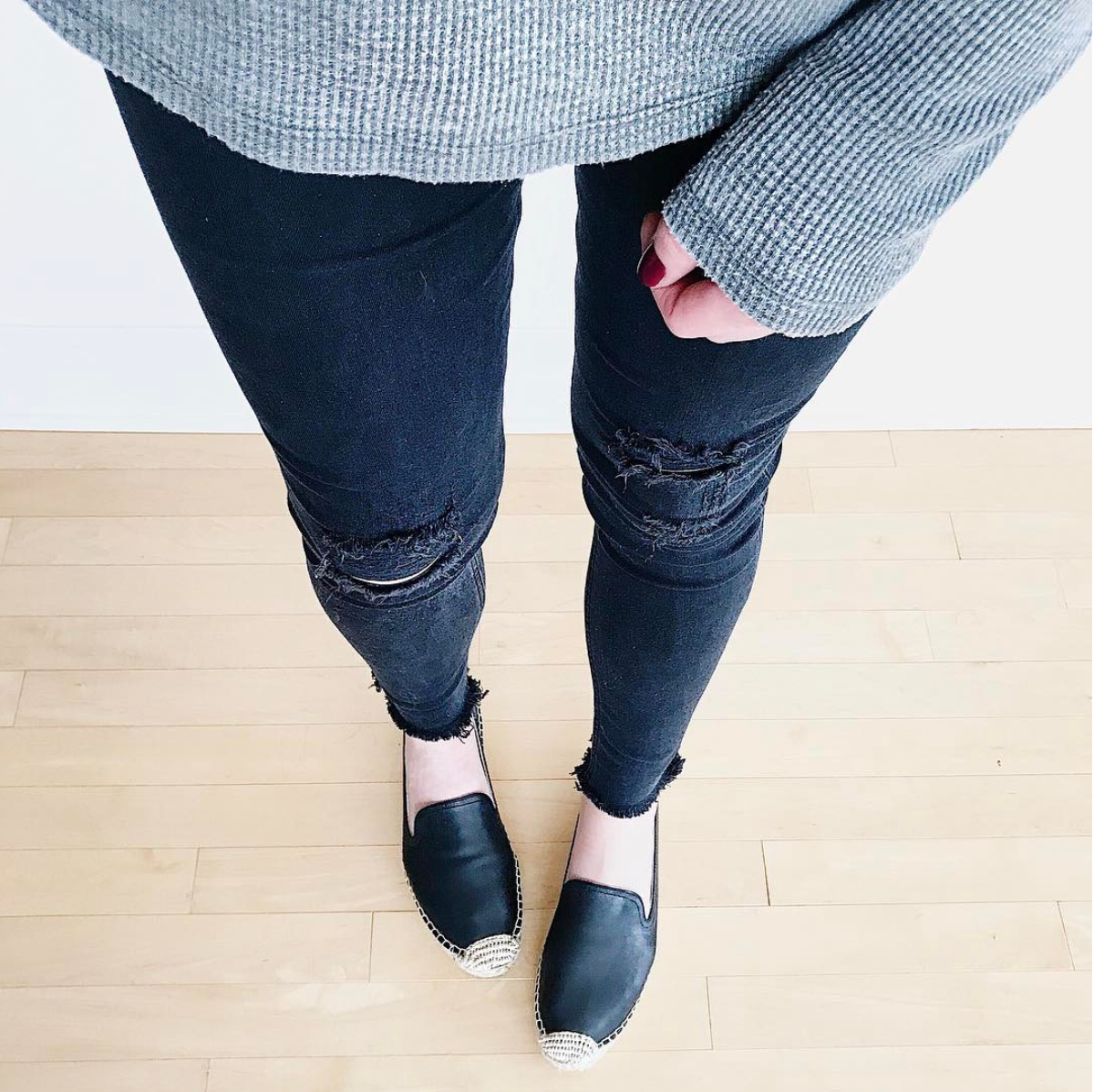 RAG & BONE BLACK DISTRESSED SKINNY JEANS
And finally, my fave pair of black jeans!  I had lusted after these ones for a while, and if you've been here for a while, you know I tried a different pair of black Rag & Bone jeans that I purchased on sale at the beginning of the year thinking they were the ones, but they totally stretched out and lost their shape within an hour of wearing.
The ones I'm wearing above though, they are amazing and feel like leggings on–they hold their shape through multiple wears, are snug as a bug and look so great.  They have a similar feel to the dark denim ones above and I will wear these for years to come.
If you're debating between the black and the blue, I would honestly go for the blue–they are a bit easier to style, plus as much as I love distressed denim, the solid dark denim is a key player in anyone's closet and will work for almost any function, whereas the distressed are a little more limited to weekend, casual or night out looks.
I hope you girls liked this post, I found it really interesting to look back and see what you were loving the most–I hadn't looked at that before, so it's helpful to know as well what is important to you.  I'll be back later this week sharing my absolute favourite outfits of 2017 and a little personal recap of the year.  Thank you for popping by and hanging out for a while, and if you're looking for more in the interim, I'm uploading the last of the Vlogmas videos on my YouTube channel (two new ones went up this morning!) this week.
Happy New Year! xo
SHOP THE POST