I recently had the opportunity to team up with California Closets to figure out how to make my office space more efficient.  It's the one room in the house where I spend hours during the evening and on weekends working on the blog, yet haven't done much to since we moved in a year ago.  I had a vision that this room would be bright, airy, inspiring, but also efficient and a place I could store various accessories, new items I've recently purchased and display some of my favourite shoes.  I turned to California Closets to help me design a piece of furniture that could potentially give me exactly that.
To kick off the make-office-beautiful-and-functional mission, I naturally turned to Pinterest to scope all things inspiring.  I came up with eight images that defined my style and how I like to organize things in my space.  White, organized drawer inserts, floating shelves and minimalistic-modern were all the things I kept turning towards.  I sent my inspo pics over to my Design Consultant, to give her an idea of where my head was at.
Lianne, my Design Consultant, from the Dorval, Quebec head office came by on a sunny Saturday afternoon and we got right down to business.
She started by measuring my space and listening to the ideas I had for it.  Soon enough, she turned her measurements into a 3D design of my office on her laptop–very cool!
I told her I had an interest in creating some sort of unit/dresser/compartment underneath the tv in my office.  We discussed what I would be using it for, how big I would want it to be, would it have drawers? Cubbies? Glass? Doors?  Would it touch the floor or be floating?  And so much more.  Really, the possibilities are endless when it comes to what you want to design.
I decided I wanted a floating dresser, with a floating shelf underneath that could accommodate up to five pairs of shoes.  There would be two drawers with inserts to hold jewelry and sunglasses (items that don't fit in my current closet), and then cubbies on either side where I could display various things like my camera, frames, hats, candles, pretty little things etc.  Lianne even had me bring out the kinds of shoes I would display on the shelf so she could measure them and ensure the space between the shelf and unit would be just right.
Lianne walked me through a bunch of design photos on her iPad–anything I liked or that spoke to me, she asked me to 'heart' them, which added said photos to a folder of favourites.  This made it really easy to see where my style lied and exactly which materials we would be looking at for the design.
The pic below on the iPad is called the, 'Blogger Closet', which made me laugh–it totally looks like exactly that.  It's gorgeous and I loved how they had the bags behind glass and lit up!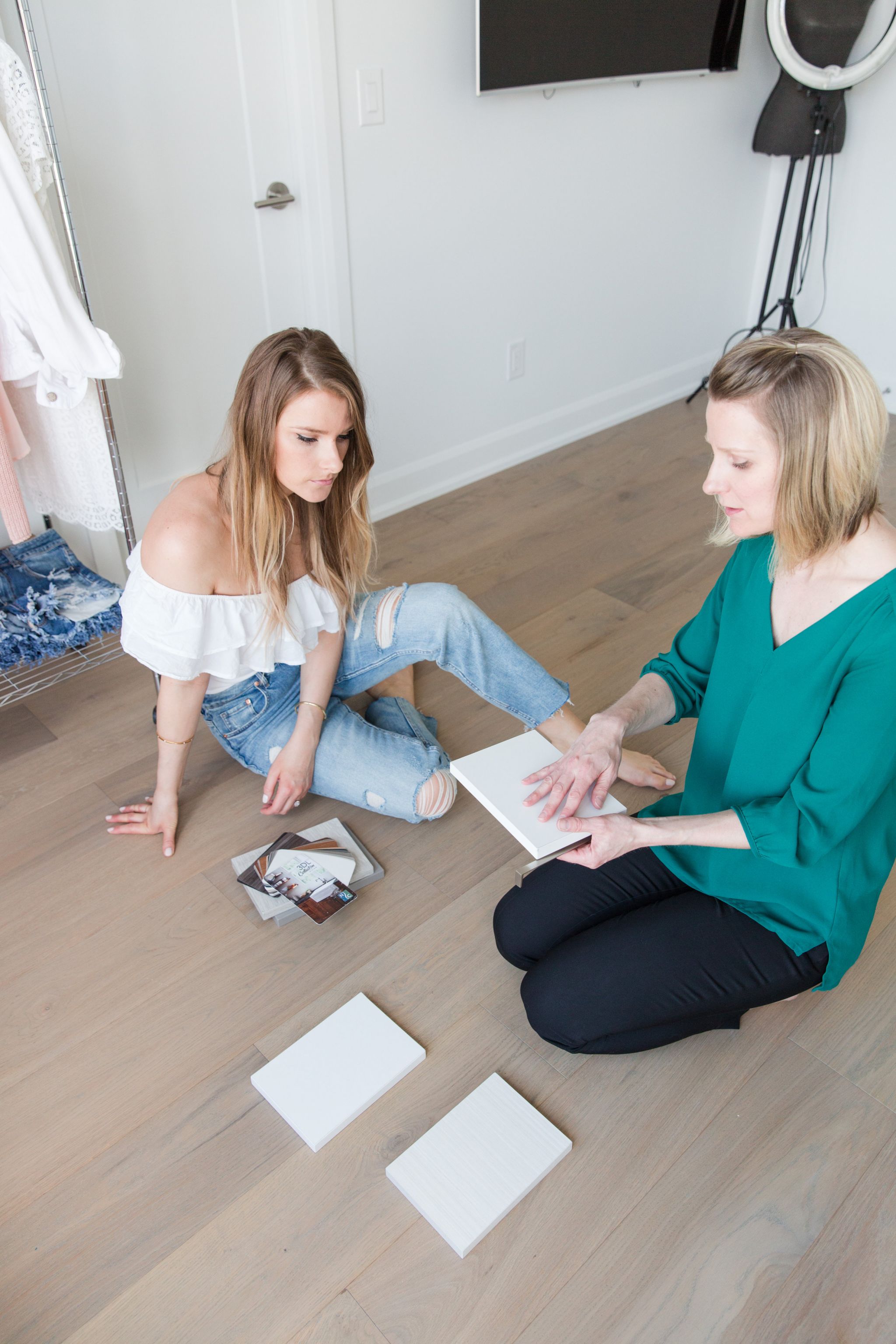 From there, we looked at samples for the unit and for the drawer pulls.  California Closets has an extensive range of beautiful finishes to choose from, from clean and simple white, to proprietary textures imported from Italy, all of which are environmentally sustainable and California Air Resources Board (CARB) compliant.
I knew instantly that I wanted white, but there was plenty of options in other colours and wood variety.  The difficult part was choosing a matte or high gloss finish, but in the end, high gloss won and I decided to top the unit with a clear piece of glass as well, to protect it and I found it add a little more to it.
When it came to handles, it was an easy pick–as much as I love gold, I wanted to keep it streamlined with the door handles in the room so I went with the largest handles that were chrome along the front and brushed stainless on the ends.
After all the measuring, discussing of ideas, looking at finishes and coming up with a design that would fit the space and my lifestyle, Lianne took to her laptop again and designed a beautiful floating dresser for my space.
She shared with me the design, which we pulled up on my computer, and it was so neat how you could click on the drawers and see them open, everything was 3D and made it super easy to visualize it in the space.  Love it.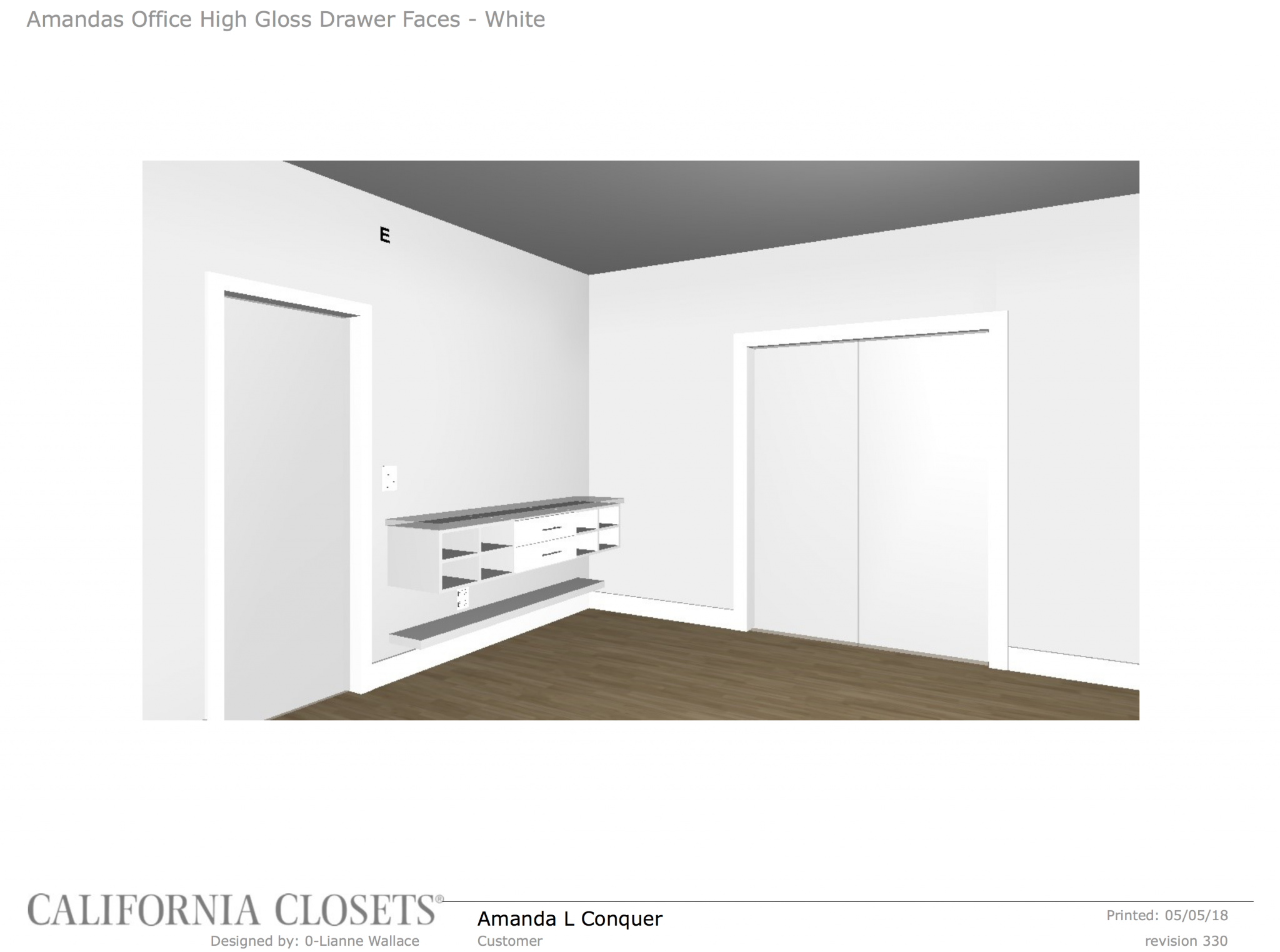 O U T F I T  D E T A I L S  :  OFF SHOULDER TOP  |  DISTRESSED GIRLFRIEND JEANS  |  HORN NECKLACE
So crazy how a small, but super functional item like the built-in she designed for me will maximize space and give me a place to display things I love to look at, without taking up too much of the room.  I also love the idea of the high gloss, since we kept everything else very simple and streamlined, I really think that element will pop and add a bit of glam to the room.  I can also see myself styling up the dresser on top–we left enough space between it and the wall-mounted tv so I could put a taller items on either side and then maybe a tray with coffee table books, perfume, nail polish and perhaps a little plant.  Lots of styling options to dream up, for sure.
California Closets offers custom organizational solutions throughout the home—of course they do closets but also much more! From pantries and media centers, to mudrooms and garages, California Closets enhances the storage potential and purpose of even small spaces to maximize the efficacy of the home.
While this was a smaller project to help get me organized in my office, I can imagine how fun it would be to design a massive walk-in with California Closets–the options are truly endless!  They really have a style for everyone so if it's something you're considering, I would highly recommend you reach out and set up an appointment.  You can go to them, or they can come to you.  The design consultation is totally free and only takes a couple hours.  Everything is completely customizable, and I really loved that the dresser we designed, while it would be wall-mounted, it's actually removable with minimal damage to walls and transferrable to another room in the house if you're ever moving or need it elsewhere.  Very functional!
Hope you girls enjoyed this post and a peek into my office!
SHOP THE POST
Photography by Lisa Provençal.