Hello hello!  Apologies for the delay on getting this Weekend Recap up for you girls, I was so zonked on Sunday and then had some major work stuff going on earlier this week for my 9-5 job.
Before we jump in, I'm feeling a little weird about this post because this is the first time ever that the Weekend Recap photos are not in square size format (!).  I know this might seem trivial, but I've always kept them squared as the years have gone on to keep with tradition of what the iPhone Snaps have always been on the blog.  Despite the blog evolving and changing and growing, I felt like the square photos for this weekly post remained somewhat of a constant, which I hoped provided my OG readers with some nostalgia and again, a consistent look and feel.
That said, I've been toying with the idea of going full size or using whatever size photos I take, instead of cropping them to a square.  I almost did it last weekend, and then chickened out at the last minute but this weekend, there are just too many full sized photos that are too good to crop, so here we are.
Is this weird?  Does it matter?  Am I totally overthinking this?  (This made me lol)  If we dislike it, we will go back to squares next week.  If I hear nothing, full size it is 😉
Friday night was spent making sandwiches and prepping veggies for the wedding party.  I threw together a cooler of food for them to nosh on while doing their photos in between the ceremony and reception as a surprise.
I did tuna and egg sandwiches, veggies + dip, bottled water and threw in some packs of Dad's Oatmeal cookies.  It was a big hit 🙂
H&M DRESS — OLD (LOVE THIS)  |  CAGE PURSE  |  LACE UP ROSE GOLD SANDALS
I wore this blue dress–different from last weekend's dress, I promise–although the colour is almost identical.
I've had this dress for years, and again my cage purse and rose gold heels.
The ceremony was held at the Bride's sister's home, and since it was a Lebanese wedding, there is a tradition of, "The Leaving of the House" for the bride.
If you're not familiar (I wasn't, until last weekend), everyone gathers on the front lawn and the groom and all his men come down the street with drummers, chanting and singing and essentially are coming to get the bride.  Everyone was cheering and as the men entered the house, the bride appeared at the top of the stairs and the crowd was just going wild.  It was incredible and such a sweet, celebratory and lively experience.
From there, we all went into the house and the bride and groomed dance to upbeat music while everyone gathered around and cheered and various people took turns entering the circle to dance with the couple.
After about 10 minutes, everyone settled and eventually the ceremony started, which was right in the living room on the chairs you see above.  It was so intimate, despite there being about 75 people crowded into the house, and so special.
Afterwards, we cheered and danced the couple out of the house, onto the driveway where everyone danced and partied before the newlyweds got into their car service to head off to take their photos.  I will share more on my IG Stories today!
VINTAGE DRESS (SIMILAR)  |  ASOS SHOES — OLD (SIMILAR)  |  BAG
After the ceremony, I zipped home and grabbed our things before heading to the hotel to check in just in time for the cocktail hour.  I quickly changed and thew my hair up and made my way down to meet up with Marco, who was in the wedding party.
I had really wanted to buy a new dress for the wedding, this one to be specific, but technically I didn't need it, so in the end I just wore one from my closet.  The one I linked above though is incredibly comfortable, unlike the stiff lace one I wore, and I was kind of kicking myself all night! lol
You might remember this dress from five years ago here.  I bought it at a second hand store years ago, I think I paid less than $20 and it's definitely from the 90's.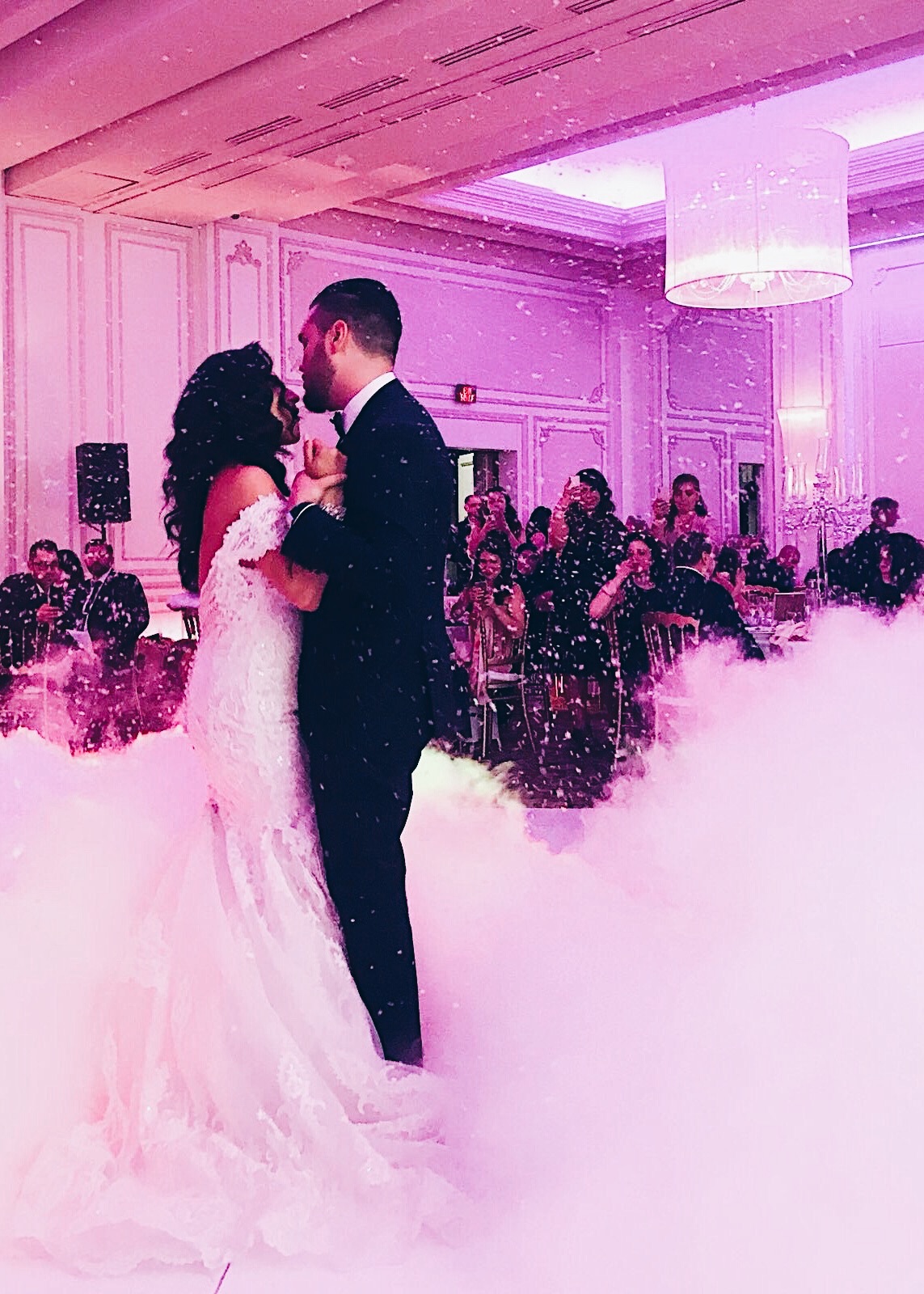 How stunning are they?!
The wedding was beyond anything I could have imagined and it was just sensational!  The photos don't really do this justice, but we had the best time.
The reception was very traditional and there was a lot of dancing.  When the girls at the bridal shower told me to bring flats, I knew I would but kind of scoffed it off at the same time–but no joke, we danced so much before the main entree was even served!  Imagine 200 people rushing the floor to dance around the bride and groom.  Fantastic!
The drummers were there from earlier that afternoon on the street, and now I'm convinced we need them for our wedding in October!  We definitely don't have any Lebanese in us but I'm so crazy about how upbeat and lively their wedding was, I totally want to incorporate into ours.  So fun!
The decor and tablescapes were full on glam, and they even had a little stage with a settee for the bride and groom to sit on at the beginning of the reception.  The food was incredible, there was a fun photobooth, the music was a mix between arabic and 90's hip-hop (amazing!), the patio outside was the perfect spot to step out and cool off in between songs and we literally danced the night away (and sure enough, the sneakers did make an appearance 😉 ).
ARDENE GRAPHIC TEE — OLD (SIMILAR)  |  ZARA DENIM MINI SKORT (SIMILAR)
We stayed overnight at the hotel where the wedding was and I snapped that pic above of our view the next morning.
After breakfast, we packed up and headed home where I was literally so exhausted from the wedding!  Usually a good night's sleep is all I need but with all the dancing and excitement and it also being quite a long day (I was up at 8am to drop Marco off with the groom + groomsmen), it just kicked my butt.  We spent the afternoon just zoning out on our phones before my parent's came by to celebrate Mother's Day that evening.
We sat outside, chatted and had some drinks.  Marco whipped up an amazing sous vide steak for us and my Dad took our new ride-on lawn mower for a spin–haha.  It was a wonderful evening.
COAT (SIMILAR)  |  BEANIE — OLD (SIMILAR)
And finally, a quick Sunday night selfie after everyone left and we were outside watering the plants.
Hope you girls had an amazing weekend too!  Next on deck is a fun post about my office (reveal!) and an outfit post.  See you tomorrow! xo
SHOP THE POST