Hellooooooo 2019!  Monday ended up being a bit of a crazy day, so instead of sharing just the regular Weekend Snaps, I wanted to incorporate a few photos from the wedding we went to on New Years Eve.
Festivities kicked off on Friday night with a henna party at the bride's parent's home, which was very fun.  There was a ton of people, food and of course, two henna artists painting all the ladies that wanted to be done.
MEXX PURPLE SCARF — OLD (SIMILAR)  |  LE CHATEAU TURQUOISE SILK SCARF — OLD (SIMILAR)  |  ARDENE JUMPSUIT — OLD (SIMILAR)  |  STATEMENT EARRINGS
The wedding ceremony was on Saturday at an Indian temple and I was so torn on what to wear.  Everything I read and heard encouraged bright colours or a sari.  Additionally, it had to be modest, and shoulders needed to be covered.  We were also going to be sitting on the floor a lot, so that had to be considered.
Black, white and red were out, and of course everything in stores right now is gorgeous and red, so I was coming up empty handed.  I was digging through my closet and came across this jumpsuit I've had for years–and typically wear it in the summer, and have taken it on beach vacations with me.  As you can imagine, it didn't exactly spring to mind when I was trying to figure out what to wear, but once I saw it, I knew it would be perfect with a few additions, and it worked.
I snagged these new earrings which were 50% off and the exact colours of the jumpsuit–which elevated the look since the event was formal.
PARKA |  SIMILAR BEANIE  |  JEANS  |  BOOTS
We had the rest of Saturday afternoon and evening to do our own thing. We spent some time at home and later headed out in search of food (fajitas won!).
Afterwards, we hit up Home Sense–aka I tricked Marco into going there–and we poked around and found a few new items for the house (yay!).
I shared this pic on Instagram on the weekend and also linked my slippers on my LiketoKnow.it page here.
Oftentimes, I share things there first before it hits the blog simply because it's quick and you get the details of everything I'm wearing right away and can shop it before it sells out.  I also share photos there that never make it to Instagram, so take a look if you'd like.
On Sunday, we hit the gym and chilled at home.  I updating my Boxing Day Purchases post and shared how all the things fit on Instastories (now saved to my highlights in case you missed it!).
That night, Marco made an amazing seafood pasta (a first!) and we just enjoyed a night in.
SIRENS TOP (SIMILAR)  |  DIY SKIRT (SIMILAR)  |  ASOS HEELS — OLD; ALSO WERE MY WEDDING SHOES (SIMILAR)  |  ASOS FEATHER CLUTCH — OLD (SIMILAR)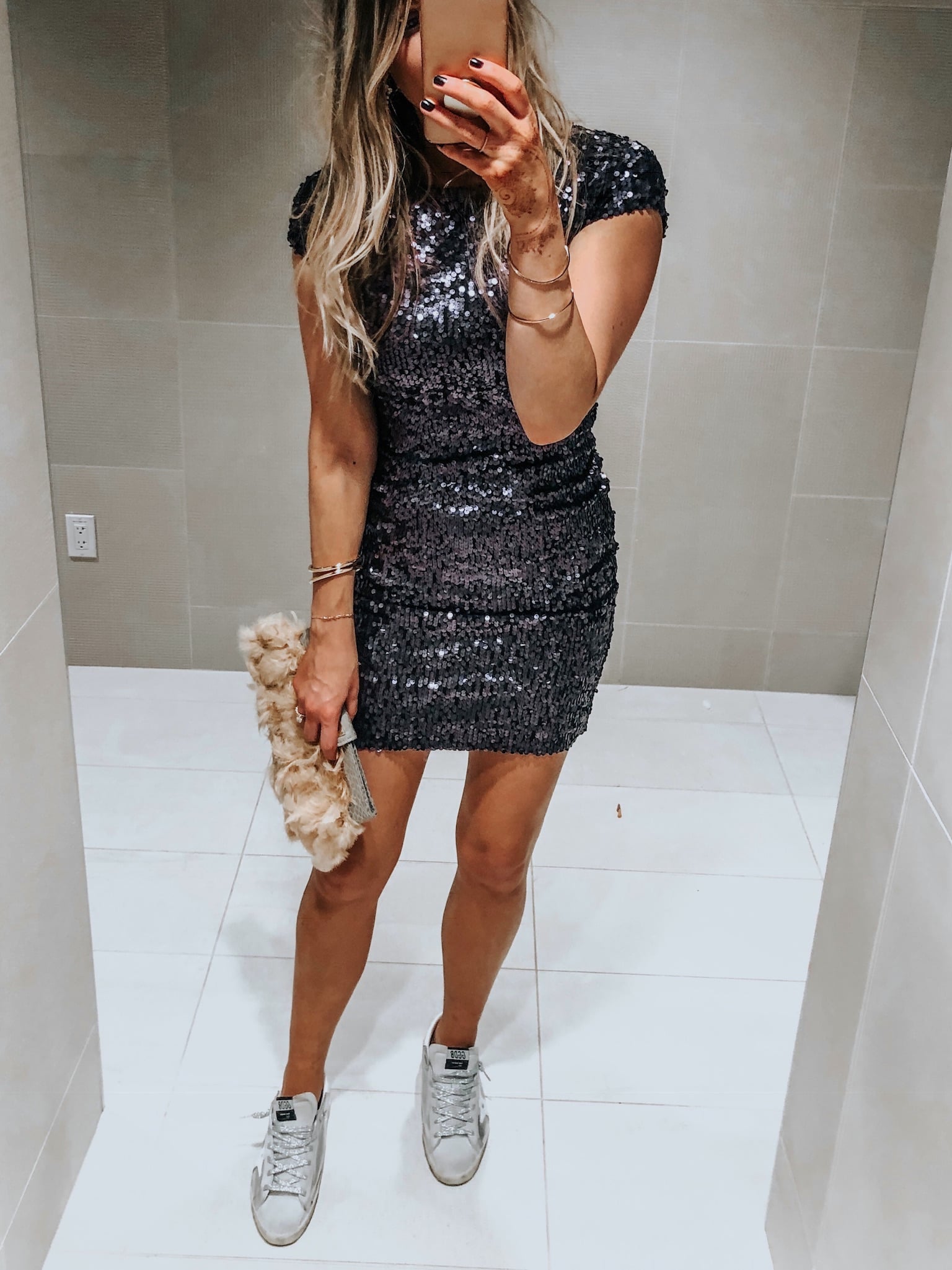 LE CHATEAU DRESS — OLD (SIMILAR)  |  SNEAKERS  |  ASOS FEATHER CLUTCH — OLD (SIMILAR)
The wedding!
The reception for Saturday's ceremony was held on New Years Eve and was absolutely amazing. They did a traditional wedding reception with dinner, dancing and lots of cocktails in between.  They had Lebanese drummers and alternated between Indian music and doing the Dabke–it was such a good time!  And obviously they are both stunners–so wow, just wow (and can we talk about her dress?!).
It was also our first wedding as husband and wife and it brought me back to sooo many moments from our special day.  I definitely got extra teary when the speeches were happening, not only because they were so sentimental, but also reminiscing about ours.
As for my outfit, I picked up the sequin top a month ago or so at Sirens (not sure if they have them in store anymore; they are sold out online) but found a few similar ones here.  I made the skirt myself the night before; I've also loved sequin maxi skirts but they are never long enough for me.  Sewing sequin fabric can be tricky, there were a few times in the process that I wanted to throw in the towel, haha, but managed to figure it out.
The second dress was one I've had for a five years that I threw in my suitcase before we left (this one is similar).  Since we were staying on site, after midnight, I ran up to our room to change into sneakers (also worn for our wedding) so we could dance the night away!  Such a fabulous way to ring in the new year.
I hope you girls had a wonderful New Years Eve, whether it was out or just comfy on the couch.  Wishing you all a healthy and happy year ahead (but without too much pressure of resolutions if you don't want to).  See you tomorrow! xo
SHOP THE POST