Trust me when I say that summer is still in full effect over here, but I did snag some fall-ready pieces from the NSALE so I'm sharing a few of those looks before I get back to warm weather outfits again!
See everything I tried on at the Nordstrom Anniversary Sale here.
This coat is actually a rain coat and I love it! I had initially hoped to get the camo printed one, but my store didn't have it and it sold out online in early access and hasn't come back in stock. I snagged the olive green and figured I'd debate it, but I'm definitely keeping it since I can't get the camo. While I have a few olive coats in my closet already, none are this long, and none are water-resistant like the one I'm wearing!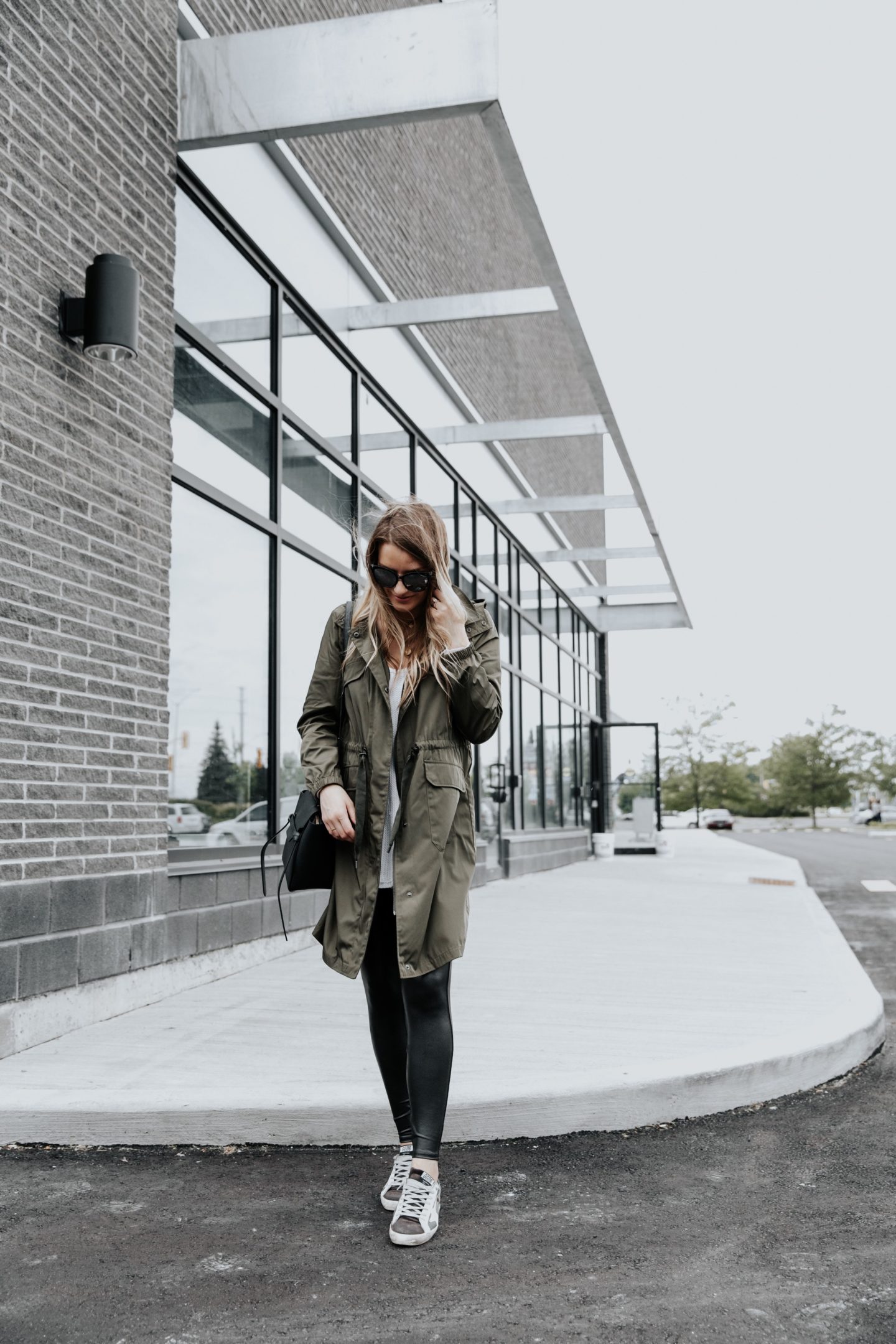 O U T F I T D E T A I L S : RAINCOAT JACKET — ON SALE! COMES IN FOUR COLOURS | FREE PEOPLE THERMAL — OLD (SIMILAR ON SALE) | FAUX LEATHER LEGGINGS — ON SALE! | GOLDEN GOOSE SNEAKERS (SIMILAR, LESS EXPENSIVE, BUDGET FRIENDLY) | CELINE BAG "MICRO BELT" (BUDGET FRIENDLY) | SUNGLASSES — ON SALE!
How's your week going? Things are good on this end without a ton to report. We had some friends over on the weekend for a game night and I snapped a few photos but honestly, haven't been taking a ton of pictures lately–hence the lack of Weekend Recaps (should I bring them back?). Also celebrated a girlfriend's baby shower, which was really sweet (with an amazing food spread). Lastly, we did a ton of cleaning (in preparation for game night) and what is it about a clean house that just feels so good!? Seriously it starts my mornings off so much better.
Also wanted to mention that these faux leather leggings sold out at the Nordstrom sale but I found them on sale and fully stocked in all sizes here (and in petite sizing too)! Same with my sunglasses; they sold out in the sale (mine are from two years ago) but I found the same style, different colorway on sale here.
Have a great day! xo
SHOP THE POST
Photography by Lisa Provençal.