Good morning! Hoping on to share a go-to casual style for me and a couple new pieces I'm living in.
We left the house as a family the other day to grab bubble tea (Hendrix and I waited in the car), and snapped these photos while we were at it. It was a warm, sunny day so I had to throw on this new outfit.
Would you believe this muscle tank has hidden zippers on the side for nursing? Perfect for that day when Hendrix went from 0 to 60 real quick and needed to eat 😛 … and no one is the wiser. Love a top that can pull double duty like that.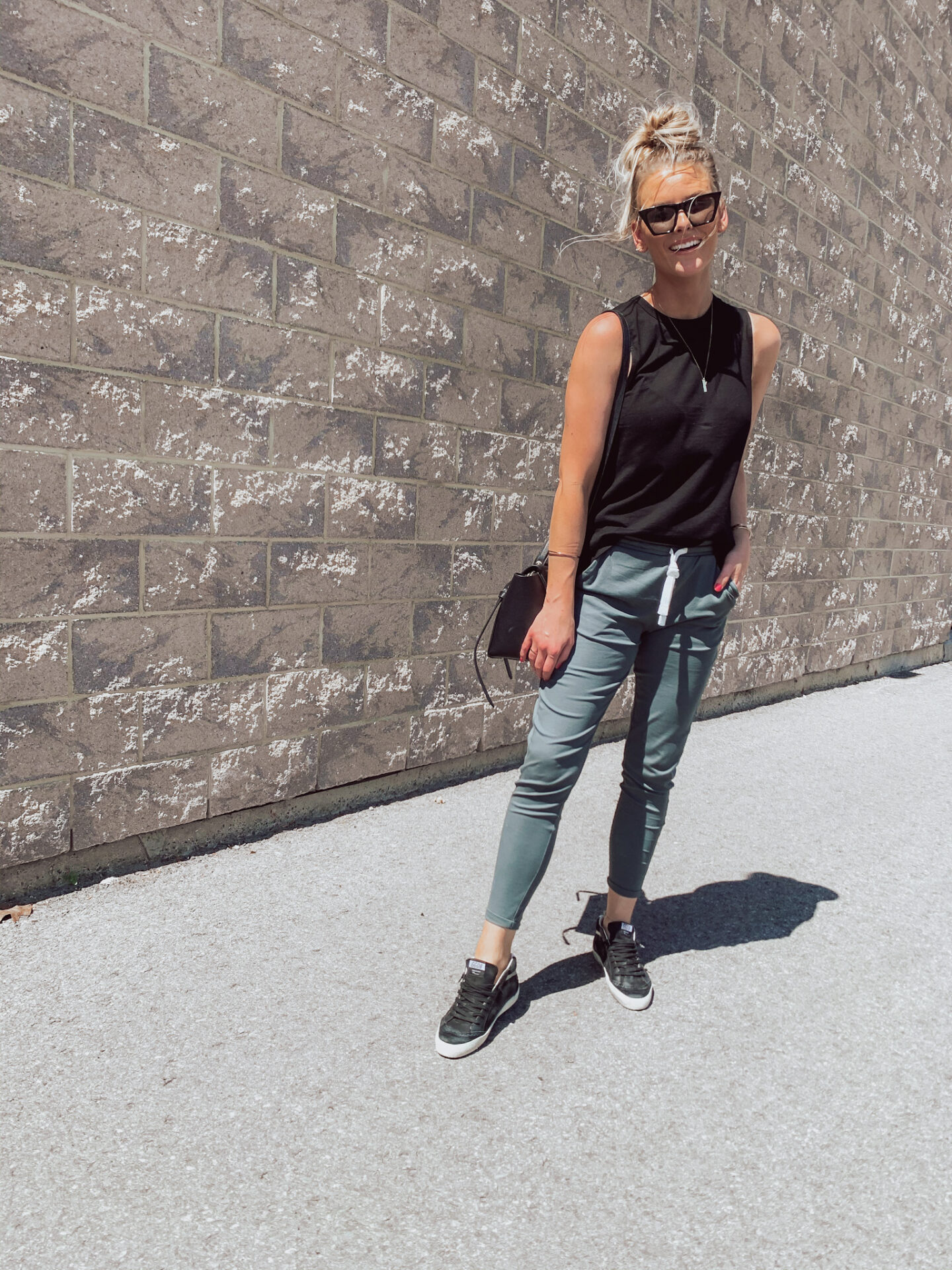 O U T F I T D E T A I L S : MUSCLE TANK — NURSING FRIENDLY (ALSO IN STRIPES, SIMILAR) — USE CODE LIFEWITHACO15 FOR 15% OFF | JOGGERS (ALSO IN GREY & BLUSH—ON SALE!) — USE CODE LIFEWITHACO15 FOR 15% OFF | GOLDEN GOOSE SNEAKERS (SIMILAR, BUDGET FRIENDLY) | SUNGLASSES | CELINE BELT BAG (PREVIOUSLY OWNED)
Okay, first, the outfit! You girls know I love these joggers (have them in grey and have worn them weekly since getting them in January), they are so comfortable and easy to wear. They wash and dry up great–I usually hang everything to dry, but these joggers are so low maintenance, I throw them in the dryer and am good to go. I seriously wear them multiple times a week and will continue to do so this fall and winter. I'm actually debating getting the blush colour, I wear them that much! I'm in a size medium.
The top is this high quality basic but surprise! it actually doubles as a nursing tank and works if you're pregnant. First, there are a little hidden vertical zippers on the sides below the underarms (showing this on IG Stories today–so pop over there to see). I love this because you don't have to lift your top up and expose yourself or worry about wearing anything underneath. The extra long length works great if you're pregnant as it's made to accommodate a bump and work post pregnancy. I will definitely wear this long after I'm done breastfeeding as the quality is so good and the cut is really chic. Also in a size medium.
If you're looking for more nursing friendly (but stylish) tops, I have this sweatshirt (as seen here) and can vouch it is so comfy yet cool looking, and am totally eyeing this sweater for the fall.
One last quick note on the outfit, it's from bump and bae, a local, Ottawa boutique, woman-owned. I love that we can support local, small businesses, especially in these times. The owner, Kristen, when pregnant herself, noticed a gap in the market for stylish, high quality basics for pregnancy and beyond and decided to start her own boutique. She carries multiple brands, an assortment of styles that work for pregnancy, nursing and more. You don't have to be a mama to wear these items, but I also know how hard it can be to shop while pregnant and want the stylish items but then shipping to Canada is often a deal breaker. Anyway, love her store & the items she carries!
Lastly, what are you girls up to this weekend? We have been keeping things low key around here (like most, I'm pretty sure) but we are having a couple friends come for a social distanced visit to meet Hendrix. So excited to see them and also spend some time with my parents! Hope you girls have a great weekend!
bump and bae is giving everyone 15% off, site-wide, with code LIFEWITHACO15. She's getting a ton of new arrivals in the coming weeks for fall too, so keep your eyes peeled.