Hi hi! Jumping on today to share a little try-on sesh with some new pieces that I ordered online. I miss shopping in store so bad, but typically I don't have much luck in store, if we're being honest… lol! But, ya know, I just missing being out and browsing and wandering.
Anyway! Today I'm sharing a bunch of stuff you can find online (as always), and if you hop over to Instagram, you can see everything live in my Stories (on Wednesday–because the day got away from me!).
As always, everything is linked below each photo, on my LiketoKnow.it profile & on the SHOP INSTAGRAM page of my blog.
SEE ALL TRY ON TUESDAY POSTS HERE.
Let's jump in!
ABOVE OUTFIT : PALM PRINTED WINDBREAKER | PALM PRINT SHORTS | SPORTS BRA | SLIDES | ANKLET
LONG SLEEVE TOP | SHORTS | SNEAKERS (BUDGET FRIENDLY OPTION, ALSO LOVE THESE) | ANKLET
This long sleeve top has probably been my most worn item during quarantine in the white and black colours (purchased in March; seen here in black)… so I pulled the trigger on the olive green! It's so. good. you. guys. I love FP and their stuff is always such great quality and the fit is bar no other. The sleeves are always extra long (great especially for me, being tall, where everything is too short) as well as the body.
This top runs big–like the majority of everything they sell–but I went with a medium (despite usually wearing a small). It's very roomy in the body, and I wanted that. Plus, it's legging friendly (covers the booty) or you can tuck or tie a knot into it.
I touched on the shorts during my last try-on post & have been wearing them non-stop. Anytime I have somewhere to go (that isn't my living room) this summer, these shorts are what I pull on. They are stretchy, comfy and have a slightly longer inseam which is very flattering. They wash and dry up really nicely, too.
BOATNECK TOP — HAVE THIS IN BLACK AS WELL & WEAR ALL THE TIME | PAPERBAG SHORTS (SIMILAR, SIMILAR) | SQUARE TOE HEELS (SIMILAR) | ANKLET
Holy smokes–feeling like my pre-pregnancy self in this outfit, which is saying a lot. These paperbag linen shorts are really easy, breezy and comfortable. They are a high rise and have a working drawstring. I am in a medium and they are roomy through the thigh and booty so if you hold your weight there, these will work on you as well.
The heels! EEK! As soon as I pulled these out of the bag, I was sold. They are so good, so on trend, and under $40. The square toe trend is everywhere this year and I'm here for it. These also have a lower heel, so very easy to walk in, run true to size and also come in black. Love!
PALM PRINTED WINDBREAKER | PALM PRINT SHORTS | SPORTS BRA | SLIDES | ANKLET
How cute is this set? And the entire thing is on sale for under $30 (but sold as separates)!
This windbreaker is soo cute! Love the half zip, kangaroo pocket and hood. I went with an XL thinking I'd wear something underneath, but turns out it's quite oversized–so, I've ordered a size large to exchange it. That said, it has a drawstring at the bottom so you can make it smaller but there is a lot of volume in the mid-section (which could be a good thing, haha!).
The shorts are amazing, super comfortable and very flattering. They are a mid-rise (just below belly button) and have a really pretty mesh panel on the sides. The best part though is the built in spandex short shorts underneath–just makes you feel way more secure. I'm wearing a size large.
SLOUCHY TEE | ZARA JEANS — CAN'T FIND ONLINE ANYMORE (STYLE #0412404240044) (SIMILAR) | SQUARE TOE HEELS (SIMILAR) | ANKLET
This top in all it's slouchy glory has been on repeat since it arrived. I have worn it with white denim shorts & also in a more athleisure way, with biker shorts. I wanted to style it here today in a way as if I was going out somewhere, or a little more dressed up.
It's slightly longer in the back and has little slits on the side, and it just drapes so nicely. I went with the 'ponderosa' colour (a light, lime green) because when I saw it on the model on the website, I fell in love with it. I'd normally go with white or black or grey… but this just spoke to me, and I'm so glad I snagged it.
I'm wearing a medium and it's super roomy, so take your usual size or size down even.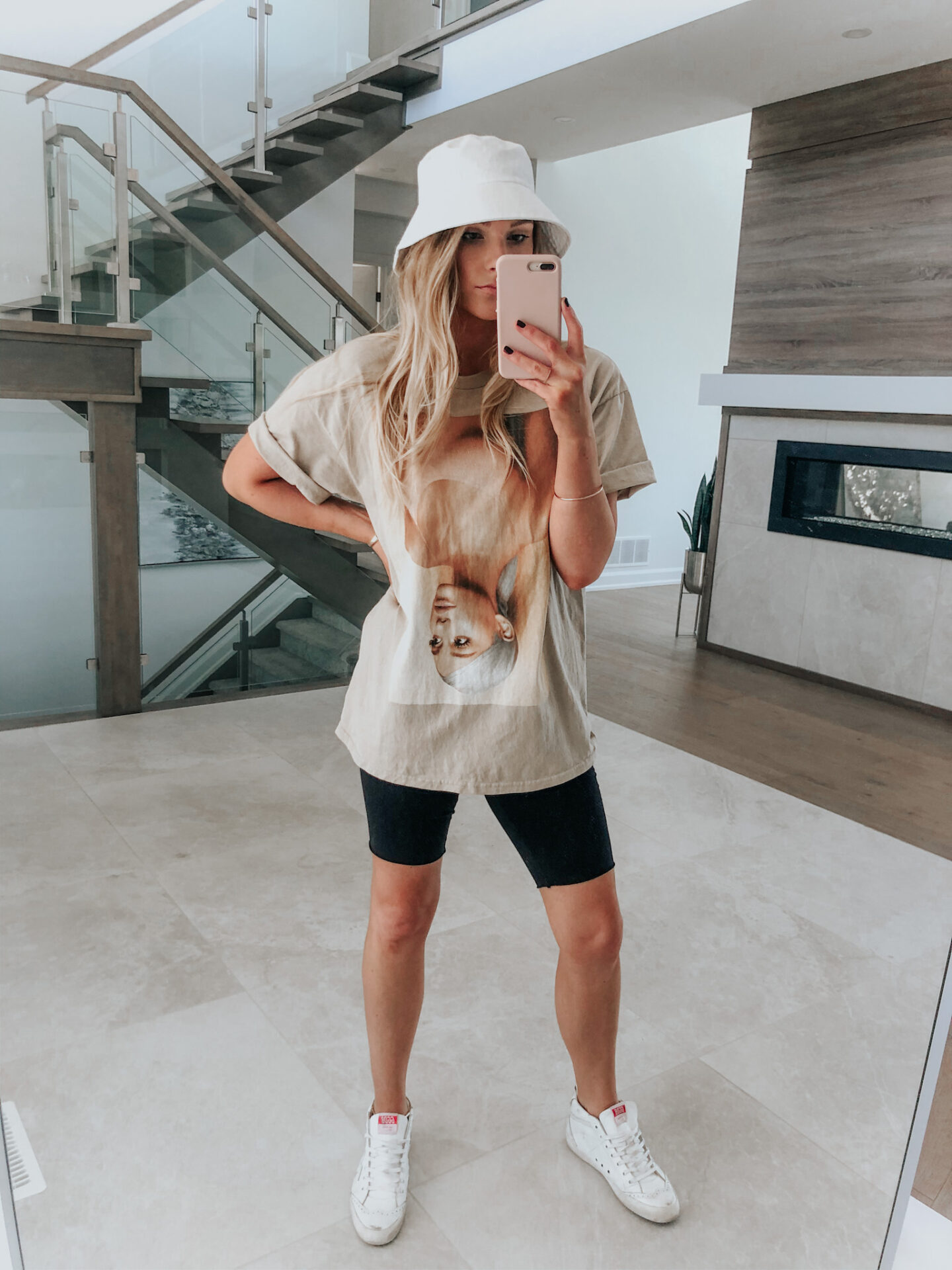 H&M BUCKET HAT — NEW BUT CAN'T FIND ONLINE (SIMILAR, SIMILAR) | ARIANA GRANDE TEE (LOVE THIS ONE TOO) | DIY BIKER SHORTS (SIMILAR) | SNEAKERS (BUDGET FRIENDLY OPTION, ALSO LOVE THESE) | ANKLET
I'm pretty sure my 8 year old self is rejoicing at me wearing a bucket hat again. Ha! But seriously, here for this. I totally wasn't down on the bucket hat trend last year, but am singing a different tune this year. It's just a nice change from my usual straw or felt hat (especially if you want something different for pool-side), and it's really easy to throw on with a casual outfit like this.
I'm loving any and all band tees right now (such a big trend) and am so glad the oversized tees are so current right now, especially being post-pregnancy. I am a closet Ariana Grande fan 😛 and just like how this is a little different from all the classic rock band tees I've seen (and own). I went with an XL so it would be longer and mission accomplished. I rolled the sleeves to style it up a little but you don't have to.
LONG SLEEVE TEE | BRALETTE — FP DUPE! UNDER $15! SIZE DOWN | JOGGERS — GET 15% OFF WITH CODE LIFEWITHACO15 | SLIPPERS (SIMILAR)
Another amazing long sleeve basic and you guys, colour! This pink is so pretty, I couldn't pass it up. I feel like all I wear are neutrals (which hey, I'm not complaining), but I do love a good, bright pink.
This top runs a little more slim than usual for the brand, so take your usual size (I'm in a medium), or size up if you want it to be roomy.
The bralette is a Free People dupe, and it's quite good–and under $15! I own the Free People one and love it, and this one is made much roomier. I have a large in the FP one and this one is a large as well and far too big. So size down because the band is very stretchy. Everything else (cups, straps, design) is the same and gorgeous when peeking out of a top or off shoulder shirt.
Also, my fave joggers–I've shared so many times. Still wearing these weekly and can't get enough. They work if you're pregnant or not because the waistband can go under the belly and isn't uncomfortable. She's still giving 15% off if you use the code LIFEWITHACO15, also love that she's a small, local business. I'm in a medium.
TIE DYE CROPPED HOODIE | LEGGINGS | SNEAKERS (BUDGET FRIENDLY OPTION, ALSO LOVE THESE) | ANKLET
Still loving tie dye and this cropped hoodie is so cute! I love the black and white and if you're just looking for something a little more neutral in the tie dye realm, this is it. Easy to pair with leggings, biker shorts or even a skirt. The sleeves are extra long (that never happens on inexpensive brands!) and the fit is boxy.
I am wearing an XL, but ordered a large as well to compare. Both fit well, but the XL was slightly longer, which I prefer.
TANK TOP | JOGGERS | SLIPPERS | ANKLET
These sweats are SO GOOD! I was shocked when I pulled them out of the bag and they were this beautiful olive green colour, when on the website they read so tan.
These are a true sweatpant with fleece on the inside and a slim fit. I am wearing a medium but also ordered a large as I wasn't sure. The medium fits slim and fitted, the large was a little baggier–so depending on your preference, true to size or size up.
That is everything I've recently picked up–hope you girls enjoyed this try-on sesh. I feel a little bad doing two back-to-back, and contemplated waiting but honestly, sitting down at my computer is a lot harder these days and I really wanted to share these finds with you… so…. here we are! 😉
Hope you girls are having a good week, we are having a massive heat wave here, but loving that summer is in full swing. See you soon! xo
SHOP THE POST