I love Lululemon, live in their leggings for daytime (this pair in plain black) & working out (love this fabric & style), but will often try to find a slightly more budget friendly alternative when it comes to tops and sports bras. That said, after having a baby, my boobs no longer fit in any of my sports bras, and turns out the inexpensive brands I loved (I'm looking at you, Forever 21), don't go any bigger than what I was regularly wearing. So, Lululemon to the rescue… and I must say, I haven't taken them off since they arrived! …Plus I may have found a few other items to add to cart 😉
As always, I'm sharing everything I'm showing you here on IG Stories today in video, so head over there (if you haven't already) to see how everything looks and moves on screen.
Like always, everything I'm wearing is linked below each photo + sizing details, my size and more.
Let's jump in!
Not only did I find some amazing sports bras, but this top is freaking AMAZING! I ordered it in two colours, planned to keep one, and am keeping both. It's that good, you guys.
It's a long sleeve, boatneck top in this amazing cotton-luxe fabric. There is a slightly longer hemline in the back, and the seaming across the back is so flattering. I'm wearing a size 8. I ordered a size 8 and a 10, but it's roomy enough in your true size.
REVERSIBLE SPORTS BRA | LEGGINGS
Okay, I'm going to be honest and start out by saying after taking these photos, I wasn't going to share. I needed some new sports bras, post pregnancy, and found some awesome ones… however, putting them on for the Internet to see, is a different story. I'm trying to be patient with my body as it slowly shrinks back, but not all days are created equal 😉
Anyway, ultimately, I've decided to share because these pieces are ones I truly love and am currently living in & maybe you will too. Please be kind… and if a mean comment comes to mind, well, we all have bad days and it's okay if today is yours… and I'll try not to take it personally.
REVERSIBLE SPORTS BRA | LEGGINGS
This sports bra (called the 'Rejuvenate bra') is so good, so comfortable and so unlike anything else I own. First things first, it's reversible–light pink/white and then charcoal grey/camo coal–making it extremely versatile. Secondly, it's double lined and the softest microfibre fabric. I love the wide set straps (so flattering, especially if you're broad) and the longline style. The deep U in front and deeper in the back looks great on all bust types and it washes up like a dream.
This is a great everyday bra (also works really well for nursing as there are no cups), very easy to throw on and go, but also not for high intensity workouts where you'll be jumping around. I sized up to a 12.
LONG SLEEVE TOP | SPORTS BRA | LEGGINGS
This top again, which is the same as the olive green one above. IT's so good! Super comfortable, flattering and easy to wear. It's got a loose fit with a slightly longer hemline in the back. The boatneck is really flattering and the sleeves are full length–but I always prefer wearing them slightly pushed up.
In the first photo I'm showing the shirt slightly tucked into the front of my leggings. Second set of photos is just worn loosely. Last set of photos is how I would wear this in the gym–snugger around my waist and tied in the back at the middle.
I'm wearing a size 8.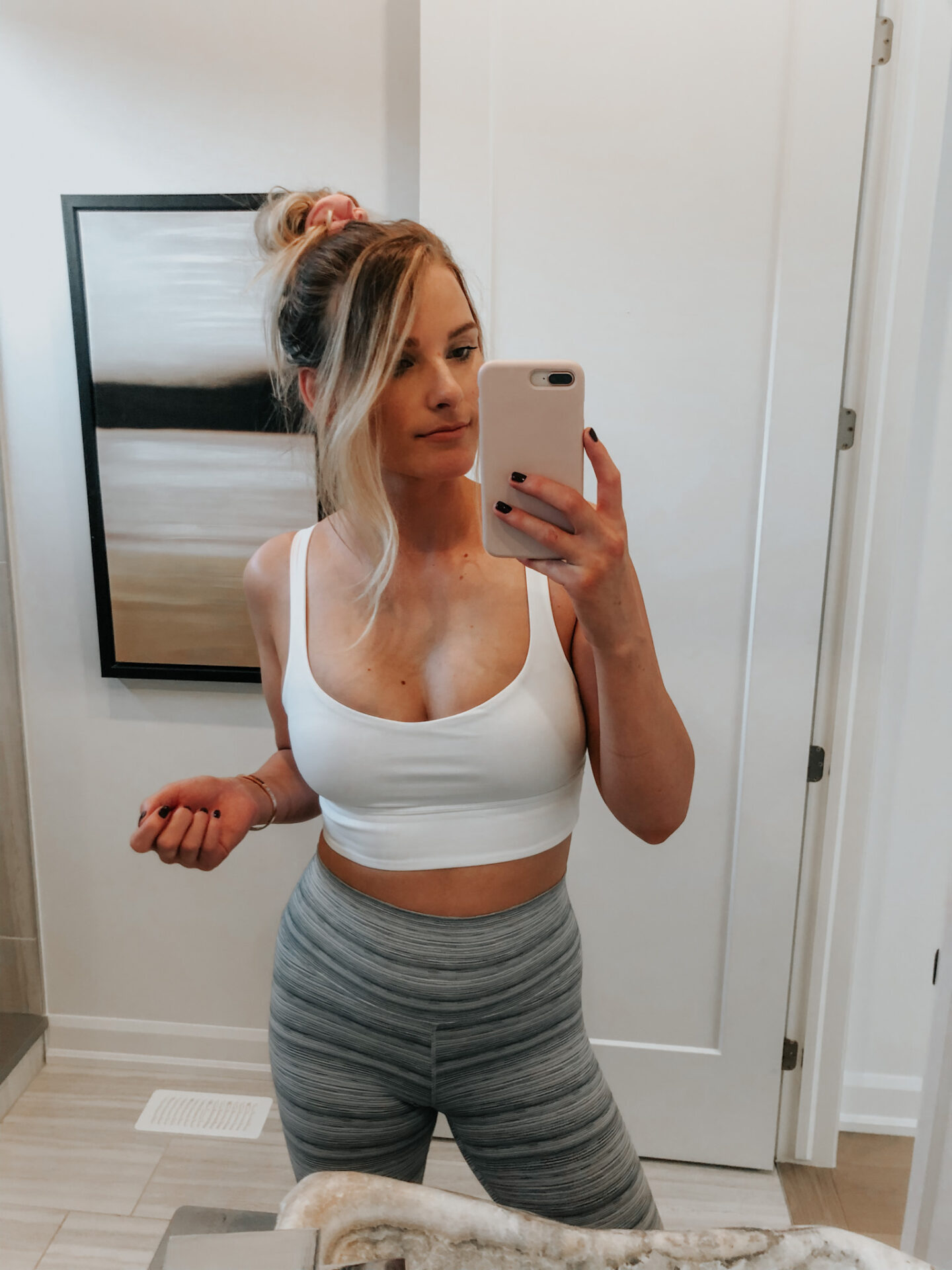 SPORTS BRA | GREY LEGGINGS | BLACK LEGGINGS
I have this sports bra in the regular version in my pre-pregnancy size (8) and love it, but… it doesn't really fit right now. I needed to size up (10) to accommodate my post-pregnancy body and feel way more secure on the daily and when I get a workout in. I especially love this longline version even more so because it's so flattering!
I snagged this sports bra in black and white and kept both because they are my most worn colours when it comes to sports bras (despite all the colourful ones in my drawer).
LONG SLEEVE TOP | SPORTS BRA | LEGGINGS
That is everything for today's mini haul–hope you girls enjoyed & head over to IG if you haven't already to see everything in Stories today (and I'll save to my highlights afterwards). Have a great day xo
SHOP THE POST