I have been a huge fan of baby wearing since Hendrix was born—it's so sweet to wrap them up and carry them around on you. It often relieves fussing, meltdowns & also gets you hands free to maybe make a cup of coffee 😉
Today I'm sharing my most recent purchase–this gorgeous olive green ring sling–and how to wear it.
When Hendrix was really little, I used a fabric wrap, and eventually a more structured carrier. We would walk the neighbourhood (with him in the carrier, under my jacket, because it was snowy) or just around the house. He would fall asleep on our walks, and I knew that even if my own energy level wasn't fully up for some exercise, I'd be guaranteed some quiet time with him, so I'd usually go.
Once Hendrix was about 16 pounds, I started walking him in the stroller. My back was strained with him in the carrier for longer periods and using the stroller meant I could go for longer… but, I missed wearing him.
I recently purchased this ring sling and love it! I've been using it almost daily, even just around the house to keep him close but relieve my arms for a bit. It doesn't strain my back and is surprisingly easy to wear and adjust. I love that this sling can be worn with a babe up to 35 pounds–so we have plenty of room to grow as well.
Today, I thought I could share a little bit more on my experience thus far, a little tutorial on my Instagram Reels today on how easy it is to use + some step-by-step instructions below.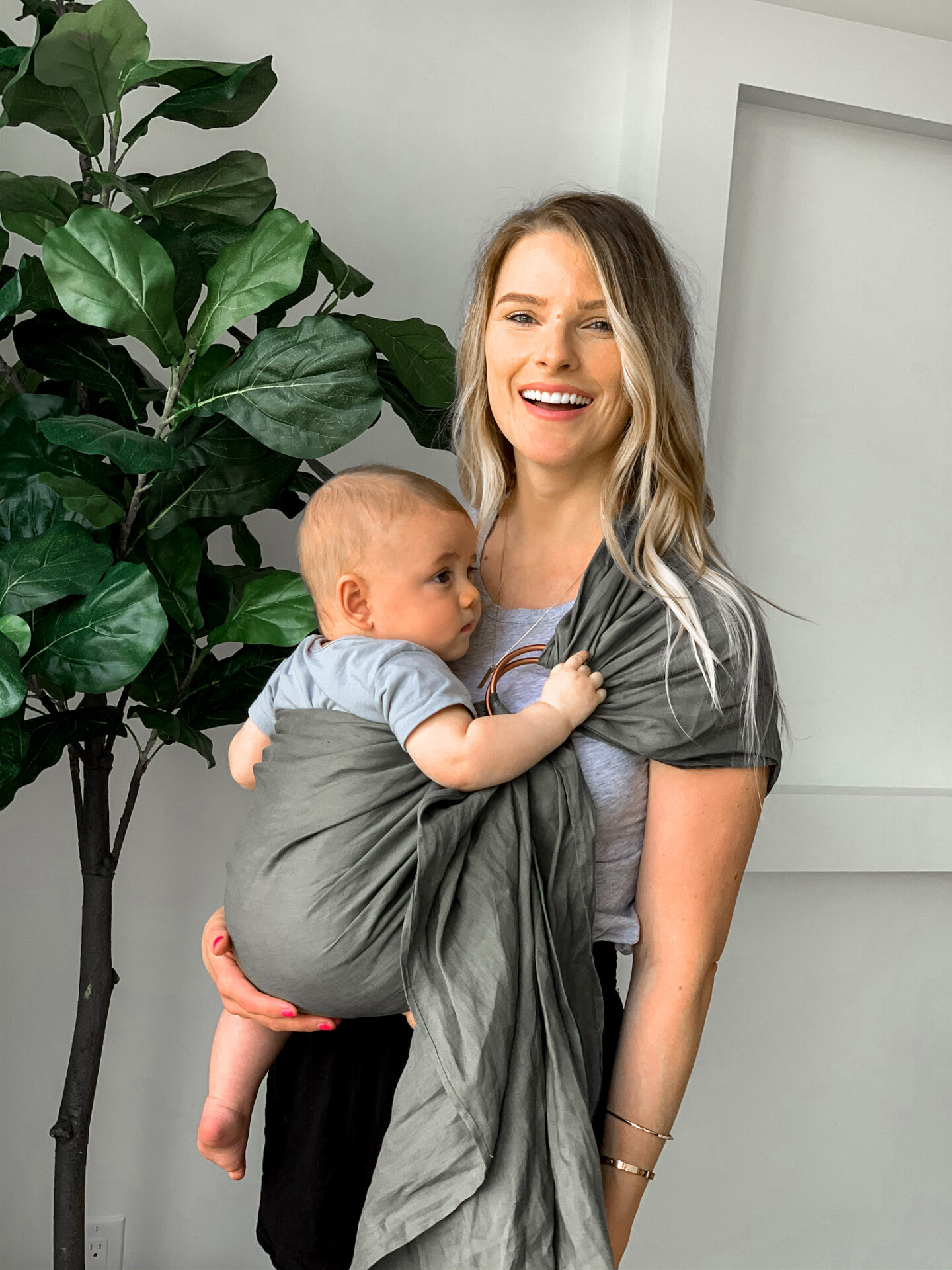 O U T F I T D E T A I L S : RING SLING | AE TANK — OLD (SIMILAR) | ARDENE SHORTS — OLD (SIMILAR)
Baby wearing isn't just for a 'certain type of Mom'–anyone can do it. If you haven't done it yet, and your baby is between 8 to 35 pounds, you can still give a shot. Since most of them love to be scooped up in your arms, this is even better–like a snug, warm hug that doesn't end.
While Hendrix loves to move around when he's on the floor, when I put him in the sling, he just relaxes and enjoys being close. He looks around and holds onto the rings and it's really cute. Also, it's a great piece to just throw into your diaper bag if you're heading out of the house–easy to transport and just have on hand in case the occasion calls for it.
SEE MY VIDEO TUTORIAL FOR HOW TO PUT BABY IN THE RING SLING
There are tons of videos online on how to 'thread' your ring sling before you put it on. This is essentially taking the tail of the sling and threading it through the rings to create your loop. This is super simple and takes under a minute (I loved this video to prepare myself before my sling came in the mail).
Once your sling is threaded, put it on and start adjusting. You want the rings to be high on your shoulder (they should drop below your collarbone once baby is in), fabric flat across your back, tail long & I like to put an elbow into the draped fabric to ensure there is enough room for baby, but not a crazy amount either. You can choose whatever side your prefer to place your rings–I like to wear Hendrix on my right hip, so rings go on the left.
Next, grab your baby, put them high on your shoulder on the side without the rings, and gently drop their legs behind the sling, through to the bottom (feet peeking out for older babies, feet hidden for newborns). Lifting them by their bum, pull the top of the fabric high on their back, and then pull the bottom part of the fabric up and under their bum, towards their belly. This is creating a 'seat' for them in the carrier.
Remember: always lift your baby when you want to adjust the tightness or looseness of the wrap.
To tighten the sling, lift your baby under their bum and pull the tail at/below the rings on the outer edge. This line will tighten the seat of the sling. Keeping your baby lifted, pull the tail at/below the rings on the inside edge. This line will tighten the fabric at your baby's back, pulling them close to you. Arms can go in or out, fabric should be at their shoulder blades or higher.
Baby should feel snug and secure in the wrap, with a deep seat where they can look around but not fee like they are going to fall.
The final check: Ensure your baby's legs are froggied, and that their bum is below their knees. Fabric is smooth across your back and theirs. They are close enough to kiss on the head.
Happy ring slinging!
SHOP THE POST