Good morning ladies! I'm typing from sunny (and humid!) Mexico currently–the Mayan Riviera to be exact. These photos were taken while I was still back in Ottawa, knee-deep in snow. We are enjoying a nice break away in the sunshine, thanks of bearing with me as I take a little break here and there from the blog.
Today's look is another real winter style look. I wanted to style up the jacket a little more than normal by belting it, and pushing up the sleeves. This look is for when you're headed out but will be staying in your jacket. I would also, easily, add a pom hat to this look and a scarf, but wanted to keep it simple on this day (plus I've been wearing my pom hat non-stop!).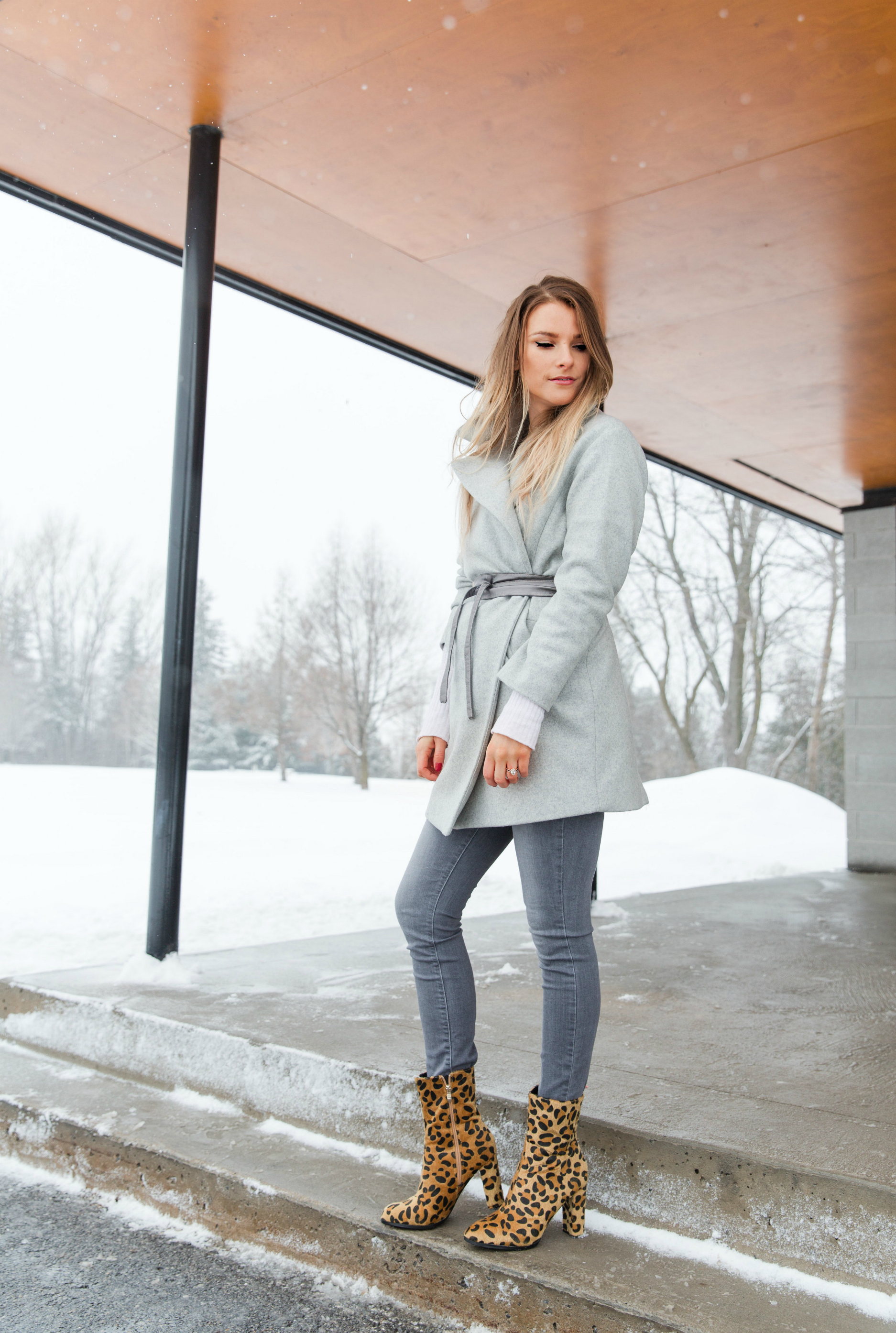 SHOP MORE GREY JACKETS
O U T F I T D E T A I L S : BANANA REPUBLIC WOOL COAT — SOLD OUT (SIMILAR, SIMILAR) | WRAP BELT — OLD (SIMILAR, LOVE THIS ONE) | GREY JEANS (ALSO HERE) | VICI LEOPARD BOOTS (SIMILAR, SIMILAR) | CROSS BODY BAG (BUDGET FRIENDLY)
When I first purchased these boots and was awaiting them in the mail, I was envisioning lots of pairing with black and more black, but then kind of surprised myself when I went the grey route. I love a good tone-on-tone (especially grey, as seen here & here) and the leopard gives a little pop of something. My boots are sold out, and I actually only scored them from putting my name on a 'notify-me-if-back-in-stock list', and was shocked when they did. I love these booties equally as much and would probably have gotten them had these ones not panned out.
Hope you girls are having a great week thus far. Yesterday, as promised, I shared my SheIn swimsuit haul of all the pieces I brought down here to Mexico on Instastories. If you missed it, I will add it to my highlight reel so you can get an idea of how each piece fits and thoughts. I have linked all seven suits here so you can see therefor yourself if you'd like.
I'm currently typing this from our balcony and the mornings here are is so calm. We are facing a more tranquil side of the resort (versus the party pool 😉 ) and it's gorgeous being surrounded by tons of lush palms. That gardeners just started their work so it's a little louder now–lol. I'm going to head inside and see if I can get Marco up to head for some breakfast. Hope you have a great day!
SHOP THE POST
Photography by Lisa Provençal.