Spring is here and so are the cherry blossoms!  These trees bloom for such a short window–like two weeks–and I was able to get out with Lisa and take them in.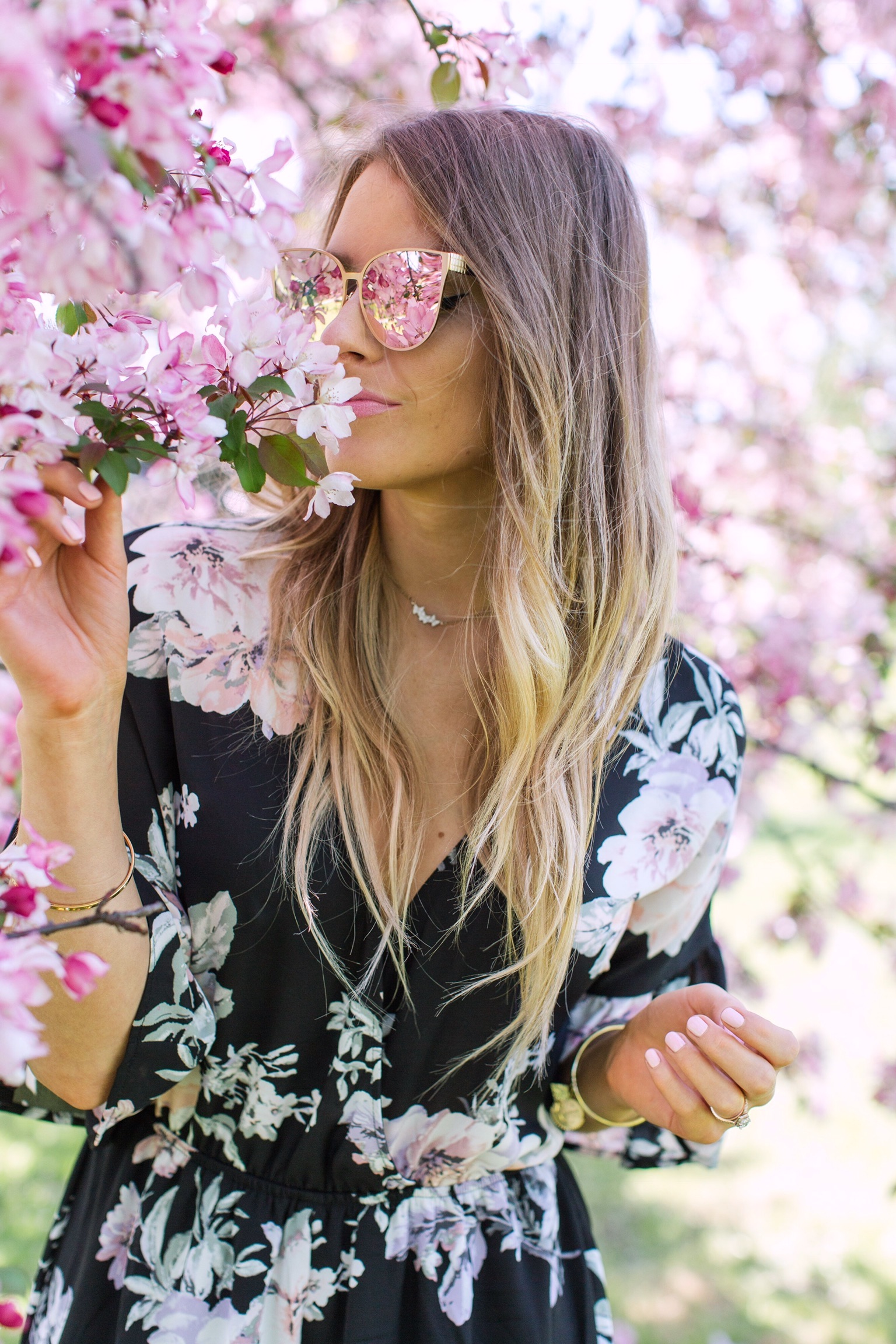 O U T F I T  D E T A I L S  :  FLORAL ROMPER (ALSO IN CURVY SIZES)  |  DOLLARAMA HAT — OLD (SIMILAR, SIMILAR)  |  F21 BAG — OLD (SIMILAR, LOVE THIS SPLURGE)  |  VINTAGE BUTTERFLY NECKLACE (SIMILAR)  |  SUNGLASSES
I picked up this romper about a month ago and shared it earlier in this post because I knew it might not hit the blog in "a real outfit post" for a bit.  I originally planned to wear this for date night or to a summer night party, but also knew it would be so perfect with the cherry blossom trees!  The v is very deep, so I wore this bra & used this doubled-sided tape to keep the girls in place.  Alternatively, you could make a small stitch with some navy thread to keep it a little more PG.  I'm wearing a size large but the medium was a slightly better fit around, however needed to size up to get a bit more length through the body.
This entire week has me so messed up, I keep thinking it's a day later than it is and then realize we are not that close to the weekend!  However, Thursday now so we are getting there.  You girls have been so patient with me and our engagement photos–thank you!  I've had a few people ask when I'm going to post them, and I have spent many hours working on the post, which will include our engagement story–something I've never shared on here.  Check back tomorrow 😉
Hope you all have a great day! xo
SHOP THE POST
Photography by Lisa Provençal.