What an amazing weekend!  We kicked off our Friday by heading to our friend's wedding and danced the night away.  So wonderful to watch them say their vows to one another and then celebrate all night long.
Since the wedding was held at a museum with trains, they had a really cool ticket and ticket punch for 'boarding the train' (ie. the ceremony area) that was in between two trains.  From there the wedding party came down the aisle and then the bride emerged from one of the trains!  It was stunning.
I'll let the rest of the photos speak for themselves, but it was just a wonderful night (I love weddings!).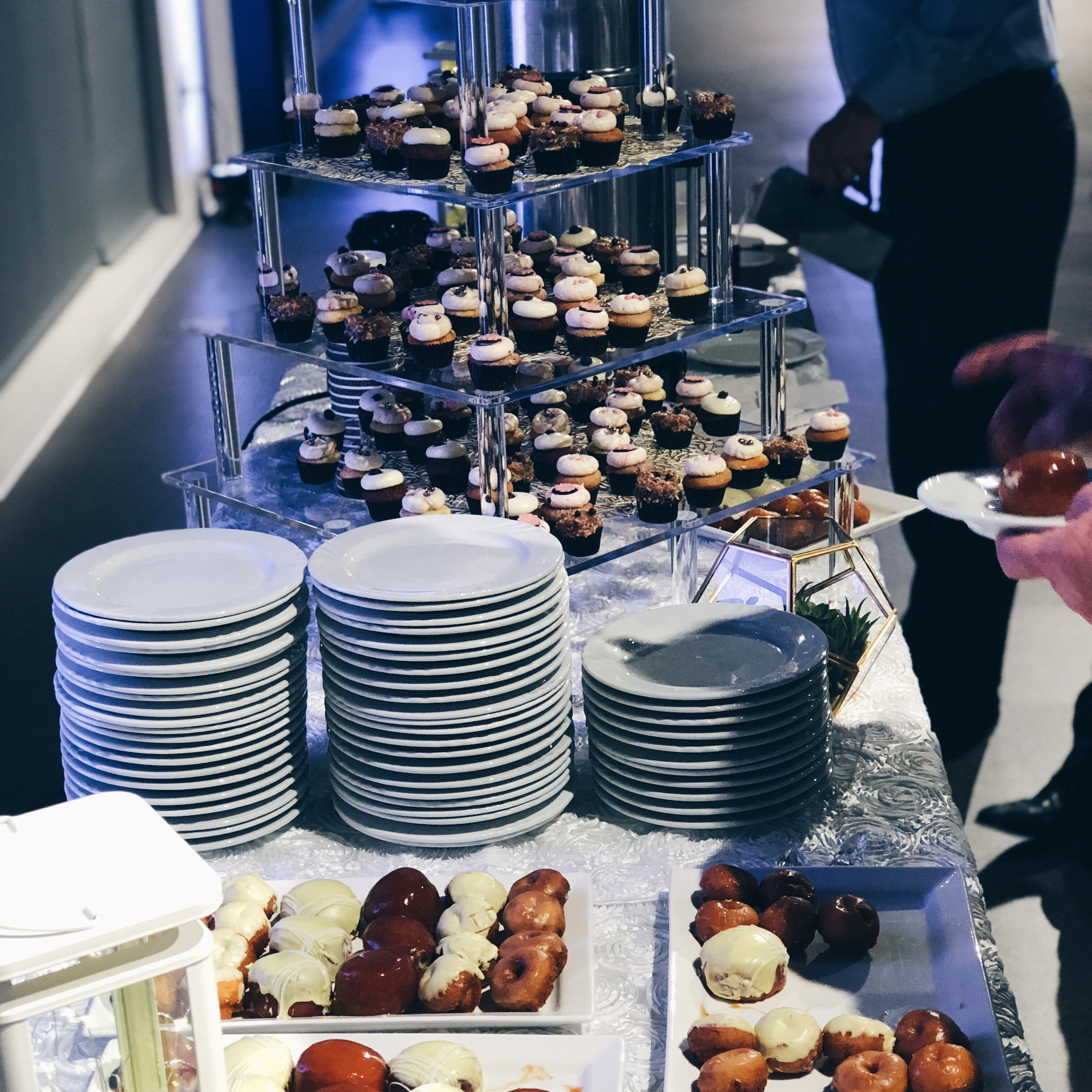 KEEPSAKE DRESS (SIMILAR)  |  LACE UP ROSE GOLD HEELS  |  CAGE BAG
How adorable is that pic of the bride and groom dancing and he's serenading her?  So sweet!
For dinner they did prime rib and grilled shrimp with an assortment of sides.  The way it was served was really cool, and done family style–which I'd never seen before.  For dessert, they did a huge table of mini cupcakes and Maverick's donuts; so freakin' good!
OFF SHOULDER TOP  |  DISTRESSED GIRLFRIEND JEANS  |  WEDGES — BELOW
The next morning I had a campaign to shoot will will showcase my office this month and I'm super excited to share with you girls.
Afterwards, Marco and I spent some time outside weeding the garden and finally taking down our Christmas lights.  The weather was unbelievably warm (finally!) and it was nice being outside without a jacket.
As some of you know, Marco loves to cook when he has time (trust me though, week nights are still a struggle with the, 'What should we have?!' and, 'Ugh, let's just get take out' frequently) and we just got a Sous Vide cooker and he did steaks.
I'll be honest, I was totally skeptical, and it took about two hours to cook them, but they were unbelievable!  I'm now trying to convince him to make me the Starbucks egg white bites next 😉
The next morning I whipped up some easy pancakes and then we headed out to the gym.
GAP DENIM JACKET (LOVE THIS ONE)  |  TANK  |  LULULEMON LEGGINGS  |  FUR SLIDES  |  WHITE SNEAKERS  |  LULULEMON BAG (SIMILAR, LOVE THIS SPLURGE)  |  SUNGLASSES
After the gym, we grabbed some groceries and hung out on the back deck for the first time this year.  Can't wait to spend many more afternoons out there enjoying the weather, preferably sipping a cocktail 😉
GARAGE DENIM JACKET — OLD (SIMILAR)  |  DIY MAXI DRESS (SIMILAR)  |  ZARA SLIDES — OLD (SIMILAR)  |  BAG  |  HORN NECKLACE
And finally, on Sunday afternoon, we attend the rehearsal dinner of another set of friends who are getting married next weekend.  I wore this old maxi dress I made many years ago (also seen here a couple years ago for date night) and tied it up because I made the length for heels.
The rest of the evening was relaxing and putting together this post.  Hope you girls had a great weekend.  In case you missed it, I put up two posts on the weekend (woohoo!)–one being a Weekend Shopping Deals post, and the other is an outfit post & my morning coffee routine.  Have a great day! xo
SHOP THE POST