Welcome back to another Try-On Tuesday, if you're new around here, we do these every week featuring any new pieces I've snagged since the last one. It's a way for me to share things I'm loving that are still available to you (if you'd like) before I get an official outfit post up 😉 and said items could be sold out.
Per usual, I've done an entire try-on over on Instagram Stories with all the items in today's post.
Let's jump in!
OUTFIT ABOVE: DENIM JACKET | PAPER HEART MIDI DRESS (SIMILAR, SIMILAR, SIMILAR) | SNEAKERS (BUDGET FRIENDLY)
Okay you guys, let's talk midi dresses. I was totally on the fence about these. First, I LOVE the way they look, but wasn't sure about the way they looked on me because I had tried on a few without a ton of success. Turns out, you just need to find the one that works on you–enter this pretty pink number!
Naturally, I love the neckline–it's the same as my wedding dress–and the wider set straps are really flattering especially if you're broader. The slinky material doesn't leave much to the imagination, so if you're feeling a tad self conscious, a pair of Spanx will work wonders (I have these ones).
If you haven't been over to my IG Stories today to see the video of this dress, I wanted to quickly touch on the slit. While I'm down for a slit, I personally am not loving the one on this dress–it's super high and makes me feel like I can't move as freely without flashing someone. In the video I said I was planning to sew up the slit, so if you come across one without a slit, just know that I'd actually prefer if my dress came that way.
I found mine at Winners but there are legit so many almost identical ones online, so I'm linking them all in the widget below.
PAPER HEART MIDI DRESS (SIMILAR, SIMILAR, SIMILAR) | THRIFTED BELT — OLD (CANADIAN GIRLS CLICK HERE, US GIRLS CLICK HERE) | ANKLE BOOTS
The thing about these satin/silk midi dresses is that they can feel very formal, but it's super trendy to pair with sneakers or heels. I love that versatility!
When I brought this dress home, and tried it on for Marco, (1) he loved it, which was shocking because he's not the most vocal when it comes to anything I wear, and (2) he loved it most with sneakers!
Casually, the vibe is laid back cool, but still pulled together; throw a denim or leather jacket on top and you're good to go. Dressed up, it's great with booties (any heel, any height and any toe-style goes right now; mine are pointed with a stiletto but I love a good block heel bootie as well) or a heel. If you're going open toe I would suggest something like this. Also, when dressing up this look, pull it together with a belt to cinch your waist and add some interest.
SIMILAR SWEATER | THRIFTED BELT — OLD (CANADIAN GIRLS CLICK HERE, US GIRLS CLICK HERE) | H&M SKIRT (IDENTICAL, LEOPARD PRINT HERE) | WHITE BOOTIES
FAUX LEATHER JACKET | BODYSUIT | H&M SKIRT (IDENTICAL, LEOPARD PRINT HERE) | DOC MARTENS (LOVE THIS SHEARLING PAIR)
The snakeskin print midi skirt!
Piggybacking on the dress above, this midi skirt is the item you need in your closet for spring–and bonus, I found a budget friendly version!
The best part about these skirts is that, like the dress, they are extremely versatile (wait till you see the leopard one down below). They look great dressed up or down, and you can pretty much style it with any top you most likely already own in your closet–chunky or thin sweater, tank, t-shirt, bodysuit, a leather jacket, a blazer, a long cardigan belted, etc. Anyway you pair it, it's going to look great and really on trend.
The first look is what I would wear to work, something that's pulled together but with an added edge because I did a white bootie. However, if that's a little too fashion-y for your office, swap in a nude or black pump.
For the more casual look, my first instinct is to again go with a sneaker, but I wanted to show how you could still rock this for winter by pairing with a combat style boot (my choice is always Doc Martens, I la la love them) and a leather jacket for an edgier look for the weekend or if you work in a creative environment.
HAT | H&M BOWIE TEE (SIMILAR, SIMILAR) | BLACK COATED PANTS — UNDER $15 | BOOTIES
Possibly my favourite outfit of the bunch, this feels so much like me, which is probably why. I am a huge pants girl, and whenever there is an evening out on the town, you will most likely find me in just that.
Coated pants are something that have been in my wardrobe for over six years and I continue to wear them on a weekly basis. I love how they dress up an outfit and they are just that much more luxe/fancy/chic than a regular black skinny. I saw these online and put them in my cart immediately because they were 50% off. I have a few pairs by the brand, and they've always served me well. With wear, washing and over time, they do start to fade (even though I always hang to dry), hence my search for a new pair.
Sure enough, when they arrived, it was an instant yes! They fit true to size (I went with a 30), have good stretch, are a full length pants, hug and suck everything in without being an overly thick fabric and are under $15–omg! I also love the zipper details at the ankle and that they are super skinny and fit into boots easily.
For the outfit, this is something I would wear out with the girls if you wanted to look a little different than everyone else or to a concert. Band tees are obviously everywhere right now, but I hadn't seen any Bowie ones until I got this one (and then searched online and came up with a bunch, below). Swap out the booties for some sneakers and you have a perfect weekend look.
OFF SHOULDER DRESS — WOULD MAKE A GREAT COVER UP | DENIM JACKET | SNEAKERS
I threw this cute, off shoulder dress in my cart thinking I could wear it as a cover up for an upcoming vacation, which is totally true. However, I also really love it just as it simply is: a dress.
It's a stiff cotton with stretch (think a button-down dress shirt with stretch) and there are elastics in the shoulder part which makes this extremely comfortable. Considering I'm 5'11, dresses are often hard for me because they usually end up being very short (and not in a cute way), however, this one, while short, still works so I'm extremely pleased. I threw my denim jacket over top and loved the look with sneakers, but again, over a swimsuit with sandals would be so great for an upcoming trip you might have planned or this summer.
I also wanted to touch on this denim jacket I just scooped up–it's slightly oversized, a perfect medium blue wash and so comfortable! I love that the sleeves are slightly cropped, so they look good left down or rolled a little and the fit is great. I went down a size to a small since it's already oversized, and it hits just below my hips, fits my shoulders perfectly and is roomy through the body–could easily wear a sweater underneath. Love this, it's under $30 and is fully stocked in all sizes!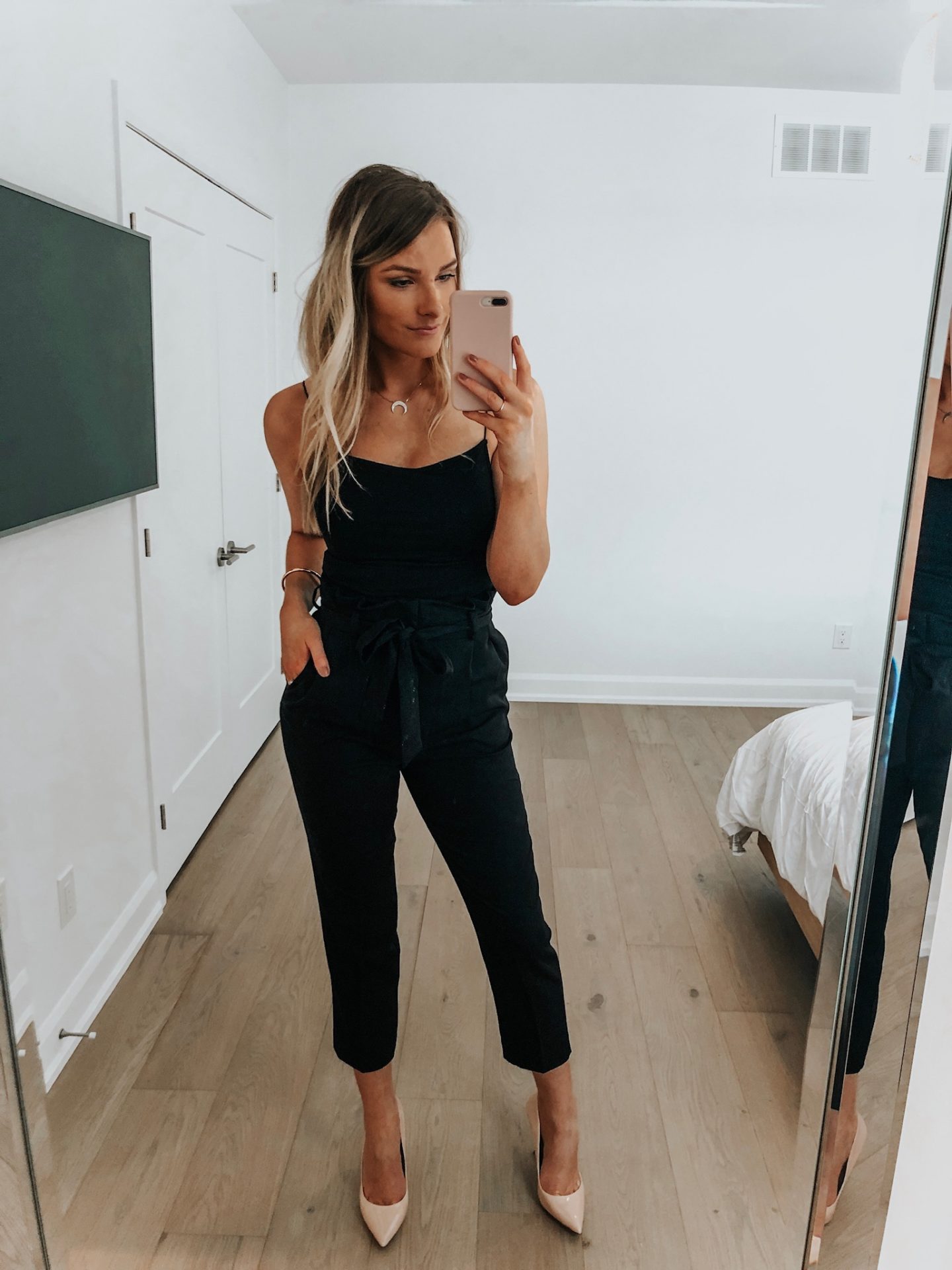 BODYSUIT | PAPERBAG PANTS — UNDER $30! | PUMPS
These pants are same as the red ones I showed you a couple weeks back. The red ones sold out and I wanted to get a more neutral pair so was excited to see these fully stocked in all sizes!
I went down a size to a 6 (and I'm never a 6 but, I found my size 8 red ones to be on the roomy side in the crotch area and the butt; you can read my measurements here) and they are really snug but also super flattering. Because of the additional fabric around the pockets and in the waist, if you have hips, these are going to flatter like no tomorrow. If you're less in the hips department (ie. me), these are going to give the illusion of curves, which is awesome.
DENIM JACKET | LOW BACK LONG SLEEVE — 50% OFF! | LEOPARD SKIRT (SIMILAR) | SNEAKERS
I am telling you, this is the season of midi skirts, and if you even want to dabble in this trend, get one of these skirts. I love this one because it's a dark and more muted leopard print. You will not be disappointed with this purchase, especially come spring!
I just re-checked the link and am shocked this is now sold out! UGH! I just ordered this last week and it's already gone. I've linked it above in the outfit details (just in case they re-stock), but am sharing a few similar ones in the widget below (sorry girls).
LOW BACK LONG SLEEVE — 50% OFF! | LEOPARD SKIRT | BOOTIES
This long sleeve top was something I saw online and just added to my cart, figuring it might not be great and might end up going back–wrong! The deep v in the back is so sexy but you can still wear a strapless bra without showing your band. The front has a wide boatneck and has you covered, and the fabric is super soft–business in front, party in the back, anyone? 😉 I went with a size 8 and it's a good but flowy fit. Can't wait to wear this with skinny denim and heels for date night.
Hope this post was helpful for you girls in some pre-Spring shopping 😉 If you'd like to see the items in action you can check out today's IG Stories for additional info. See you tomorrow! xo
SHOP THE POST