Okay, let me first start off by saying that wearing swimsuits on here and Instastories is something I really didn't think I would ever do. We are heading south next month and I've been on the hunt for swimsuits, cover ups, bags and hats to update my vacation-wear and ended up scoring some really awesome, budget-friendly pieces.
I figured the best way to share is to see it on someone, but trust that this is a little outside of my comfort zone–but hoping for the greater good in an effort to help you find some amazing, affordable pieces for the beach, especially if you have an upcoming trip.
While we usually do these try-on sessions on Tuesday, with our Vegas trip bleeding into early last week, I promised I'd share this with you today, so here we are!
As always, everything is linked at the bottom of the post, and on my shop page, and lastly I've shared everything in today's IG Stories, so if you want to see how it moves and additional notes, feel free to have a watch.
Let's jump in!
OPEN TOP STRAW HAT | PINK BIKINI TOP | PINK HI-CUT BOTTOMS
This pink suit! Starting off strong, this one is definitely in my top three suits for today's post–not only is the colour vibrant and the fit is great, I feel good in this (which is half the battle, isn't it?).
Last year was my first time dabbling in the high-rise swim suit trend and after wearing them a few times, I was totally converted. If you're like me and struggle with your mid-section, these are great. I love how secure I feel and the higher cut leg (new to me this year) is way more flattering than the lower cut I was wearing last year (you can see the bottoms I'm referring to in our honeymoon photos). These are also pretty cheeky, but still offer coverage. If you're just starting out with a cheeky style, these ones might be a better pair to ease in with.
For a high-rise style to truly flatter me, I feel it needs to come just above my belly button, which is hard because I am tall, but these ones totally take the cake and I purchased them in black as well. I actually want all the colours because they are that good.
I also love this top which is an update from last year's version (you will see it below in black with the lace kimono). I love how it's longer in the torso part, it's really flattering having that extra bit of fabric at the smallest part of your waist, so I might need to get a couple more 😉
Lastly, I'm wearing a size medium in the top and a large in the bottoms.
Bonus! The bikini top and bottoms come separate and they are doing BOGO free until the end of today! I'm so annoyed I purchased two bottoms before the promo!
WHITE COVER-UP | WHITE BIKINI | BAMBOO BAG — SMALL SIZE | FLIP FLOPS
This cover-up is so pretty! As soon as I saw this I added it to my cart because I love that it has a 3/4 sleeve, isn't fully see-through but still interesting to look at, and has a gorgeous open back (see my IG stories today for that).
This only comes in regular size (versus tall) but I find it's still long enough on my 5'11 frame (read about my measurements here). I'm wearing a size 8 and it's great fit. I paired it over a white bikini, but it looks so good with a colour or black underneath too!
BLUE & WHITE ONE-PIECE | SIMILAR HAT
This one-piece side-lace-up suit is so cute! I'm wearing a size large and it's a good fit, however, if you're slightly shorter (say 5'9 and down), it would probably be an even better fit as it's pulling away slightly from my back.
The straps are not adjustable but the sides are and although it's quite open on the sides, I still felt like it flattered me. The cups in pretty much all these suits suck, so I just remove them and go without or in this case, put my Lululemon sports bra cups in for extra coverage.
Lastly, this suit has zero support, so especially great for if you're smaller on top.
MARBLE SMOCKED TUBE TOP | MARBLE LACE-UP BOTTOMS | H&M WHITE DENIM SKIRT — LAST YEAR (SIMILAR)
Love love love! The marble print on this bikini is so pretty! It also comes in a black version, and solids too, the tops and bottoms can be mixed and matched depending on the option you pick, but do come as a set.
I'm wearing a size large and so crazy about this smocked bikini top–it's super flattering and feels really secure. I love it paired with the denim skirt; throw a kimono on top or an open knit sweater and would be a great outfit if you're headed out exploring or on an excursion.
The bottoms are cute, they are cheeky, the leg is low cut, they lace up the sides (not adjustable) and a high-rise. These don't quite come up over my belly button, but I still really like them.
MARBLE BIKINI TOP | MARBLE LACE-UP BOTTOMS
These are the same bottoms as above but paired with the other marble top I got, which came with a solid black bottom (exact same as the marble lace-up ones).
I love these tops and have a bunch of them from last year, they are great for mixing and matching with whatever you might already have in your closet and feel like a barrette, which I find so comfortable for swimwear!
BLACK RUCHED OFF-SHOULDER BIKINI TOP | BLACK HI-CUT BOTTOMS | LEOPARD COVER UP
This bikini top is so cute! The bottoms it comes with are super skimpy and revealing (basically a string thong), which did not look good on me, so I've paired it with my new favourite high waist bottoms–which are the exact same ones as the pink ones, above!
Back to the top, it's this ruched tube top with little ruffled sleeves and it's so cute. I'm wearing a large and it's a tad big for me in the chest, but the arms are a good fit, so I feel like a medium would be too small.
The leopard wrap is a scarf I've had in my closet for years, but I saw an almost identical version online currently and thought it was such a cute way to repurpose what I have! Since animal print is so on trend, I love adding this in.
As an aside, when we were in Vegas, I showed Marco a leopard print bikini I liked and he burst out laughing! So I feel like this a man-friendly way to bring a little leopard to the beach 😉
BLACK WIDE STRAP SCOOP BIKINI TOP | BLACK HI-CUT BOTTOMS | LACE KIMONO (ALSO LOVE THIS FOR MORE COVERAGE) | ZARA SLIDES — OLD (SIMILAR)
Okay, this is a slightly sexier look; say you're headed to a glam pool party (Vegas, anyone?), on a sexy vacation with your man or just like being a little extra–the lace kimono on top of the bikini is really on trend but also super chic. As an added bonus, the kimono works for around the house 😉
I'm wearing a size medium in the top and a large in the bottoms.
SIMILAR HAT | STRIPED BIKINI | DENIM SHORTS — OLD DIY (SIMILAR) | FLIP FLOPS
Big fan of this bikini! Another top 3 purchase.
This cute little set is double fabric thickness, so it really smooths and covers nicely. The bottoms and top are both adjustable, and I'm wearing a size large, which is a great fit.
The bottoms are slightly cheeky but more of a low cut on the leg, however, maybe because they are so open on the sides, I find them really flattering! How cute would this look with a red cover up, too? Love!
OFF-SHOULDER WHITE ONE-PIECE | DENIM SKIRT | MULES
For this off-shoulder, lace-up swimsuit, I'm showing you two ways to wear it; the above is dressed up, ready for a night out on vacation and below is dressed down for an excursion or heading to the lunch buffet before hitting the beach.
As soon as I saw this one piece, I immediately added it to my cart, it's so chic and under $30! I would normally get a large but they were sold out, so I went with the XL and it actually fits quite well. There is zero support in this and it doesn't have cups but as it's lined and the outer fabric is ribbed, it actually looks great in person.
In the back, there is a open circle with criss-crossing laces (non-adjustable), it's a fun detail.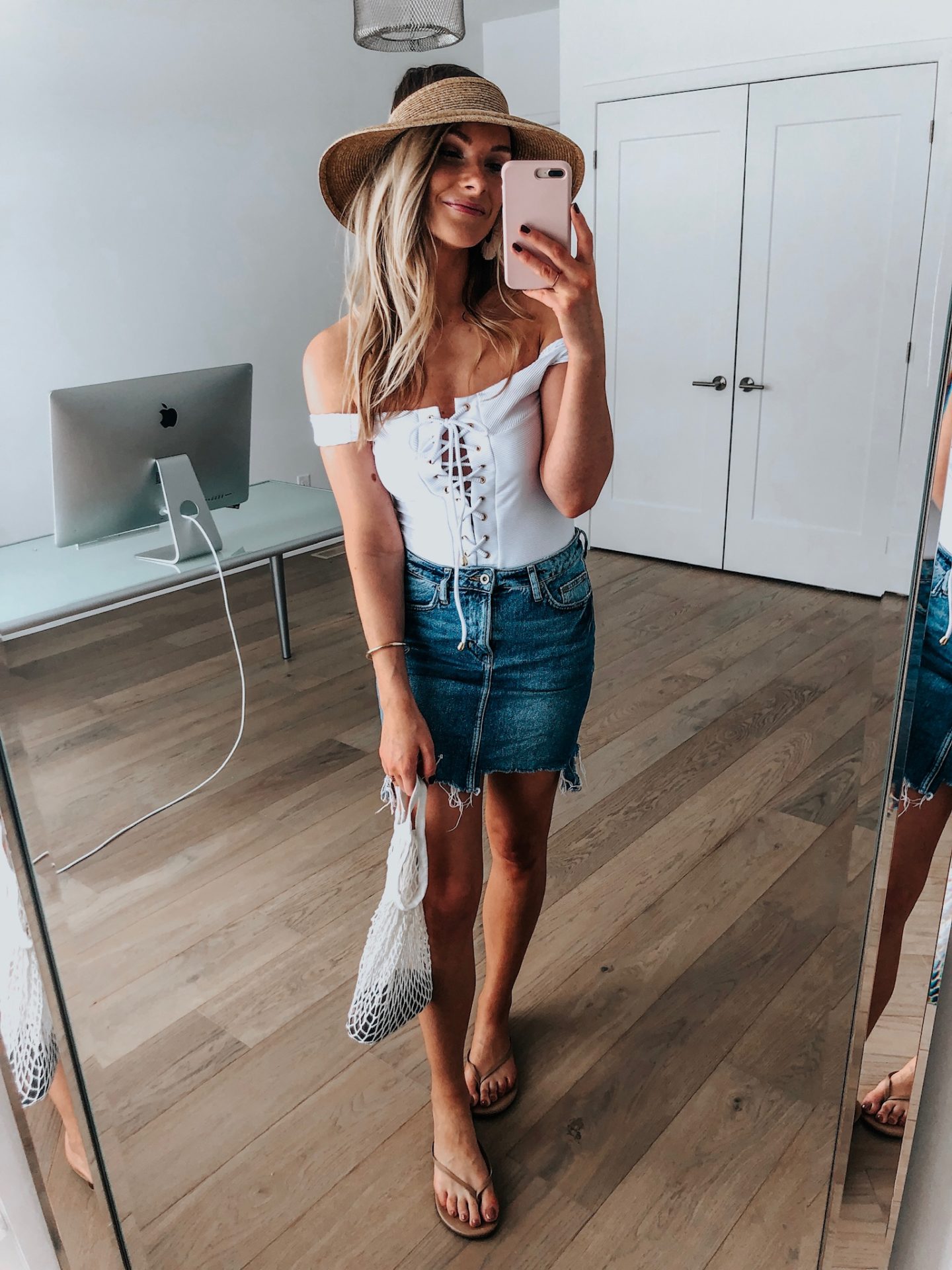 OPEN TOP STRAW HAT | OFF-SHOULDER WHITE ONE-PIECE | NET BAG | FLIP FLOPS
Same suit, just a more casual way to wear it.
FAN EARRINGS | OFF-SHOULDER WHITE ONE-PIECE
If these earrings don't scream vacation… 😉 Saw these, loved them and bought them while we were in Vegas. They are like a thick tissue paper material and the perfect accessory to your vacation outfit or even a cute swimsuit (wherein you're not planning to swim 😉 ).
Also, if you're looking at my make-up thinking it's a little splotchy, it is, but I didn't notice when I was taking these photos. I tried to correct it in post-production, but it just wasn't working so I went back to what it was. I must have missed this spot with my foundation but also find my jaw/chin is where my make-up wears the fastest; real life 😛
SIMILAR HAT | STRIPED RUFFLE ONE-PIECE
Top 3 alert! This suit is tied for first place with the bright pink bikini–omg I feel so good in this one and it's all sorts of flattering!
First off, the massive ruffle has three tiers and looks so chic and expensive. I absolutely cannot believe this is under $30 and if they had it in more colours/patterns, I would buy two more.
The diagonal lines and the seam that runs down the front are uber flattering. The cut on the leg is between low and high, so you aren't overly exposed but it still feels fresh and current.
There is an opening at the back of the suit, which kind of makes it look like you're wearing a two-piece, which is really pretty and flattering and the ruffle goes all around to the back. If you're looking for a solid, one-piece swimsuit, get this one, it's so good!
Bonus: this could totally double as a bodysuit with a pair of jeans or some white pants (which you may be seeing when I'm on vacation!).
OPEN TOP STRAW HAT | GREEN BIKINI | H&M WHITE DENIM SKIRT — LAST YEAR (SIMILAR) | BAMBOO BAG — SMALL SIZE | FLIP FLOPS
I am completely in love with the colour of this suit–it's so pretty! I have a top from last seen (see on our honeymoon) that matches perfect, which I've paired underneath my cover up below, but also excited to mix and match these bottoms with a black or white top too.
The top part is really cool and I love the little sleeves. There is a detachable neck tie, but I'm not sure how this top would stay up without it! There is no support in the top, so definitely better if you're smaller.
I love the bottoms, they are double fabric so again they smooth and fit really nice. The lace up detail on the side is adjustable and the backside is quite cheeky, which I really like.
I'm wearing a size large.
CROCHET COVER-UP | GREEN BIKINI
Love this cover-up!
This was another add-to-cart-immediately item and I think it's so pretty and it's really well made. This is true crochet and quite thick, it's really comfortable and clearly you can see right through it, but it's really really pretty.
I'm wearing a size medium.
TALL BLACK COVER UP (REGULAR SIZE, WHITE VERSION) | WHITE BIKINI | NET BAG
And lastly, this cover-up is one I've had in my closet for a year and it's still available online. Every time I see it online, I do a double take thinking I need to add it to my cart, but I already own it. It's really, really flattering.
There is a draw string at the waist, which is completely adjustable, slits on the side of the skirt and a really deep v. It looks great paired over any type of swimsuit and isn't too tight or snug, so it feels really comfortable if you're indulging 😉 Highly recommend!
This comes in regular and tall sizes, and I'm wearing the tall in a size 8 and it's perfect.
Hope you girls found this a little bit helpful, and hope you're headed somewhere warm! If you want to see more of these suits and accessories, I've shared it on IG Stories today with additional thoughts. Have a great Sunday!
Other posts you may have missed:
SHOP THE POST