Hello! Our sweet baby boy has arrived but today is a little throwback to the special day we had in November: my baby shower!
My girlfriends and Marco put together a wonderful Sunday afternoon celebration, bringing together my favourite women in my life for food, drinks and socializing.
We hired Lisa to come and capture the day (so I could just soak it all in & put my phone away) and would love to share some photos, if you'd like to see…
I knew a few details in advance, like what we would eat, music & who was invited. Aside from that, the girls put together some pretty amazing surprises to spoil me.
I went out that morning and my sister and girlfriend's let themselves in and set everything up. I arrived after the guests, which was a really special way to be greeted.
THE MENU
For lunch, my girlfriend's mom catered the event with the most delicious Lebanese food (a personal fave!). The girls set it up on the kitchen island and everyone served themselves, which was perfect.
For drinks, Marco's friend came and bartended the event, which was amazing. He kept everyone hydrated and the cocktails flowing (including multiple mocktails for me)! One of my girlfriends came up with a signature cocktail for the afternoon to match the theme, topped with teal cotton candy.
And for sweets, our good friend Julia of Jule's Cakes did another epic dessert table for us (remember the one she did for our gender reveal? Even better this time!), which was a huge hit.
DECOR
As for decor, my close friend Lia created the most beautiful photo backdrop using the arbor we made for the gender reveal. She hand made the "OH BABY" sign with branches she sourced outside (!!) and then hung the gauzy white curtains to complete the look — it was stunning. She also created the beautiful birch teepee and signage with our hashtag #acomspbaby, which they displayed outside on the front porch to greet guests as they arrived (have since put this in baby boy's nursery), along with various signage for around the party.
My sister put together the coolest heat transfer station for guests to make customized onesies for our little guy! She created a gorgeous, boho style "clothesline" to hang them on as they were made and everyone loved this non-game part of the shower.
For favours, I created glass tree ornaments since it was just before Christmas, with a little hangtag I created and printed on card stock.
MUSIC
The band we had at our wedding, Jackson Miles, performed in the living room, providing an epic concert and background music. It was so special to have them there and brought back so many memories of our big day one year earlier.
When Marco showed up near the end of the party, he jumped in and sang a couple songs for us as well.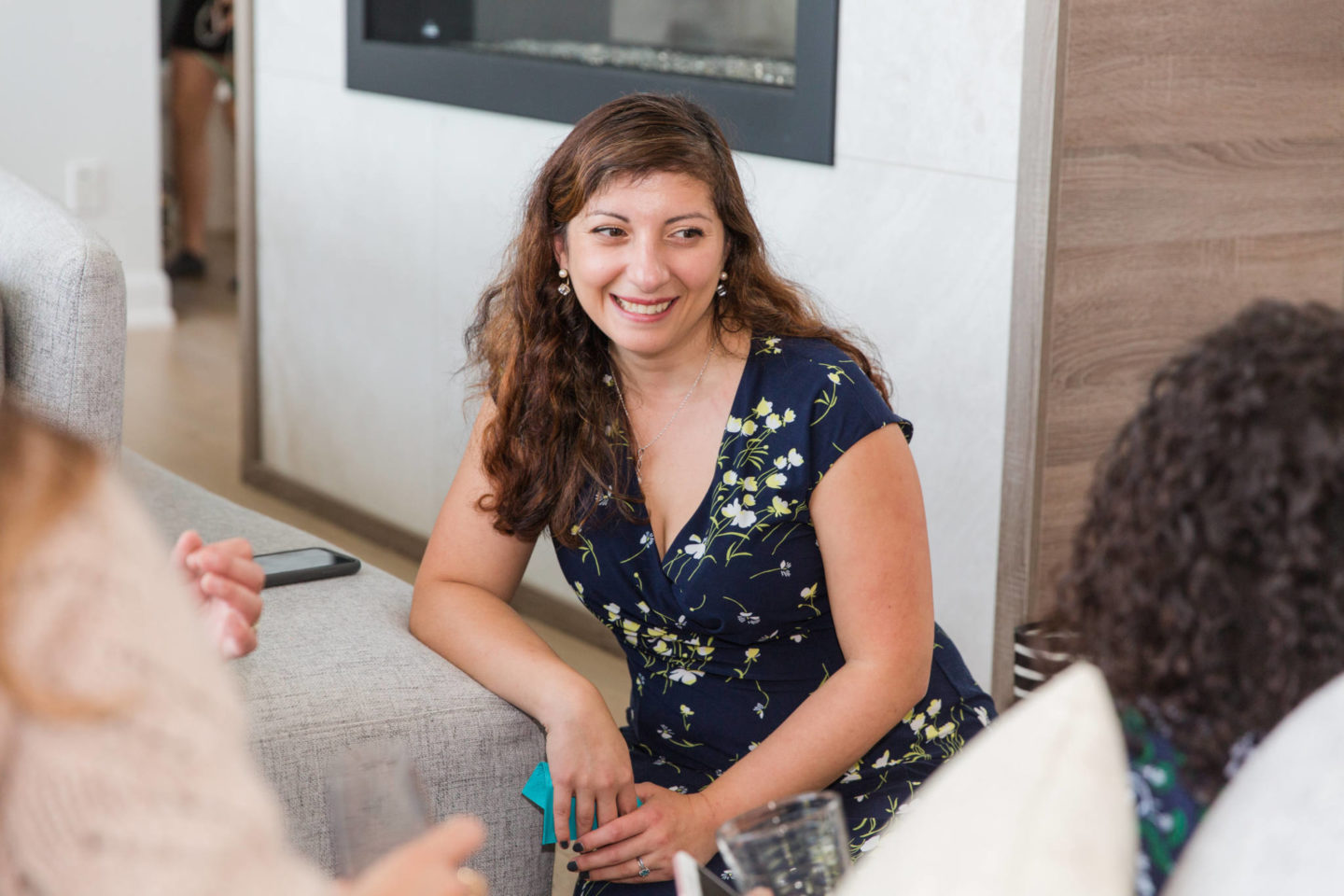 Overall the afternoon was just filled with love—it was a super special day to celebrate and truly enjoy some good girlfriend quality time.
Thanks for being on this journey with us. xo
MATERNITY DRESS | ANKLE WRAP HEELS
SHOP THE POST
Photography by Lisa Provençal.