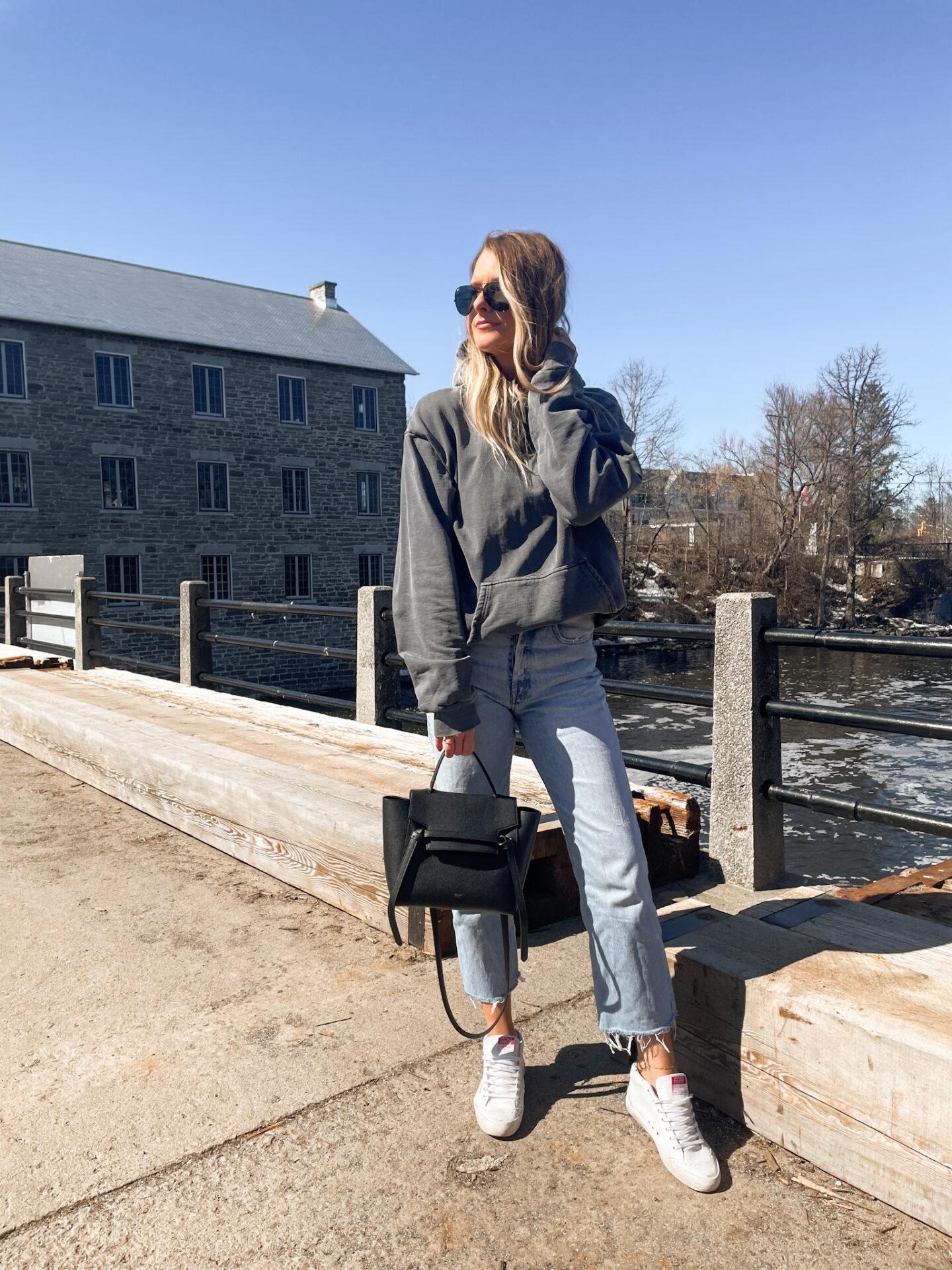 Hello hello! Spring has definitely sprung around these parts, but we shot these photos a few weeks ago when I was still sporting a jacket one day.
Today's outfit is all about weekend casual: an easy jeans & hoodie look that I took out to breakfast, and I'm going to share my favourite hoodies rn online, so let's jump in.
O U T F I T D E T A I L S : MAMALICIOUS PARKA — WORN WHEN I WAS PREGNANT (SIMILAR) | TALENTLESS HOODIE — BELONGS TO MY HUSBAND 😛 (SIMILAR) | ZARA JEANS (SIMILAR — FAVE BRAND, LOVE THESE) | GOLDEN GOOSE SNEAKERS (LOVE THESE, BUDGET FRIENDLY, BUDGET FRIENDLY) | CELINE MICRO BELT BAG (PRE-LOVED, MORE AFFORDABLE OPTION — ON SALE!) | RAY BAN SUNGLASSES
There is something so effortlessly cool yet easy about throwing on a hoodie these days–it competes with the crop tops we are seeing, but serves it's own special place for days where you want to bare less skin, be comfortable or just not have to suck it in 😉 The best part about the hoodie trend we are currently seeing, is that it's oversized! So raid your husband's closet (or men's department) or simply size up when buying, because that's the whole lewk we are going for.
Other than the one you see me wearing here, I also have a nike one similar to this that I have been pulling out a lot & if you want something a little more feminine, try a cropped version like this. I've been eyeing this one, personally, and it just went on sale! This one is also catching my attention, something about the short sleeves, so cool, different & great for spring/summer. Also, if you're looking to twin with your mini, how cute (and affordable) is this set?!
---
Here are a few hoodies I've seen around the interwebs that I'm loving:
---
Hope you girls are having a good start to the week! xo
SHOP THE POST