Good morning! The weekend is here and I'm so excited. What do you have planned?
This weekend marks one year since we got married! Honestly, if there was ever a day I wish I could re-live, it would be that day, it was the best day. If you're getting married soon, oh I so wish you the best! All the planning and stress is 100% worth it once the day arrives, I promise you. We are going to celebrate our first anniversary with dinner together and I'm looking forward to that. Marco has picked the spot and it's a surprise, so will keep you posted!
Let's get into this outfit…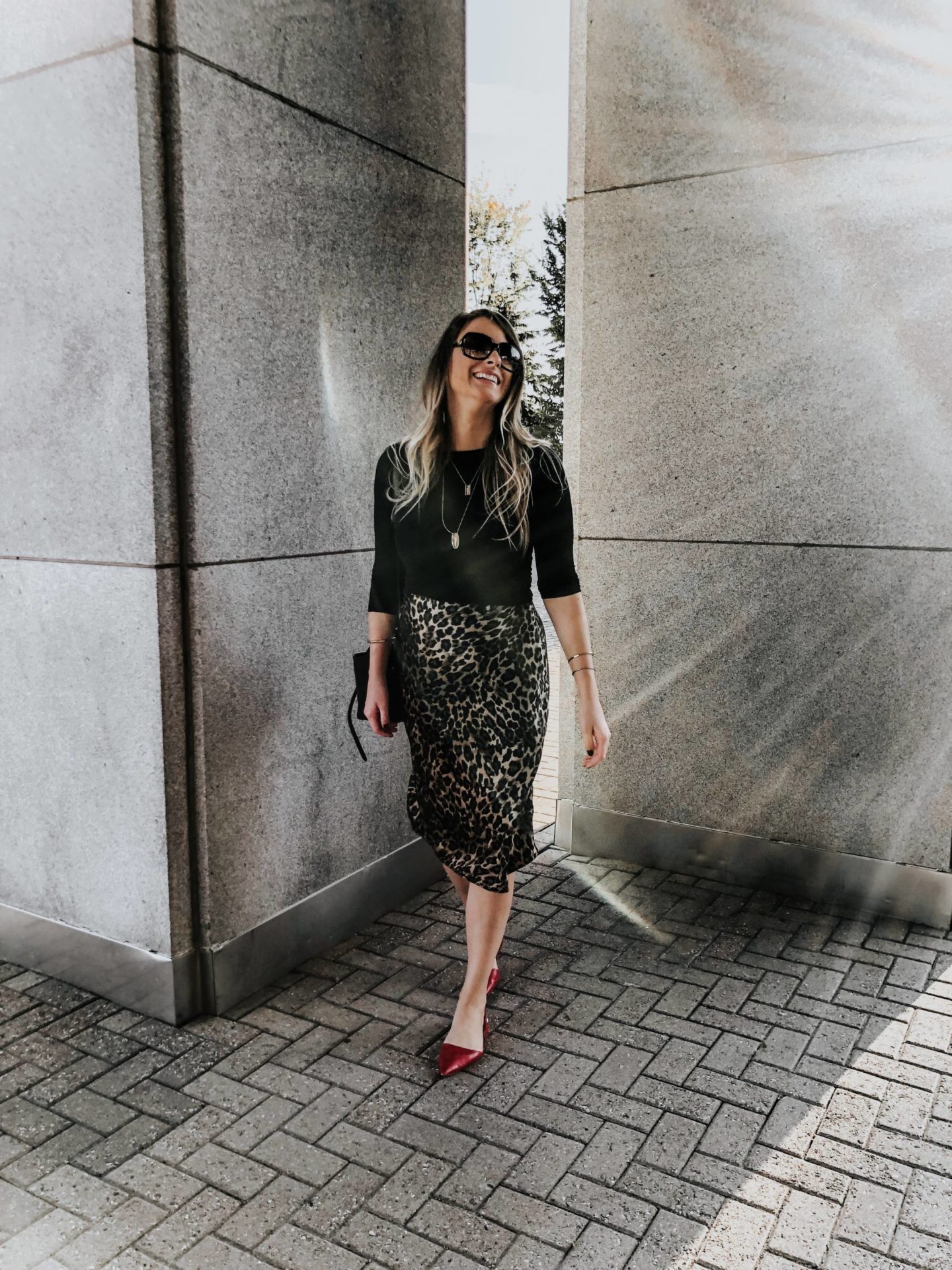 O U T F I T  D E T A I L S  :  H&M TOP — NOT MATERNITY, IN MY USUAL SIZE  | H&M LEOPARD SKIRT — SOLD OUT (SIMILAR, SIMILAR, SIMILAR, SPLURGE) | ZARA FLATS — OLD (SIMILAR) | CELINE MICRO BELT BAG (BUY PREVIOUSLY LOVED HERE) | SUNGLASSES | STELLA & DOT NECKLACE — SOLD OUT (SIMILAR)
Remember this skirt? I purchased it back in the winter and wore it a handful of times before becoming pregnant. When I started showing, I held up this skirt (post wash) and thought, 'Welp! This looks tiny… I won't be wearing this again for a while… if ever'.
Then as the weeks go by and you get bigger and really nothing is fitting, you start to get creative (or want to break away from a tank dress for once 😉 ) and find ways to make things work that you really didn't think would.
I steamed the skirt–which I find opens up the fibres and relaxes and items size a bit) and since there is a zipper, I was able to hike it up quite high. The zipper didn't close all the way, but I used my top to cover that last inch and voila–a non-maternity piece that works.
Speaking of steamers, I said I would let you know my thoughts on this hand-held steamer I purchased a few months ago and I love it. It works better than any steamer I've had, heats up in under a minute, has six steam settings (great for cotton, linen, silk, wool and more), is very easy to use and under $50. Highly recommend!
Finally, here are two other ways to wear this style of skirt if you're not pregnant: in the summer & in the winter.
Happy weekend!
SHOP THE POST