A couple weeks ago, we took off to Vegas for an extended weekend so I thought I would share a bit about our vacation.
We planned our trip around the beginning of January, to escape the snow and just take a little break from winter. Vegas was unseasonably cold, but still much nicer than the boots and parka temperatures we are currently enduring in Ottawa.
I have a major photo over load if you'd like to see…
We were suppose to arrive into Vegas at night, but our flight was delayed and we missed our connection and got stuck overnight in Montreal. All that to say, we arrived the next day just before lunch time, so it was bright and the city was buzzing.
We stayed at the Palazzo for the first time and it was really, really nice. We truly enjoyed our stay there. They gave us a complimentary upgrade to a suite (just ask, especially in Vegas, they will often do this) and it was so spacious!
We freshened up a bit, and then headed out to explore.
FAUX LEATHER JACKET | CASHMERE SWEATER (SIMILAR) | H&M DENIM — OLD (SIMILAR) | SNEAKERS | BAG (BUDGET FRIENDLY)
We ended up going to an awesome Japanese grill that's just off the beaten path–Gyu Kaku; it's a chain, but it was so good! Of course I didn't snap even one pic, I was so famished, so you'll just have to take my word for it 😉
If you're into Korean BBQ, this spot is definitely for you, we loved our meal and left totally stuffed.
Then we wandered over to the Fashion Show Mall, poked around and eventually made our way back to our hotel for the evening.
FULL OUTFIT POST // OVERSIZED DENIM JACKET | SUNGLASSES | GRAPHIC TEE (ALMOST IDENTICAL) | NECKLACE | COATED DENIM — 50% OFF! | SNEAKERS (BUDGET FRIENDLY) | BAG (ALSO LIKE THIS ONE)
The next morning, we headed over to the Wynn, which is next door, and went to their amazing brunch buffet.
Oh. Em. Gee. What a spot. *heart eyes*
I really love the Aria buffet, but Marco (who had been before) and a reader friend both said the Wynn was amazing, so off we went.
First of all, it's a stunning indoor floral garden–it almost reminded me of Alice in Wonderland. The food was amazing and they sat us in the table area below with the black and white floor (they are various areas/rooms to sit for the buffet) which was just gorgeous.
Basically in heaven!
I am not usually a sweets person for breakfast, but after a big plate of savoury items (got my serious fix of my faves: smoked salmon and shrimp cocktail), I had to cash in on the custom crepe station where the French Pastry Chef made me a banana-chocolate one in front of me. It was unreal good. The green stuff I'm eating out of the glass was a match chia seed pudding. NOM.
We spent the day walking (almost 40kms during our stay!), exploring, shopping and just seeing where the day took us.
That said, Marco was adamant we hit up The Boiling Crab, another spot he'd been, and it was awesome. There is a place in Ottawa we love called, The Captain's Boil, where you eat your seafood out of a bag and with your hands, and this is totally his guilty pleasure!
I really liked this spot too, I always get a shrimp in the bag and the cajun fries were so spicy and good!
The next morning, we had to check out of the Palazzo because they were full for the evening and since we were delayed in the beginning of the trip, we extended our trip by a day to make up for it.
We packed up and headed over the Wynn where they let us check in right away, which was so awesome to be able to drop our bags, freshen up and head out to explore.
Also, I just need to touch on our room–it was stunning! Truly blown away by this one!
We were on the 61st floor and the views were just stunning. We stayed on the Encore side of the Wynn, it was sensational.
And then, my favourite food experience of our trip: Javier's at Aria!
I la la love Javier's, and we go every time we are in Vegas. It's Mexican food but done in a really chic way. The margarita's are strong and the food is just fabulous (including the simple chips and salsa they bring you!).
We left feeling stuffed and happy!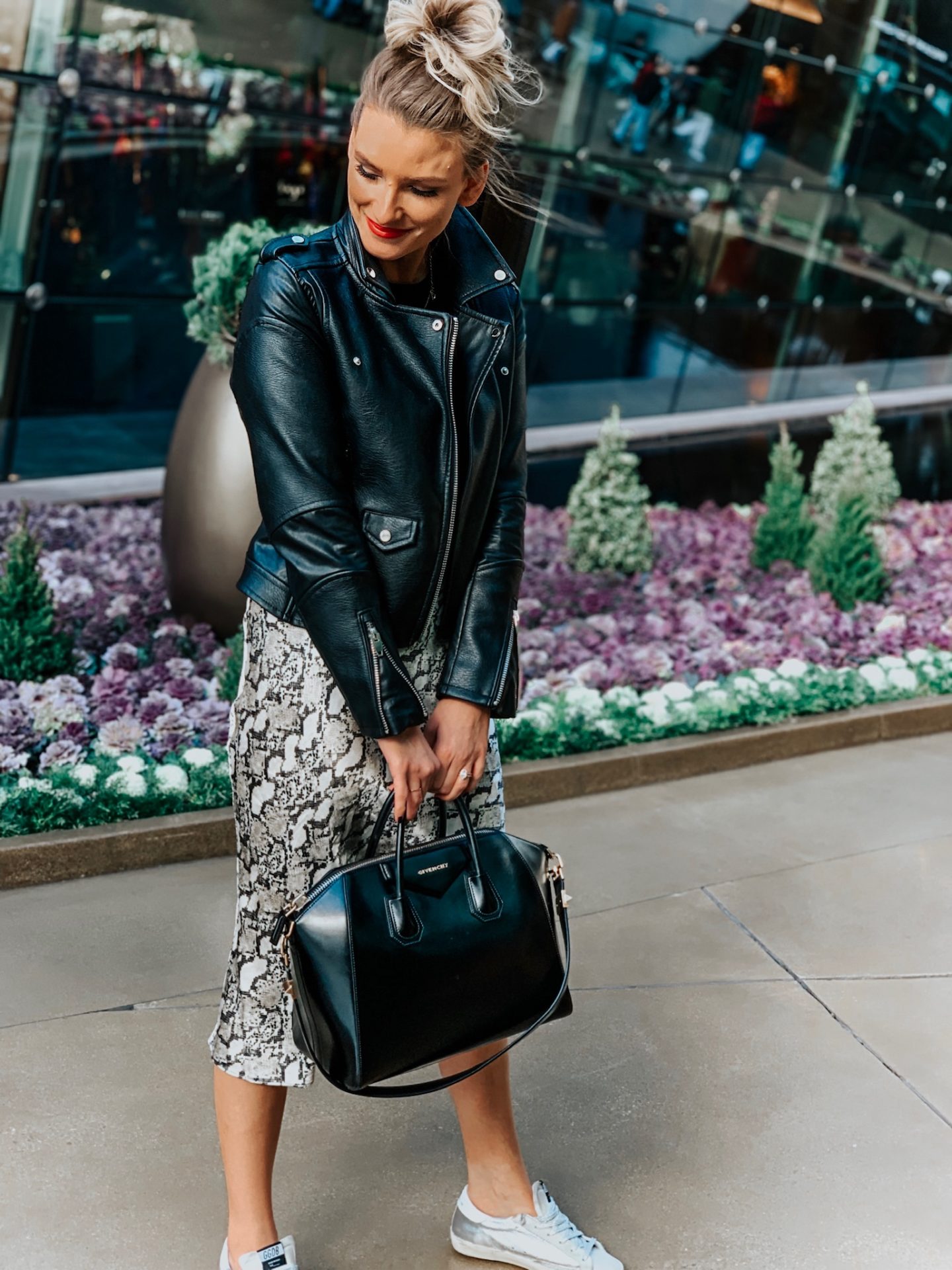 FULL OUTFIT POST // FAUX LEATHER JACKET | 3/4 SLEEVE TOP | NECKLACE | SNAKE PRINT SKIRT (ALMOST IDENTICAL, LOVE THIS) | SNEAKERS (BUDGET FRIENDLY) | BAG (BUDGET FRIENDLY)
That night, we took an Uber to grab ramen at Takopa. So good! It was a little hole in the wall spot, but Marco was dying to go for the octopus balls. I had never tried those before and they were so good.
Then we rushed back to our hotel to catch the Chinese New Year fireworks from our room–wow!
FAUX LEATHER JACKET | ZARA SWEATER (SIMILAR) | LEOPARD SCARF | H&M DENIM — OLD (SIMILAR) | SNEAKERS (BUDGET FRIENDLY) | GLASSES | CELINE BAG
FAUX LEATHER JACKET | ZARA SWEATER (SIMILAR) | F21 SCARF — OLD (SIMILAR) | DENIM | SNEAKERS (BUDGET FRIENDLY) | CELINE BAG
Same outfit as above, just switched out the jeans & scarf to head out.
The next morning I wandered down to the lobby and hit up the little cafe for coffees. That's one qualm I had about both our rooms–no coffee machines in either of them.
I don't mind going to get coffee, but it's a lot nicer when you don't have to leave your room before waking up 😉
This was our last day in Vegas, but also the day were were leaving (on a redeye that night). At this point we were pretty tired from all the walking and crowds and being pretty go-go-go. We lazed around the room for a long time, which was so nice and relaxing!
We ended up heading out in the late afternoon to grab some lunch before going back to the room to relax a little more before we had to check out at 8pm.
LOW BACK TOP | SUNGLASSES | DARK DENIM SKINNIES | SNAKE PRINT HEELS | CELINE BAG (BUY SECOND HAND)
FAUX LEATHER JACKET | ZARA SWEATER (SIMILAR) | LULULEMON LEGGINGS | SNEAKERS (BUDGET FRIENDLY) | MARBLE SUITCASE

Ready for the overnight flight–comfy leggings, a sweater (similar) with a bralette and leather jacket.
I put all my nighttime skincare and toothbrush in an easily, accessible area so I could take it off right before we boarded. Then, it was eye mask and goodnight.
Thanks for following along, and if you'd like to see more of our trip, you can see exactly what I packed (with links to everything), my snake print skirt outfit & my denim jacket/david bowie tee outfit.
SHOP THE POST