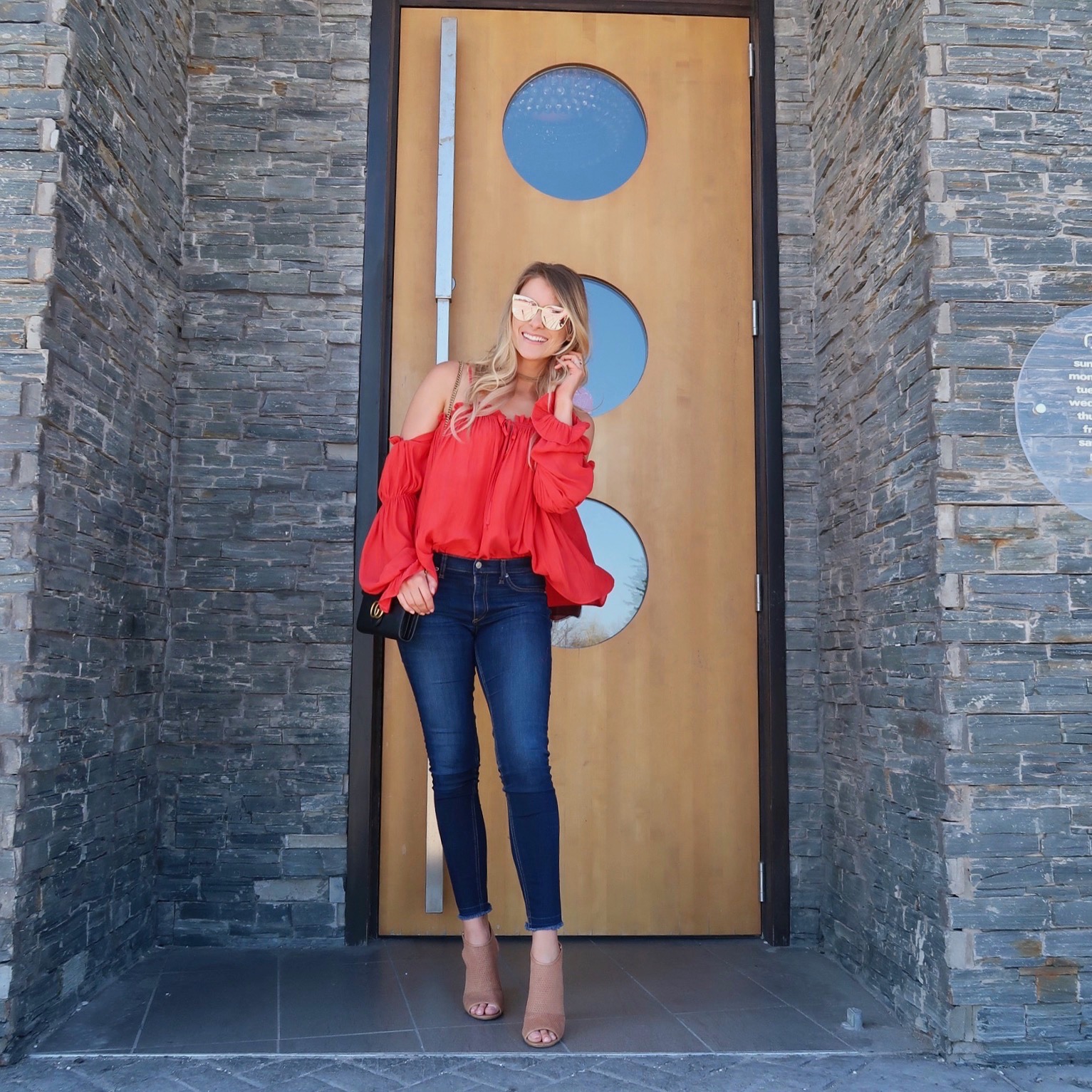 Hey girls!  Wanted to share a post today with details from some recent snaps on IG–the majority of you said through the Reader Survey that you prefer to shop the items I'm wearing from the blog, which I totally get.  I love using LikeToKnow.It and getting the emails, but I love reading blogs even more and using my computer for making purchases online (versus my mobile).
I have a full look coming next week with that red off shoulder top but this look is for when it's still a little cool out.  The top is from the curvy section and I went with the size 1T.  I had seen this in regular sizes in a beautiful sage green and white, but they were more of a cropped style on me as I'm taller.  I love the vibrant red and the extra length plus room to do a half tuck in the front to define your waist a little bit.  Note, the curvy style comes in a few different colours as well.
FOREVER 21 OFF SHOULDER TOP (REGULAR SIZES)  |  RAG & BONE SKINNIES (ALMOST IDENTICAL)  |  HEELS  |  BAG  |  SUNGLASSES — UNDER $15!
FULL OUTFIT POST HERE  //  RUFFLE WRAP TOP  |  FLORAL SHORTS  |  WRAP HEELS  |  BAG
FULL OUTFIT POST  // THRIFTED GAP DENIM JACKET — DIY BLEACHED (SIMILAR)  |  CAMI  |  PENDANT NECKLACE  |  CHOKER  |  DENIM  |  BAG  |  SUNGLASSES
FULL OUTFIT POST  //  HINGE SWEATER — SOLD OUT (SIMILAR)  |  ZARA DENIM (SIMILAR)  |  ANKLE WRAP HEELS  |  SUNGLASSES  |  CELINE PHANTOM (BUDGET FRIENDLY)
FULL OUTFIT POST  //  THRIFTED WHITE DENIM JACKET (SIMILAR)  |  PEPLUM TANK  |  DENIM (ALMOST IDENTICAL)  |  SANDALS  |  SUNGLASSES  |  BAG
FULL OUTFIT POST  //  WHITE DRESS FOR SALE HERE
DISTRESSED DENIM — UNDER $40!  |  SNEAKERS  |  MARBLE SUITCASE
FULL OUTFIT POST  //  ONE TEASPOON SHORTS FOR SALE HERE
FULL OUTFIT POST  //  OFF SHOULDER TOP  |  RAG & BONE FLARES — OLD (BUDGET FRIENDLY)  |  WOVEN TOTE  |  SUNGLASSES
FULL OUTFIT POST  //  CROPPED HOODIE  |  LEGGINGS
FULL OUTFIT POST  //  SUEDE JACKET  |  ZARA CAMI (SIMILAR)  |  BLACK DENIM  |  BAG
URBAN PLANET JACKET — OLD (SIMILAR)  |  MUSCLE TANK  |  BLACK DENIM  |  ALDO PEEP-TOE BOOTIES (SIMILAR)  |  SUNGLASSES  |  BAG
CAMO JACKET  |  TANK  |  DISTRESSED SKINNIES  |  BAG  |  FLAT TOP SUNGLASSES
F21 CROCHET TOP — OLD (ALMOST IDENTICAL)  |  CAMI  |  F21 CHOKER (SIMILAR)  |  SIRENS PANTS — OLD (SIMILAR)  | BAG
SUEDE JACKET  |  H&M TANK (SIMILAR)  |  DARK DENIM (ALMOST IDENTICAL)  |  STEVE MADDEN LACE UP HEELS (SIMILAR)  |  BAG